Bolt, Powell And Gay will clash over 100m in Brussels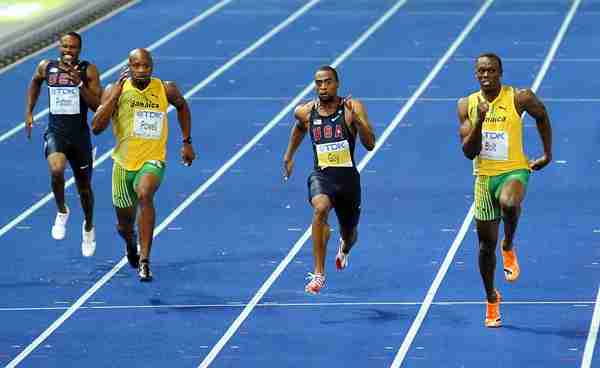 This clash is no mythical fantasy, this clash is no April Fool's Day joke! The three fastest names in sprinting Usain Bolt, Tyson Gay and Asafa Powell will line up in the Men's 100m at the Brussels IAAF Diamond League on 27 August 2010.
Today Bolt has confirmed that he will be present at the Belgacom Memorial Van Damme for what will become one of the most exciting track races in the world in 2010.
In the 2009 World Championship final in Berlin, Bolt, Gay and Powell won gold, silver and bronze in the fastest 100m in history. Bolt set a new World record, while Gay became the fastest ever American athlete at the distance. All three are IAAF Diamond League Ambassadors and they will gather in Brussels for a rerun of this magic final.
Bolt set the meeting record of 9.77 in Brussels in a duel against Powell (9.88) in 2008. The Jamaicans faced a headwind of -1,3m in that race. In 2009 Bolt ran an astonishing 200m in 19.57 in Brussels, the fourth fastest time in history. Against Gay and Powell the fastest human being on earth faces the toughest imaginable threat in the King Baudouin Stadium.
Powell competes at one of his most favourite meetings. Powell is the most victorious sprinter on the Brussels track after winning the event no less than five times. His personal best of 9.84 in Brussels dates back from 2007. Asafa Powell has a huge fan base in Brussels and he will be very keen not to disappoint them.
Gay ran his lifetime best 100m races at the end of 2009. His 9.71 in Berlin was followed by yet another American record of 9.69 in Shanghai. Gay has come surprisingly near Bolt in doing so. Gay made his debut in Brussels in 2006 in winning the 200m in a blistering 19.79. In 2009 he was beaten in the 100m by Powell. It is time for Gay now to perform at his best on his third occasion.
Meeting Director Wilfried Meert is very proud to announce this "clash of the 100m titans" as he called it. "To have these three world class athletes on our 100m starting list is one of the highlights in the history of the Belgacom Memorial Van Damme. There is no doubt that the athletic fans will respond to that and we expect the stadium to be sold out faster than ever before."
Comments