Oregon Freshman Hurdler Devon Allen Wins USATF's Athlete of the Week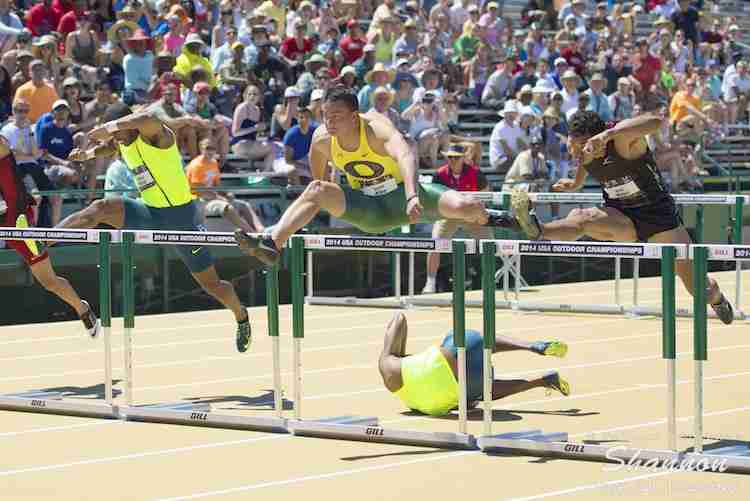 Visit Shannon Digital Imaging For More Photos
INDIANAPOLIS — University of Oregon freshman hurdler Devon Allen wins USATF's Athlete of the Week after capturing the 110 meter hurdles title in a stunning upset at the US Outdoor Championships in Sacramento, California, on Sunday, June 29.
Battling temperatures reaching into the 90's and getting up to 120 degrees on the track at Hornet Stadium on the campus of Sacramento State, Allen (Phoenix, Arizona) finished with a wind-aided 13.16 (13.155) to hold off a stacked field that included defending US champion Ryan Wilson (13.160) and defending world champion David Oliver (13.23).
"I knew I was going to run fast in this league," Allen said. "I am pretty excited about it. I did not know I finished first when I crossed the finish line, until they announced it.
"Things started clicking in practice, feeling better, and going through things and running faster."
Allen also won the NCAA Outdoor Championship in the men's 100mH in June, also running a 13.16. The wide receiver for the Ducks football team is the first person since Renaldo Nehemiah in 1979 to win both the NCAA and USA championships.
Other top performers from the week include:
Inika McPherson (Port Arthur, Texas), swept the 2014 U.S. high jump titles with her mark of 2.00m/6-6.75. She also won the USATF Indoor crown (1.91m/6-3.25) earlier this year and set a new personal best and stadium record. She now holds the world best for a woman to jump over her head as she cleared 37 cm above her height (5'4").
Everett Capelle (Laguna Beach, California), broke the 7-8 boy's 1500-meter national record (5:11.00) with his time of 5:09.44 at the USATF Youth Outdoor Championships.
Lena Giger (Highland, Illinois), won the 17-18 women's hammer throw at Bloomington with a throw of 55.80m/183-01, defeating her next closest opponent by an almost unimaginable 30 feet, breaking the 2012 mark of 54.30m/178-1.75.
Francena McCorory (Hampton, Virginia), ran a world-leading and lifetime-best 49.48 to win the 400 meter over American record-holder and 2012 Olympic gold medalist Sanya Richards-Ross. That mark makes her the fifth-fastest woman in U.S. history.
Now in its 13th year, USATF's Athlete of the Week program is designed to recognize outstanding performers at all levels of the sport. USATF names a new honoree each week and features the athlete on www.usatf.org. Selections are based on top performances and results from the previous week.
2014 Winners: January 15, Chris Derrick; January 22, Galen Rupp; January 29, Galen Rupp; February 5, Alexa Efraimson; February 12, Mike Rutt; Feb. 19, Bernard Lagat; Feb. 26,Sharon Day-Monroe; March 3, David Torrence; March 13, Francena McCorory; March 19, Irene Obera; March 26, Duane Solomon; April 2, Maria Michta; April 7, Noah Lyles; April 14, Kendell Williams; April 21, Meb Keflezighi; April 28, Kristi Castlin; May 7, Maria Michta; May 14, Erik Kynard; May 21, Emma Coburn; May 28, Brenda Martinez; June 2, Galen Rupp; June 9, Tori Bowie; June 16, Trayvon Bromell; June 23, Charles Austin; June 30, Devon Allen.
To send email correction or further classifications, please shoot us an email at lcummings [at] world-track.org.
Comments