By AP, Wendy Mueller, World-Track
Photo by Track and Field Photo Magazine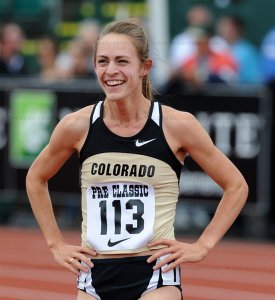 NEW YORK — Colorado star distance runner Jennifer Barringer has been named the 2009 Honda Award for track and field.
The Oviedo, Fla., native senior won the award Wednesday.
Barringer was a member of the American Beijing Olympic team last summer where she finished ninth in the 3,000-meter steeplechase on her way to setting an U.S. record of 9 minutes, 22.26 seconds.
"It's quite an honor to join the women who have won the Honda Award for track and field before me," Barringer said in a news release. "As I — and other women — continue in their footsteps, women's athletics is becoming more competitive and elite.
"This is an exciting time to be a part of women's collegiate athletics and to receive this award means a great deal to me."
The other finalists were Tennessee's Sarah Bowman, Michigan's Tiffany Ofili and Texas El Paso's Blessing Okagbare.
Barringer is also eligible for the Honda-Broderick Cup, given to the college female athlete of the year. The winner of this award will be announced June 22 in New York.
Meanwhile, she got her final championships as a collegiate off very relax when she eased from qualifying rounds of the 3,000-meter steeplechase Wednesday night at the NCAA outdoor championships here in Fayetteville, Ark.