By Simone Goss, World-Track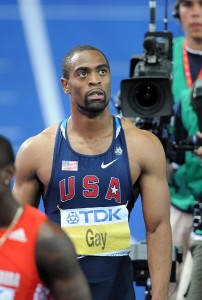 BERLIN — World silver medallist Tyson Gay has confirmed that he will compete at the Aviva British Grand Prix to be held at the Gateshead International Stadium on August 31.
Gay, who finished second over the 100 metres to Jamaican sensation Usain Bolt at the World Championships in Berlin on Sunday with a new national record of 9.71 seconds, the second fastest of all times, will race in that discipline at the UK meeting.
The last time the American raced on UK soil he posted 20-seconds even to win the 200 metres at the London Grand Prix at Crystal Palace, and he is looking forward to another good outing.
He also won this event last year in a time of 20.26 secs.
"This will only be my second time racing at Gateshead," Gay said.
"I'm looking forward to heading to the North-East, especially after the great atmosphere in London last month."
Gay was soundly beaten by Bolt's phenomenal 9.58seconds world record performance in Berlin on Sunday, but he was as humbled as ever, stating that: "I did my best, but it was not good enough.
"Bolt was just phenomenal here today (Sunday). But I ran my best and for that I am happy."
Great Britain's champion Simeon Williamson, who failed to make it beyond the second round in Berlin is also entered in the event to face Gay.