By Gary Smith, World-Track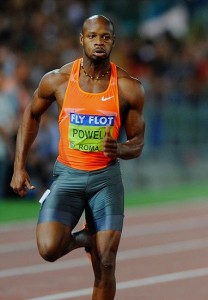 BERLIN — It is being reported that a number of stars, including former World 100 metres record holder Asafa Powell, could be axed from the Jamaican team following their decision to skip the pre-World Championships camp.
Powell, along with Olympic 100m champion Shelly-Ann Fraser, Olympic 400m runner up Sherika Williams and sprint hurdler Brigitte Foster Hylton, members of the Maximising Velocity Power (MVP) Track Club, failed to report for the mandatory training camp in Nuremberg, Germany, which could see them being ineligible to compete at the championships.
But, although admitting that the athletes must show up to be eligible, Howard Aris, President of the Jamaica Amateur Athletics Association (JAAA) who heads for Berlin today, said that he was not aware that the Jamaica team's management in Germany had already made that sort of decision.
"I have not been informed of this," Aris said in the Jamaica Observer. "The IAAF had contacted the JAAA seeking information on whether or not we were going to have a camp, where the camp would be, where the team would be staying etc."
According to reports, the International Association of Athletic Federations (IAAF) is now insisting that all athletes selected should attend the camp for, several reasons, including providing urine and blood samples for drug testing.
"I wrote to (athletes agent) Paul Doyle telling him what the IAAF wanted to do," Aris said. "When we (the JAAA) called to find out where the athletes were going to be staying, we were told that they would be going straight to Berlin.
"I told Doyle that the camp was mandatory, and if they don't go to the camp, they could not compete," Aris added.
It is also reported that Williams, on her Facebook wall, wrote "oh well, JAAA (Jamaica Amateur Athletic Federation) say we can't run at world championship because we did not attend the training champ."
Meanwhile, former world silver medallist Michael Frater, who is also a member of the MVP club joined the camp at the weekend, while it was not clear about the status of his club-mate and Olympic 400m champion hurdler Melaine Walker, who along with the other four, was also not present at the camp.