By Gary Smith, World-Track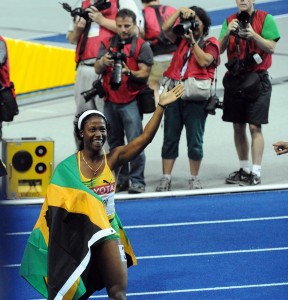 KINGSTON, Jamaica —
Jamaica's World and Olympic 100 metres champion Shelly Ann Fraser says she is not bothered by the recent defeats to American Carmelita
Jeter, who has gotten the better of her Jamaican rivals since the World Championships.
Fraser was soundly beaten by Jeter when the pair last met at the IAAF World Athletics Final in Greece last weekend, after the American raced to the third fastest time ever of 10.67seconds to leave the Jamaican trailing at a distant 10.88secs.
But while Jeter celebrates her fabulous late season runs, Fraser is unconcerned, stating that her aim at the start of the season clearly was to peak to win the world title in Berlin, and that was accomplished.
"I am only scheduled to peak twice per year, not three or six times," Fraser explained. "So I peak for National Championships, and I peak for World Championships," and I "try and hold that peak as long as I can."
Jeter finished third in Berlin behind Jamaicans Fraser and Kerron Stewart.
She said afterwards that she had an off day and came out hungry in Thessaloniki to prove that she is clearly the best this term.
And that she did.
The 29-year-old American executed well from start to finish to earned her place in history. But although lauding the winner for her gallant run in Greece, Fraser said Jeter definitely had more to prove and came out wanting the victory more.
"[For] Camerlita, she is a different athlete because she has a lot more to prove … and she is obviously training as you can see from her built," Fraser said.
"She obviously wanted it more than me, and I think she executed a perfect race when I watched the replay," added Fraser, who won the world title in a national record 10.73 seconds.
Like sprint super star Usain Bolt, who cut his season short because of fatigue, Fraser, who suffered set backs with hamstring injury and appendix surgery, said she too was running on an empty tank.
"I am on, I would say a tank of gas barely above (empty)," she said. "I just did what I could do at that time.
"I am still feeling pain from my appendix surgery."
Fraser, along with Michael Frater, a member of Jamaica's 4x100m winning team, and 400m hurdles finalist Kaliese Spencer returned to the island Wednesday.
The trio were welcomed home at a small reception at the Norman Manley International Airport – government's VIP lounge on arrival.