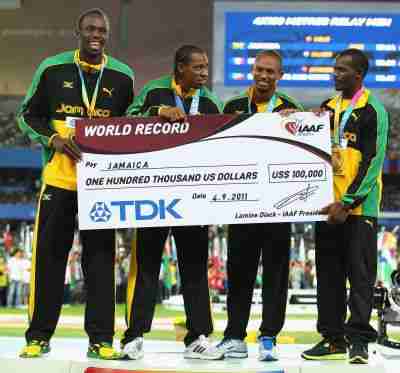 TDK Corporation, as an IAAF official partner, presents a prize money of USD 100,000 under the "New World Record Award" program to the Jamaican team following the performance at the IAAF World Championships at the weekend.
The team of Nesta Carter, Michael Frater, Yohan Blake and Usain Bolt, won the gold medal in the men's 4x100m relay and set a new world record of 37.04 seconds. The time was 0.06 seconds faster than their previous mark of 37.10secs, set at the 2008 Olympic Games in Beijing, China.
In the awarding ceremony that took place after the competition on September 4 (Sunday), the team was presented with a replica of a check for USD 100,000 on which TDK's company name is printed.
TDK whose corporate motto is "Contribute to culture and industry through creativity" identifies with IAAF whose principle is "Contribute to society through expansion and development of the sport of athletics."
TDK has been sponsoring the WCA since the first championship games in Helsinki in 1983 as the official sponsor and supplier of athlete's bibs. Since 1997, TDK has held the right to sponsor a program named "New World Record Award" under which TDK offers a prize money of USD 100,000 for each new world record established in men's competition.
TDK has given the New World Record Award 5 times in the past including the 2 won by Usain Bolt in men's 100m and 200m run in the 12th WCA in Berlin. The 6th award was won by the Jamaican team this time in the WCA 2011 Daegu.