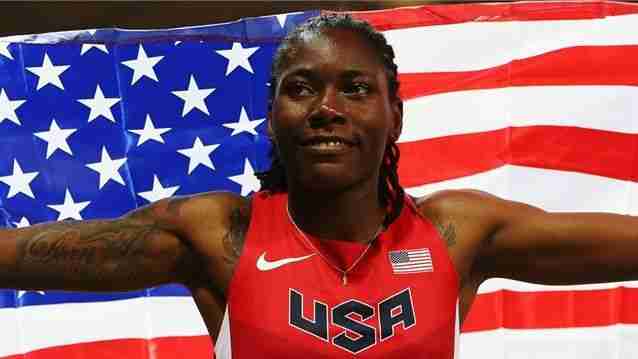 BEIJING, China – American Brittney Reese failed to qualify for the final of the women's Long Jump at the IAAF World Championships on Thursday.
Reese, who has won this title in the last three IAAF World Championships, could only manage a best effort of 6.39m in the first round of the qualifying round, which was only good for 24th place overall.
The American, who also jumped 6.23m and 6.17m in the qualifier, was missing out at making a global championship long jump final for the first time since 2005.
"It was a little rough. By the time I got out there and did a warm up, my first couple of jumps, my back gave out," Reese said.
"I've just been having complications all season long from my hip from having surgery. I've never got back to where I was and it just showed. Once my back gave out, I wasn't able to get the necessary pop I need to get the proper distance.
"It hindered me from sprinting, running to the board. All in all, I'm not really upset. My goal is not to chase medals anymore. I have six of them.
"My goal is to break records and in order for me to do that I need to be 100 percent healthy. Today I was about 50 percent."
Reese finished fifth in her last visit to the Bird's Nest at the 2008 Olympic Games.
Ivana Spanovic of Serbia qualified with the best effort of 6.91m, which was also a national record.
Great Britain's Lorraine Ugen went 6.87m and Germany's Malaika Mihambo (6.84m).
Katarina Johnson-Thompson of Great Britain, who fouled on her three attempts on Sunday during the women's heptathlon, made it safely through this time with an effort of 6.79m in the second round.
Elsewhere in the morning session on Day 6, Genzebe Dibaba of Ethiopia, who dominated the women's 10,000m two days ago, returned to book her place in the final of the 5,000m, as she seeks to land the double.
Dibaba crossed the line in 15 minutes, 20.82 seconds to win the first heat.
Her older sister Tirunesh Dibaba won the 10,000 and 5000 double at the Bird's Nest during the 2008 Beijing Olympics.
Also qualifying for the final were her compatriots Almaz Ayana (15:09.40) and Senbere Teferi (15:14.57)