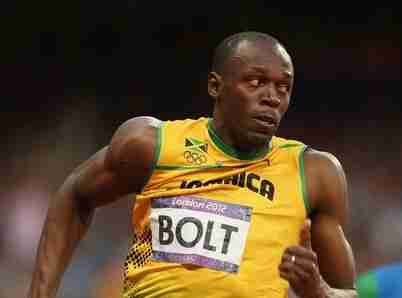 BEIJING, China, Sporting Alert – Usain Bolt has been drawn in the first semi-finals of the men's 100m along with American wonderkid Trayvon Bromell at the IAAF World Championships in Beijing.
Watch Day 2 Live Streaming Coverage and Follow Live Results | IAAF Live Streaming Youtube Page
Bolt, who cruised through his opening heat in 9.96 seconds on Saturday, will now be tested as he will face the world junior record holder, who looked quite impressive when winning his heat in 9.91.
The Jamaican world record holder will race from lane seven, with Bromell out of lane four.
Also drawn in semi-final one is Canadian Andre De Grasse, who is bang on form and is coming off a sprint double at the recently concluded Pan American Games.
De Grasse posted a time of 9.99 seconds in his heat on Saturday and looks well set to be one of the favourites to secure a place into the final on Sunday.
China's Bingtian Su, who has a personal and season's best of 9.99, France's Christophe Lemaitre and South Africa's Henricho Bruintjies are the others to watch for in that heat.
Meanwhile, American world leader Justin Gatlin, who sizzled to a slightly wind-aided 9.83 seconds to top all qualifiers from the heats, has been drawn in the second semis.
The undefeated sprinter will battle with countryman Mike Rodgers, Femi Ogunode of Qatar, Jamaica's Nickel Ashmeade, Akani Simbine of South Africa and Great Britain's Chijindu Ujah.
The third and final semi-final will see former world record holder Asafa Powell and American champion Tyson Gay doing battle.
Powell looked impressive when easing to victory in his heat in 9.95 seconds, while Gay, although not going under the 10-seconds barrier in his race, seems to have a lot more in the tank and should be ready to the take challenge to his rivals.
Drawn in the semi-final heat as well is Jimmy Vicaut of France, who will also be one to watch for in the medal race.
Vicaut ran 9.92 secs to win his heat on Saturday and should have no problems qualifying for the final.
The top two finishers from each semi will advance automatically with the next two fastest losers advancing as well.
LOCAL TIME
ET TIME
SEX
EVENT
ROUND
08:30
20:30 (22 AUG)
M
20 Kilometres Race Walk
Final
Startlist
09:00
21:00 (22 AUG)
W
Long Jump
Heptathlon
Startlist
10:05
22:05 (22 AUG)
M
Shot Put
Qualification
Startlist
10:25
22:25 (22 AUG)
W
400 Metres Hurdles
Heats
Startlist
10:50
22:50 (22 AUG)
W
Javelin Throw
Heptathlon Group A
Startlist
11:10
23:10 (22 AUG)
M
400 Metres
Heats
Startlist
12:00
00:00 (22 AUG)
W
100 Metres
Heats
Startlist
12:05
00:05 (22 AUG)
W
Javelin Throw
Heptathlon Group B
Startlist
AFTERNOON SESSION
LOCAL TIME
MY TIME
SEX
EVENT
ROUND
18:30
06:30
M
Hammer Throw
Final
Startlist
18:40
06:40
M
400 Metres Hurdles
Semi-Final
Startlist
19:10
07:10
M
100 Metres
Semi-Final
Startlist
19:30
07:30
M
Shot Put
Final
19:40
07:40
W
800 Metres
Heptathlon
20:15
08:15
M
800 Metres
Semi-Final
Startlist
20:45
08:45
W
1500 Metres
Semi-Final
Startlist
21:15
09:15
M
100 Metres
Final