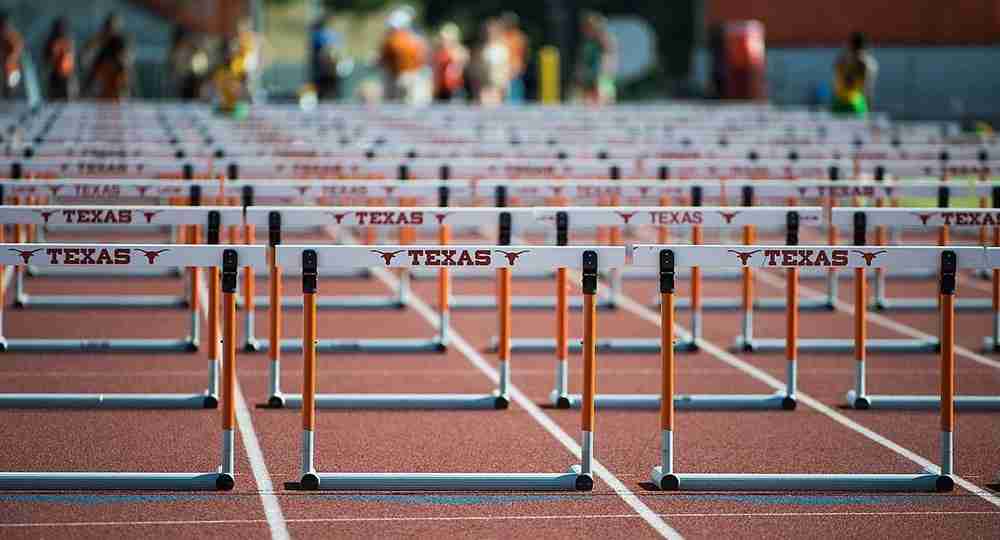 AUSTIN, Texas – Taliyah Brooks of Arkansas and Harrison Williams of Stanford captured the multi-events crowns at the 2016 Texas Relays in Austin on Thursday.
Men's Decathlon | Women's Heptathlon | Schedule | Live Results
The two standouts managed to hold off their respective challengers over the last two-days to set the standards, with Williams evening ending with a new school record.
Williams established a new Stanford decathlon record of 7,842 points when winning the mens title, which is the best among Americans and collegians athletes this year and the third-highest score in the world for the campaign.
Going to bed with a total of 4,036 points after the first day of competition, Williams collected a further 3,806 points on the second day with strong performances in the 110m hurdles and the pole vault.
"We were really pleased with the score and the result," Stanford's coach for multis, Michael Eskind said on the school's website.
"Other than a disappointment in the high jump (6-2 ¾ on Wednesday), this was a great two days."
Eskind added: "We knew he was fit based off of how he'd done at Indoors. We took a really light week after NCAA's and then put in some solid work the past 10 days to get ready for this meet.
"I'm really excited to get back to work to get ready for the championship portion of the season."
Roman Garibay (Tec de Monterrey) finished 396 points behind Williams in second place with 7, 446 points, with Daniel Martin of Texas A&M, 7,154 pts taking third place and Reese Thompson (Texas, 7136) and Quentin Cieslinski (Akron, 7109) completing the top five.
On the women's side, overnight leader Brooks maintained her lead to seal the win with a final score and personal best 5,991 points, according to the university stats.
En route to her overall career-best mark, Brooks also posted individual events personal bests in the javelin throw and 800m.
It was a good day for Arkansas in the competition, as the Razorbacks swept the heptathlon top-three places, with Payton Stumbaugh and Alex Gochenour finishing second and third, respectively, with Stumbaugh scoring a career best 5,985 points, which was just six-points behind Brooks' winning total.
Gochenour was third with a score of 5,833 points.
Ashton Zamzow of Texas set a new school record when finishing fourth with 5,829 pts.
DAY ONE REPORTS AND SCORES
AUSTIN, Texas – Arkansas' Taliyah Brooks and Harrison Williams of Stanford are the leaders of the combined events at the end of day 1 at the 2016 Texas Relays in Austin.
After four events, Brooks leads the women's Heptathlon with 3561 points after she got off to a strong start in the first two events — producing the best marks in both the 100m hurdles and high jump.
She registered a time of 13.16 second to top all the competitors in the sprint hurdles for 1,100 points before clearing 1.78m for 953 points in the high jump.
Brooks threw 11.44m in the shot and then ran 24.47 seconds to close out the day in the 200m for 936 points. Her time was a wind-aided 24.47 seconds.
All the times were assisted by a tailwind.
The Razorbacks sophomore leads three of her fellow Arkansas teammates, Alex Gochenour (3523 pts), Payton Stumbaugh (3517) and Leigha Brown (3341).
"I think the day went pretty well," said Brooks. "We started off with a good hurdle and that energy transferred to high jump.
"Having my teammates and both of our coaches out here really pulls me through and gives me a lot of positive energy."
Ashton Zamzow of Texas is 237 points behind the leader in sixth place with 3324 points.
Meanwhile, on the men's side, Stanford's Williams has taken a 60 point lead into the second day of competition in the Decathlon.
Williams ran a wind-aided 10.72 seconds over the 100m to open the competition and then closed with a time of 47.26 secs in the 400m to finish day 1 with 4036 points after five events.
He also jumped 6.88m (+2.6) in the long jump, threw 13.02m in the shot put and cleared 1.90m in the high jump.
"Day one was a solid day for me except for the high jump," Williams said. "It was consistent all around. I'm looking forward to another day and getting some solid events and finishes up.
"I'm just starting out these meets trying to get a qualifier for NCAAs. That way I can just focus on individual events until NCAAs and then hopefully focus on just getting a big score.
"Hurdles and pole vault I'm solid in. 1500, I'm trying to run a good time. Day two is the better day of my events."
Sitting second at the end of day 1 in the Decathlon is Ingmar Vos with 3976 pts and he is followed by BYU's Kevin Nielsen (3932), Cody Thomas (3930) and Matthew Garrison of Purdue (3891).