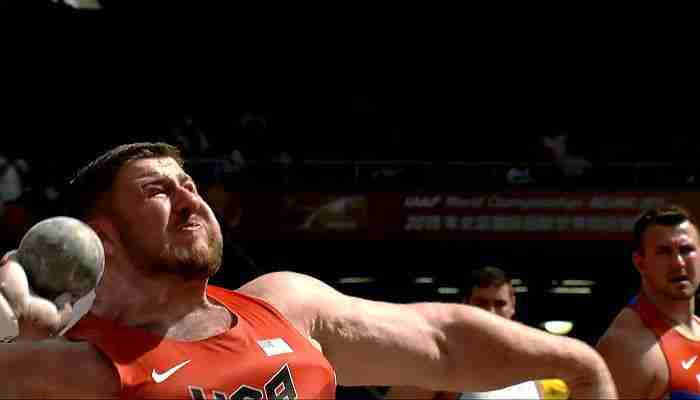 Eugene, Oregon – The planet's two best men's shot putters are ready for a new duel at the Prefontaine Classic.  For the first time, both are equipped with gold medals.
Some might call it a rematch, but others see it as a Pre Classic tradition.  Seven of the world's top 9 are prepared to enter the ring that has produced the most 70-foot throws in the world.
Joe Kovacs, 26, is a bright light in the shot put event.  His most shining moment to date came in topping a stellar field at last year's World Championships in Beijing – defeating a pair of two-time reigning Olympic or World Championships gold medalists, in what was the first major international competition of his young career.
The Beijing victory was only one crowning moment for Kovacs, who earlier in the summer heaved 74-¼ (22.56) to become the farthest American putter since 1990, when an infant Joe was just learning to walk.  Kovacs went on to add the IAAF Diamond League Trophy and No. 1 world ranking from Track & Field News.
(Kovacs has an interesting training background. His high school coach was his mother, working in a circle they painted in a parking lot because his school didn't have a shot ring.)
David Storl, is already Germany's third farthest ever at 72-10 (22.20), trailing only a pair of former world record holders in Udo Beyer and Ulf Timmermann, of what was then East Germany.
Storl is a two-time gold medalist at the World Championships (2011 & '13).  He also has the most major medals in the field at six. He has ranked five times already among the top 4 by T&FN – the last three at No. 2.  Storl debuted in the Pre Classic last year, finishing 2nd to Kovacs.
The field has much more, as five current or past major gold medalists grace an incredible collection that includes the top 6 from last year's World Championships.
O'Dayne Richards, 27, produced the first medal for Jamaica in the shot put with a bronze at last year's World Championships, equaling his national record 71-2 (21.69), set in winning the Pan-American Games gold.
New Zealand's Tom Walsh is the youngest in the field at 24 years old.  He won the gold medal at the recent World Indoor Championships in Portland with a national record 71-5½ (21.78).  Walsh was in medal contention in Beijing, until nudged to 4th by Richards.
Tomasz Majewski, 34, has two Olympic gold medals, joining legendary Parry O'Brien in an exclusive club.  The Polish record holder at 72-¼ (21.95), Majewski's best efforts on U.S. soil have come at Hayward Field, competing at the last six Pre Classics.  He has made every major championships final dating to 2004.
Reese Hoffa, 38, could call the Pre Classic his second home, and it would be fitting for an athlete who has already competed 11 times with 4 victories.  Or maybe home could be the T&FN world rankings, where he has ranked 12 straight years in the top 6 (only Udo Beyer has more at 13).  Hoffa won gold at the World Championships in 2007 and also claimed a bronze at the London Olympics.  In 2014, he earned the No. 1 world ranking by T&FN (his fourth).  He is the only two-time Diamond League Trophy winner in this event (2012 & '14).
Two 25-year-olds are prepared for their first Pre Classic.  American Jordan Clarke, a four-time NCAA champion from Arizona State, ranked No. 8 in the world last year by T&FN.  Tim Nedow is a three-time Canadian champion who earned the silver medal at last summer's Pan-American Games behind Richards.
Interesting note—no non-American has ever won the Prefontaine Classic men's shot put!
Men's Shot Put
Personal Best
Joe Kovacs (USA)
74-¼
(22.56)
Reese Hoffa (USA)
73-7¼
(22.43)
David Storl (Germany)
72-10
(22.20)
Tomasz Majewski (Poland)
72-¼
(21.95)
Tom Walsh (New Zealand)
71-5½
(21.78)
O'Dayne Richards (Jamaica)
71-2
(21.69)
Jordan Clarke (USA)
70-6¼
(21.49)
Tim Nedow (Canada)
69-11¾
(21.33)