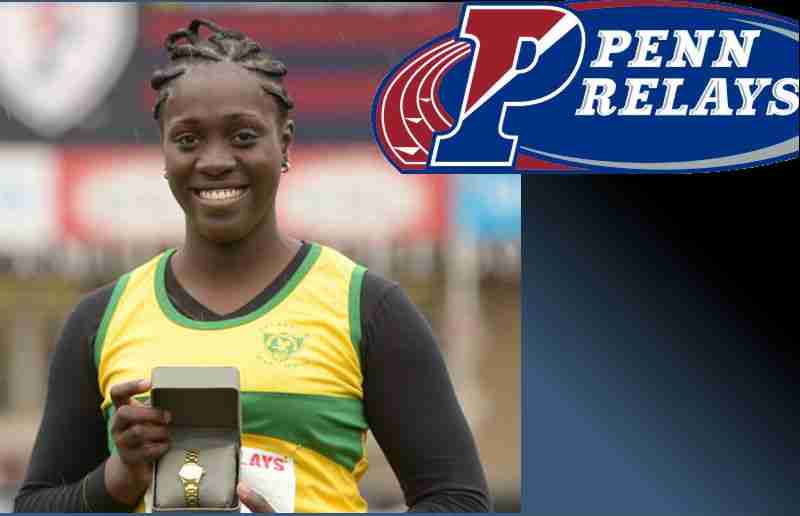 PHILADELPHIA – Selected results from the first full day of action at the 2016 Penn Relays at Franklin Field in Philadelphia, PA on Thursday.
Among the highlighted results were the record throw from Jamaica's Shanice Love in the high school girls' discus and Georgetown victory in the College Women's Distance Medley Championship of America Invitational.
Love, who is having an outstanding season thus far, produced a new Jamaica National Junior record mark of 54.72m to break Gleneve Grange's (Holmwood Tech/Jamaica) previous record of 54.29, set in at Penn Relays 2013. Second place finisher Elena Bruckner (Valley Christian/San Jose, CA) also went further than the previous mark twice when she did 54.31m and 54.44m.
College Women's 400m Hurdles:
1 Grace Claxton, Albany 56.69; 2 Tia-Adana Belle, St. Augustine's 56.72; 3 Rushell Clayton, UWI Mona 57.01; 4 Cheyenne Hoerr, No. Illinois 1:00.55; 5 Markeeta Thomas, Clemson 1:00.68; 6 Jasmine Burkett, St. John's 1:00.68; Maud Sanmiquel, Findlay 1:00.75; 8 Alexandra Cimino, Maryland 1:00.84.
High School Girls 400m Hurdles:
1 Anna Cockrell, Providence Day (Charlotte, NC) 57.38; 2 Shannon Kalawan, Edwin Allen (Clarendon, JAM) 58.80; 3 Brandee' Johnson Nansemond, River (Suffolk, VA) 1:00.26; 4 Brooklynn Broadwater, Springside (Philadelphia, PA) 1:00.60; 5 Amira Aduma, Phoebus (Hampton, VA) 1:01.30; 6 Breanne Bygrave, Wakefield (Raleigh, NC) 1:02.05; 7 Alyssa Sandy, Paul Robeson (Brooklyn, NY) 1:02.16; 8 Taliah Cintron, Padua Academy (Wilmington, DE) 1:02.19.
College Women's Distance Medley Championship of America Invitational: 1 Georgetown 11:12.73; 2 Oklahoma State 11:17.94; 3 Villanova 11:21.77; 4 Dartmouth 11:28.03; 5 UConn 11:30.92; 6 Duke 11:32.10; 7 Indiana 11:32.52; 8 St. John's 11:47.45
High School Girls' Distance Medley Championship of America: 1 Lake Braddock (Burke, VA) 11:36.52; 2 Saratoga Springs (Saratoga Springs, NY) 11:46.84; 3 Monroe-Woodbury (Central Valley, NY) 11:51.65; 4 Unionville (Kennett Square, PA) 11:58.16; 5 Southern Regional (Manahawkin, NJ) 12:00.32; 6 Ursuline School (New Rochelle, NY) 12:06.45; 7 Warwick Valley (Warwick, NY) 12:09.03; 8 Friends' Central (Wynnewood, PA) 12:09.58
High School Girls' Discus Throw:
1 Shanice Love Excelsior (Kingston, JAM) 54.72m; 2 Elena Bruckner Valley Christian (San Jose, CA) 54.44m; 3 Devia Brown Hydel (St. Catherine, JAM) 48.34m; 4 Serena Brown St. Augustine's (Nassau, BAH) 46.55m; 5 Lauren Jones James A. Garfield (Garrettsville, OH) 45.98m; 6 Veronica Fraley Wakefield (Raleigh, NC) 43.59m; 7 Maura Kimmel Moniteau (West Sunbury, PA) 43.04m; 8 Seasons Usual Frederick Douglass (Upper Marlboro, MD) 42.68m