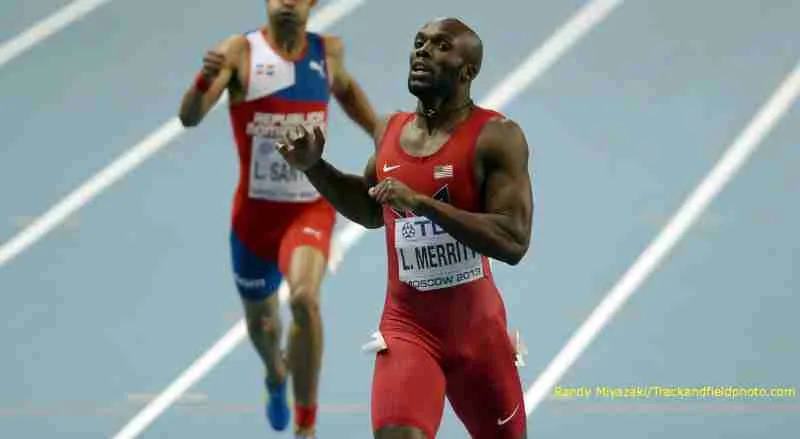 DOHA, Qatar – LaShawn Merritt believes the men's 400m world record could be under serious threat this year, as he's backing some one to go low 43s before the campaign is over.
The 2008 Olympic Games champion from Beijing, has been working on a number of things, including his speed work this season, as he seeks to win the one-lap event at the Rio Olympic Games in the summer.
The American, who was part of a very fast race at the IAAF World Championships last term, has been scouting his rivals, and he thinks someone could challenge Michael Johnson's long-standing world record of 43.18, set in 1999.
World champion Wayde van Niekerk of South Africa ran 43.48 last season, the fourth fastest all-time in the event, while Botswana's Isaac Makwala (43.72), Olympic champion Kirani James of Grenada (43.74) and Youssef Al-Masrahi of Saudi Arabia (43.93) have all gone under 44 seconds and Merritt thinks this can only be good for the sport.
Jamaica's Rusheen McDonald is also a sub-44 seconds runner as well.
"This year is going to be fast," he noted ahead during an interview ahead of the opening IAAF Diamond League meeting in Doha, on Friday.
"It makes the event a lot more interesting. Is the world record in danger? I believe so, with so many athletes running in the 43 low."
Merritt, who owns a personal best of 43.65 secs, is a two-time IAAF World 400m champion and he enters Friday's race with a season's best of 44.22 seconds, which he posted in uncomfortable conditions at the Drake Relays in Iowa, last Friday.
The American star, who is ranked sixth on the world 400m all-time list, revealed that he's become even more "passionate than ever" about competing and is looking forward to performing well at the US Trials and in Rio.
"I want to stay sharp, be ready for the US Trials and always improve," said Merritt. "I am training hard, I am on a more strict diet that I've ever been on and I keep learning more.
"I am more passionate than ever and there's a lot of untapped potential in me."
He added: "I do study myself a lot. I watch films of my races and training to see where I can do better, along with my coach.
"There's always room for improvement and I want to be both mentally and physically ready. My training has been going well, the key obviously is to stay healthy, be competitive and put the perfect race together.
"I know how to handle pressure, I believe in myself, in what I can do."
Merritt, who set the current Doha Diamond League record of 44.19 in 2014, is looking forward to lowering that mark at this year's meeting.
Among the athletes down to challenge the American are Makwala, Olympic silver medallist Luguelín Santos of the Dominican Republic, T&T's former World Junior champion Machel Cedenio, Bahamian national record holder Steven Gardiner and 19-year-old Abdalelah Haroun of Qatar whose has a personal best of 44.27.