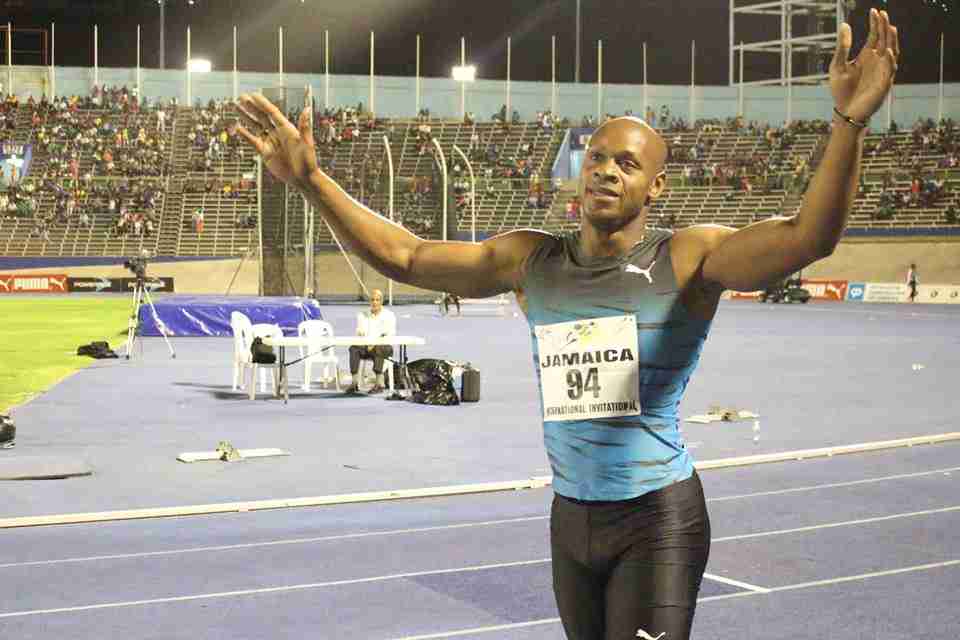 Results from the main events at the Meeting Region Guadeloupe on Saturday evening (14). Among the highlighted athletes at the event were Asafa Powell, Kirani James, LaShawn Merritt and Marquise Goodwin.
Powell, the former 100m world record holder scored a win in that event in his first appearance over the straightaway dash. The Jamaican clocked 10.04 to win without any trouble.
Also scoring victories at the meeting were Grenadian Olympic champion James, who took the men's 400m title in 44.15, Merritt, the 200m in 20.15 and American Marquise Goodwin, who leaped to world leading and personal best mark of 8.45 metres in the men's long jump.
Other winners were Americans English Gardner and Francena McCorory and Jamaica's Kaliese Spencer.
Men's Results
100m
1 Asafa Powell JAM 10.04; 2 Diondre Batson USA 10.15 SB; 3 Andre De Grasse CAN 10.20 SB; 4 BeeJay Lee USA 10.21 SB; 5 Antoine Adams SKN 10.27; 6 Oshane Bailey JAM 10.33; 7 Richard Thompson TTO 10.37
200m
1 LaShawn Merritt USA 20.15; 2 BeeJay Lee USA 20.31; 3 Andre De Grasse CAN 20.46; 4 Rasheed Dwyer JAM 20.60; 5 José Carlos Herrera MEX 20.68; 6 Terrel Cotton USA 20.74; 7 Remontay McClain USA 20.83; 8 Curtis Mitchell USA 21.05
400m
1 Kirani James GRN 44.15; 2 Bralon Taplin GRN 44.54; 3 Javon Francis JAM 44.77 SB; 4 Deon Lendore TTO 45.31 SB; 5 Liemarvin Bonevacia NED 46.11; 6 Peter Matthews JAM 46.53; 7 Lalonde Gordon TTO 46.65 SB
110m hurdles
1 Ronnie Ash USA 13.33;  2 Aleec Harris USA 13.43; 3 Devon Hill USA 13.61; 4 Mikel Thomas TTO 13.61; 5 Jeff Porter USA 13.62; 6 Eddie Lovett ISV 13.70; 7 Shane Brathwaite BAR 14.53;  8 Jarret Eaton USA 15.75
400m hurdles
1 Jordin Andrade CPV 49.52 NR; 2 Roxroy Cato JAM 49.98; 3 Leford Green JAM 49.98; 4 Miles Ukaoma NGR 50.07; 5 Ricardo Cunningham JAM 50.41; 6 Ludvy Vaillant FRA 51.05; 7 Adam Durham USA 51.13
Long Jump
1 Marquise Goodwin USA 8.45m WL PB; 2 Mike Hartfield USA 8.34 PB; 3 Marquis Dendy USA 8.19; 4 Jarvis Gotch USA 8.07; 5 Damar Forbes JAM 8.05; 6 Ron Taylor USA 7.50
High Jump
1 Donald Thomas BAH 2.31m; 2 Trevor Barry BAH 2.25; 3 Ricky Robertson USA 2.25; 4 Jamal Wilson BAH 2.22; 5 Bryan McBride USA 2.22
Women Results
100m
1 English Gardner USA 11.04 SB; 2 Alex Anderson USA 11.28; 3 Shalonda Solomon USA 11.36; 4 Christania Williams JAM 11.36; 5 Kimberlyn Duncan USA 11.43; 6 Remona Burchell JAM 11.44; 7 Lekeisha Lawson USA 11.47; 8 Sheniqua Ferguson BAH 11.68
400m
1 Francena McCorory USA 50.73; 2 Kala Funderburk USA 52.51; 3 Marie Gayot FRA 52.57; 4 Patricia Hall-Pritchett JAM 52.70; 5 Ebony Eutsey USA; 6 Verone Chambers JAM 53.01; 7 Kineke Alexander VIN 53.37; 8 Jonique Day JAM 54.23
100m hurdles
1 Kristi Castlin USA 12.69; 2 Sharika Nelvis USA 12.76; 3 Queen Harrison USA 12.76; 4 Jasmin Stowers USA 12.96; 5 Raven Clay USA 13.06; 6 Nia Ali USA 13.35; 7 Morgan Goodwin USA 13.47; 8 Chrystie Lange FRA 13.73
400m hurdles
1 Kaliese Spencer JAM 55.34; 2 Leah Nugent USA 55.60 PB; 3 Jasmine Hyder USA 56.72; 4 Rushell Clayton JAM 57.16; 5 Latosha Wallace USA 57.73; 6 Janeil Bellille TTO 57.77
Long Jump
1 Kenyattia Hackworth USA 6.61; 2 Bianca Stuart BAH; 3 Chantel Malone IVB 6.21; 4 Whitney Gipson USA 6.16; 5 Malaina Payton USA 6.11; 6 Sandisha Antoine LCA 6.03