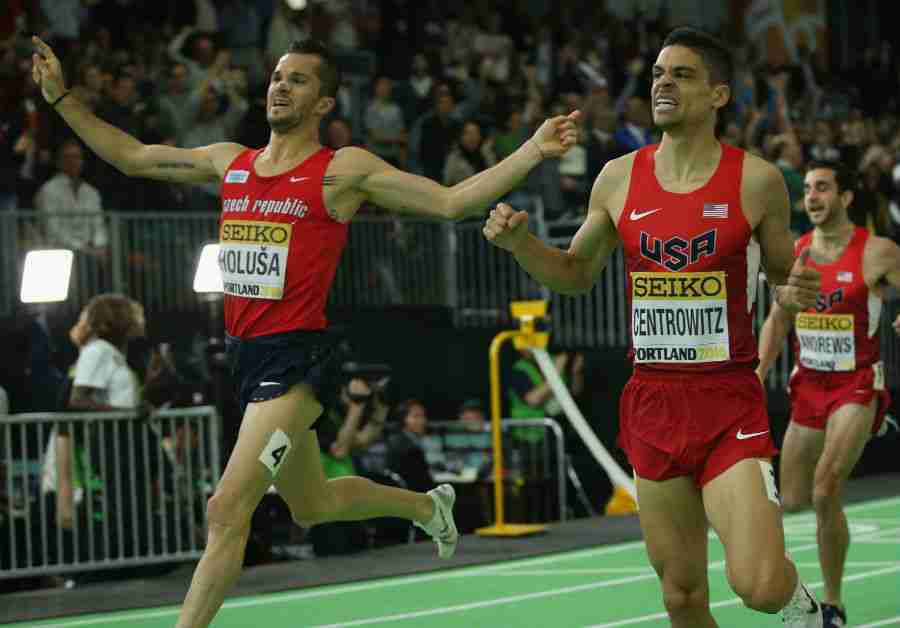 Eugene, Oregon – The best mile race in the world is set for the Prefontaine Classic, as the Bowerman Mile will feature a record five Olympic or World gold medalists in its best field in history.
The Bowerman Mile will also reunite for the first time the top 5 from last year's wild finish in Beijing at the World Championships, when just 0.41 seconds separated 1-5.  Mile fans will also be eager to see an exciting 18-year-old American chasing a prep record that generated perhaps the loudest crowd roar ever heard at the Pre Classic.
Asbel Kiprop of Kenya is the world's dominant miler and coming off his best year.  At 26, he has already won four major gold medals, the first as a 19-year-old in the 2008 Beijing Olympics 1500 meters.  His victory in last year's Beijing World Championships was his third straight, equaling the streak set by world record holder Hicham El Guerrouj in 1997-2001.
Kiprop won the IAAF Diamond League in its first (2010) and most recent (2015) years.  He has won the Bowerman Mile three times and has run sub-3:50 at the Pre Classic five times, both the most in meet history.  Kiprop has run the Bowerman Mile seven straight years, and a sub-4 this year will make him equal with Bernard Lagat for the most in meet history.
This summer in Rio, Kiprop hopes to become the first Kenyan to win two Olympic 1500-meter golds.  His campaign kicked off with a great start, winning the Doha 1500 by over 1.5 seconds in a world-leading 3:32.15.
The closest anyone has come to Kiprop's dominance is his 26-year-old countrymate Silas Kiplagat, also a two-time Diamond League winner (2012 & '14) and the only runner to rank No. 1 in the world (again '12 & '14) by T&FN since Kiprop's run of five No.1s began in 2009.
Kiplagat and Kiprop have faced each other 35 times in the 1500/mile, and Kiprop owns an 18-17 edge.  In the Bowerman Mile, however, Kiplagat has a 3-2 lead.  Kiplagat's homestretch 100 was the fastest in Beijing last year, but relegated him to 5th in the close finish.
It was another Kenyan, Elijah Manangoi, who came out of nowhere last year to give Kiprop his most recent challenge.  Now 23, Manangoi is a former 400-meter runner who ran 46.5 as a 20-year-old in 2013, then suddenly jumped to the 1500 and ran a PR 3:35.0 at high altitude in 2014.
Last year he won the Kenyan national championship, then was just a step behind Kiprop to collect silver at the Beijing World Championships.  His appearance in the Bowerman Mile will be his first in the U.S., and his 1500 PR of 3:29.67 is equivalent to a 3:46.5 mile.
Ayanleh Souleiman, 23, of Djibouti is the two-time reigning winner of the Bowerman Mile, including the 2014 victory in a meet record 3:47.32 – the fastest in the world since 2007 as a record six ran sub-3:50.  He has ranked among the top 3 the last three years by Track & Field News in this event and among T&FN's top 10 in the 800 the last three years – the last man to rank three straight years in the 800 & 1500/mile was Seb Coe, who did it twice (1979-81 and 1984-86). Souleiman won the 2014 World Indoor Championships 1500 and earned bronze in the 800 at the 2013 World Championships.
American Matthew Centrowitz, 26, won the gold medal at the World Indoor Championships in Portland in March. It was the first Olympic or World gold by an American-born man in this event since 1908 (Mel Sheppard in the first London Olympics).
The former NCAA champion for Oregon has made every Olympic or World final since finishing his collegiate career, including a silver medal and bronze medal at the World Championships (2013 & '11, respectively).  He won his third Wanamaker Mile this indoor season and was runner-up to Souleiman in last year's Bowerman Mile by just 0.10 seconds.
Abdelaati Iguider, 29, was bronze medalist in last summer's fantastic Beijing World Championships.  He is Morocco's third-fastest miler in history, trailing only world record holder Hicham El Guerrouj and Said Aouita, former WR holder in the 1500 meters.
Iguider was the 2012 Olympic bronze medalist after earlier winning the World Indoor Championships.  His No. 5 world ranking by T&FN  last year was his highest yet.
Taoufik Makhloufi, 28, of Algeria is the reigning Olympic gold medalist and last year saw his best racing since 2012 as he was ranked No. 4 in the world by T&FN.  Leading after three laps, Makhloufi was 4th in the Beijing World Championships, just 0.09 seconds from a medal.
Like Souleiman, he is also world class in the 800, ranking among the world's top 10 by T&FN  the last two years.  He was third in a close Pre Classic 800 last year behind Mohammed Aman and Nijel Amos.
Many fans will be following 18-year-old Drew Hunter, the national high school cross-country champ who broke Alan Webb's indoor prep mile record in New York, then ran even faster at 3:57.81 in the "B" section of the Wanamaker Mile while ill.
He added another page in history at the recent Penn Relays, taking the baton some 50 yards behind on the anchor leg of the distance medley relay. Hunter clocked a Penn Relays prep record split of 4:00.73 1600 to bring his Loudoun Valley (Va.) High School team to a thrilling photo-finish victory.
Only Webb (3:53.43) and Jim Ryun (3:55.3) are faster on the U.S. high school all-time mile list.  Webb set his record at the 2001 Pre Classic, improving his PR by over 6 seconds as the Hayward Field crowd roared on his last lap.  Webb, the American record holder in the mile at 3:46.91, is also from Virginia and his coaches as a prep freshman were Hunter's parents.
 Evan Jager, 27, obliterated his own steeplechase American record last year with a time of 8:00.45, despite falling during the race.  His No. 4 world ranking by T&FN  was his fourth-straight in the top 10 since first taking up the event in 2012, when he set his first American record and made the Olympic final.  In the 1500, he was the second fastest American last year (3:32.97), and his mile PR of 3:53.33 was set in the 2014 Pre Classic International Mile.
Jakub Holusa, 28, of the Czech Republic earned the silver medal at the World Indoor Championships 1500 in Portland in March.  It matched the silver he earned in the 800 at the 2012 World Indoor.
Ben Blankenship, 26, won last year's Pre Classic International Mile.  He is a former 2-time Big Ten indoor mile champ while at Minnesota.
Ronald Kwemoi, 20, of Kenya is the world junior record holder at 3:28.81 for 1500 meters. He is already a Kenyan champion. In 2014 at age 18, he claimed bronze at the African Championships behind Souleiman and Kiprop in a close finish.
James Magut, 25, is a former two-time winner of the Pre Classic International Mile (2012 & '13).  He also won the 2014 Commonwealth Games.  He is a sub-3:50 miler, courtesy of a 3:49.43 finish in the 2014 Bowerman Mile.
The Bowerman Mile is named for Bill Bowerman, a legendary figure in track & field history who co-founded Nike while coaching national championship teams four times at the University of Oregon (1962-70).  Among his famous pupils was Steve Prefontaine.
Bowerman passed away at age 88 on December 24, 1999, and the Pre Classic mile has been known as the Bowerman Mile ever since.  A compilation of all Pre Classic sub-4 miles and other mile statistics is available at PreClassicMiles.  Since 2009, the U.S. Track & Field and Cross Country Coaches Association has awarded its highest honor, The Bowerman, to the top male and female collegiate track & field athlete.
Men's Bowerman Mile
Personal Best
Ayanleh Souleiman (Djibouti)
3:47.32
Silas Kiplagat (Kenya)
3:47.88
Asbel Kiprop (Kenya)
3:48.50
James Magut (Kenya)
3:49.43
Abdelaati Iguider (Morocco)
3:49.09
Matthew Centrowitz (USA)
3:50.53
Taoufik Makhloufi (Algeria)
3:52.16
Ronald Kwemoi (Kenya)
3:52.57
Ben Blankenship (USA)
3:53.13
Evan Jager (USA)
3:53.33
Jakub Holusa (Czech Republic)
3:53.46
Drew Hunter (USA)
3:57.81
Elijah Manangoi (Kenya)
None (3:29.67 1500)