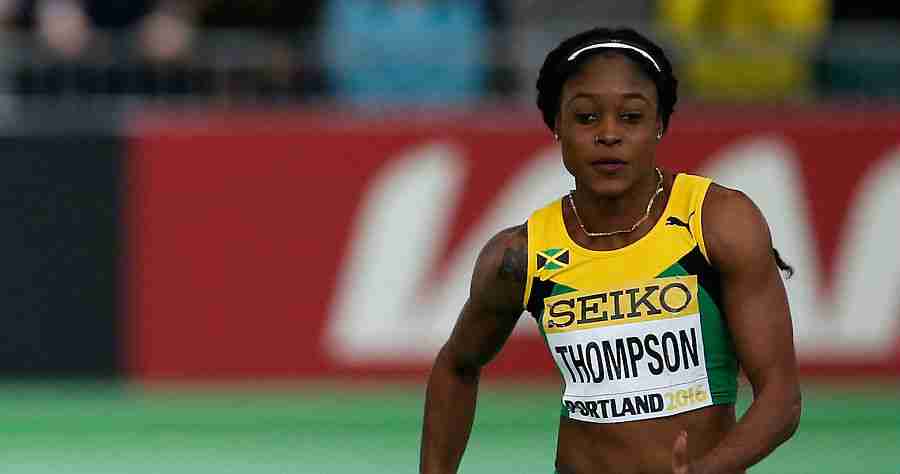 KINGSTON, Jamaica, Sporting Alert – Elaine Thompson thought she had destroyed her 100m personal best when she crossed the finishing line at the 2016 Jamaica International Invitational – an IAAF World Challenge meeting at the National Stadium in Kingston on Saturday.
However, after sizzling to a stunning 10.71 seconds to win the women's event, the Jamaican world 200m silver medallist realized that her performance was assisted by a +2.4 m/s tailwind.
After the race, Thompson was a little disappointed about not achieving a personal best, but was happy with the execution.
"I've been training really hard so I just went out there to execute and that's what I did and came out victorious," she said.
The 23-year-old, who revealed that she wants to win the 100m and 200m at the Olympic Games in Rio, this summer, got away to a good start, but she was still slightly behind the usually quick-starting American English Gardner in the opening 30m.
Nevertheless, the World Indoor bronze medallist from Portland 2016 in March, got into her running strides midway through the contest and quickly moved away from her challengers before opening up a three-metre lead in the closing metres.
Gardner held on to take second place in 10.85 secs, with Trinidad and Tobago's Michelle-Lee Ahye getting third in a time of 10.98.
In the men's race, Commonwealth Games champion Kemar Bailey-Cole clocked 10.01 seconds for first place in his opening 100m of the season.
Bailey-Cole made the Jamaican team to the IAAF World Championships last summer, but was forced to pull out with a hamstring injury.
He said he was a little surprised with his season opener.
"I feel very good," Bailey-Cole said after the race.
"This means a lot to me because it's my first 100m [in 2016] and I didn't expect to go this fast, really."
USA's Mike Rodgers took second in 10.03, just ahead of a pair of Jamaicans, Julian Forte (10.06) and Andrew Fisher (10.07).
Asafa Powell, perhaps running his toughest race for some time, held on to win the men's 200m, despite hitting a brick wall over the last 50m.
Powell, who was greeted with the evening's loud cheers when he entered the track, was running his second 200m of the season, and indeed, the second one in about five-years, got away to a sizzling start and took the lead heading in the home straight.
However, as expected, the 33-year-old began to fade as he approached the finishing line, but managed to hold on for the victory in a season's best time of 20.45.
Powell, the former world 100m record holder, then took some time to snap a few shots with the local fans before heading off to do his cool down.
He was also presented with the Howard Aris award during the award ceremony – named after the late president of the Jamaica Amateur Athletic Association.
American Bejee Lee took second in 20.52 ahead of Rasheed Dwyer of Jamaica, third in 20.52.
In the absence of world and Olympic 100m champion Shelly-Ann Fraser-Pryce of Jamaica, Bahamian world championships 400m silver medallist Shaunae Miller, blew the field away to win the women's 200m in 22.14 (2.2 m/s).
In the meantime, Janieve Russell and Jeffery Gibson won the women's and men's respective 400m hurdle races.
Russell, the 2012 World Junior champion and IAAF World Championships finalist from Beijing, last year, pulled away from her rivals in the homestretch to take the women's race in 54.61.
The Stephen Francis-coached hurdler got home ahead of countrywoman Ristananna Tracey (55.31) and American Leah Nugent (56.24).
"I am very excited about my performance," Russell said.
"It wasn't done as properly as I was told by my coach, but overall I am happy because I opened with a personal best.
"I am training really hard."
Gibson, the tallest competitor in the field, raced back powerfully over the last 50m to take the men's event in 48.96, the third-fastest time in the world this year.
Jamaica's Jaheel Hyde, who is still a junior and will look to defend his title later this summer in Bydgoszcz, Poland, also had an encouraging finish in the closing metres to take second in 49.16.
Bershawn Jackson, the 2005 world champion led the race heading into the final two barriers, but the American was unable to hold on to the lead and had to settle for third in 49.29.
Another local star, Roxroy Cato (JAM) took fourth in 49.32.
In the opening 400m races, Jamaica's Javon Francis took the men's division in 44.85 ahead of Vernon Norwood (USA) 45.00, Kevin Borlee (BEL) 45.17, while American Francena McCorory captured the women's race in 50.52 ahead of Novlene Williams-Mills (JAM), 50.87 and Stephenie McPherson (JAM), 51.20.