AMSTERDAM – Dafne Schippers warmed up for the Olympic Games next month with a 10.90 seconds victory at the 2016 European Athletics Championships in windy and chilly conditions in Amsterdam on Friday.
Schippers, who opted to run just the 100m at the championships, instead of doing the double, didn't get off to the best start, but once she got into her strides, the Dutch sprinter ran unchallenged to line.
"It was quite windy so it was difficult to set a good time but I am shaping up well for Rio," she said.
The IAAF World Championships 200m gold medalist in Beijing, last summer, heads into the Olympics as the the European queen of Rio and she likes the title.
"It is fantastic to have that title, I'm happy with it. I'm on the right track for Rio," Schippers said.
Finishing second to the World Championships 100m silver medallist was the experienced Ivet Lalova-Collio, who ran 11.20 seconds, while the bronze medal went to Switzerland's Mujinga Kambundji, in 11.25.
In the men's sprints, Dutch sprinter Churandy Martina crossed the finishing line first in the men's 200m, but was later disqualified.
Martina, who won the men's 100m title earlier this week, initially posted 20.37secs to finish first in the half-lap event as well on Friday, but the 32-year-old was dramatically disqualified deep into his celebrations.
The experienced sprinter was DQ'd after replays showed that he had strayed into another lane during the race – meaning he missed out on completing the sprint double.
"I really don't know what happened," he said. "I have to check the replay. It didn't feel like I stepped on the line."
Spain's Bruno Hortelano, who was second to Martina before the disqualification in 20.45sec, advanced to the top of the podium, with Turkey's Ramil Guliyev (20.51) upgrading to silver, and Great Britain's Danny Talbot taking the bronze (20.56).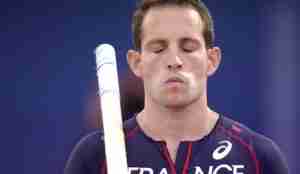 In other results on the day, Great Britain's Martyn Rooney and Italy's Libania Grenot won the men's and women's 400m respective titles with times of 45.29 and 50.73.
The shock of the day, though, came in the men's pole vault competition where world leader Renaud Lavillenie failed to clear a height and finished without a medal.
The Frenchman entered the competition at 5.75m, but he struggled to overcome the wet and chilly conditions and missed all three attempts – handing the title to Poland's Robert Sobera, who cleared 5.60m for the win.
In the women's Discus Throw, Olympic champion Sandra Perkovic of Croatia dominated the competition with a 69.97m effort in the fifth round.
She beat a pair of Germans to the top podium slot – with Julia Fischer and Shanice Craft taking second and third with respective marks of 65.77m and 63.89m.