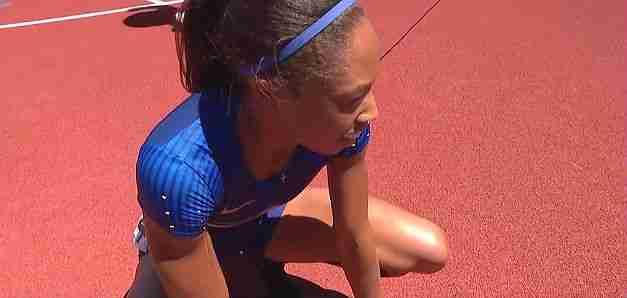 EUGENE – Results from event finals on Day Three at the U.S. Olympic Game Team Trials at Hayward Field in Eugene on Sunday.
Justin Gatlin posted a world leading time of 9.80 seconds to win the men's 100m title, while LaShawn Merritt was equally as impressive when posting a world leading 43.97 seconds to win the men's 400m, almost a full second ahead of second place Gil Roberts.
On the women's side, English Gardner held her form in the closing metres to win the women's 100m in swift 10.74 seconds personal best.
Allyson Felix won the women's 400m after finishing strongly down the home straight to win in world-leading 49.68. Phyllis Francis also broke 50-seconds, clocking 49.94 for second place.
MEN RESULTS
Men's 100m Final
1 Justin Gatlin Nike 9.80 0.160 3
2 Trayvon Bromell New Balance 9.84 0.147 6
3 Marvin Bracy adidas 9.98 0.146 2
4 Michael Rodgers Nike 10.00 0.158 5
5 Tyson Gay Unattached 10.03 0.170 7
6 Christian Coleman Tennessee 10.06 0.163 4
7 Jarrion Lawson ASICS 10.07 0.164 1
8 Dentarius Locke Nike 10.34 0.169 8
Men's 400m Final
1 LaShawn Merritt Nike 43.97 0.210 5
2 Gil Roberts Nike 44.73 0.171 6
3 David Verburg adidas 44.82 0.203 4
4 Arman Hall Florida 45.09 0.174 3
5 Tony McQuay adidas 45.30 0.203 7
6 Kyle Clemons adidas 45.39 0.206 2
7 Najee Glass Florida 45.48 0.190 8
8 Michael Berry Nike 45.90 0.249 1
Men's Long Jump Finals
1 Jeffery Henderson adidas 8.59 (28-2) 2.9w
2 Jarrion Lawson ASICS 8.58 28-1 ¾ 1.8w
3 Will Claye Nike 8.42 (27-7 ½) 5.0w
4 Marquis Dendy Nike 8.42 27-7 ½ 1.6w
5 Mike Hartfield adidas / Chula Vista Elite 8.39 27-6 ½ 3.2w
6 KeAndre Bates Florida 8.32 27-3 ¾ 3.6w
7 Marquise Goodwin Unattached 8.25 27-0 ¾ 2.7w
8 Damarcus Simpson Chadron St. 8.12 26-7 ¾ 2.0w
9 Norris Frederick Zensah 8.04 26-4 ½ 2.0w
10 Adoree Jackson Unattached 7.83 25-8 ¼ 1.3w
11 Mikese Morse Unattached 7.81 25-7 ½ 1.8w
Decathlon Final Points Standings: Top 10
1 Ashton Eaton Nike OTC 8750
2 Jeremy Taiwo Brooks / BROOKS Beasts TC 8425
3 Zach Ziemek Wisconsin 8413
4 Garrett Scantling Georgia 8228
5 Devon Williams Georgia 7927
6 Solomon Simmons Eastern Michigan 7829
7 Mitch Modin Oregon 7785
8 Austin Bahner Shocker TC 7776
9 Curtis Beach Nike 7728
10 Scott Filip Rice 7680
WOMEN RESULTS
Women's 100m Final (1.0 m/s)
1 English Gardner Nike 10.74
2 Tianna Bartoletta Nike 10.78
3 Tori Bowie adidas 10.78
4 Morolake Akinosun Texas 10.95
5 Jenna Prandini Puma 10.96
6 Ariana Washington Oregon 11.01
7 Barbara Pierre Nike 11.10
8 Tiffany Townsend adidas 11.11
Women's 400m Final
1 Allyson Felix Nike 49.68 0.206 6
2 Phyllis Francis Nike 49.94 0.190 2
3 Natasha Hastings Under Armour / NYAC 50.17 0.225 7
4 Taylor Ellis-Watson adidas 50.25 0.602 3
5 Francena McCorory adidas 50.37 0.368 5
6 Courtney Okolo Nike 50.39 0.271 4
7 Ashley Spencer Nike 51.09 0.614 8
8 Quanera Hayes Nike 51.80 0.357 1
Women's High Jump Final
1 Chaunte Lowe Nike 2.01 6-7
2 Vashti Cunningham Nike 1.97 6-5 ½
3 Inika McPherson Unattached 1.93 6-4
4 Amina Smith adidas Garden State TC 1.91 6-3 ¼
5 Kaitlin Whitehorn Dartmouth 1.89 6-2 ¼
6 Elizabeth Patterson Unattached 1.89 6-2 ¼
7 Madeline Fagan Georgia 1.84 6-0 ½
8 Maya Pressley Georgia TC 1.84 6-0 ½
8 Rachel McCoy Unattached 1.84 6-0 ½
10 Susan Jackson Heights Performance 1.84
11 Kaysee Pilgrim UNLV 1.79 5-10 ½