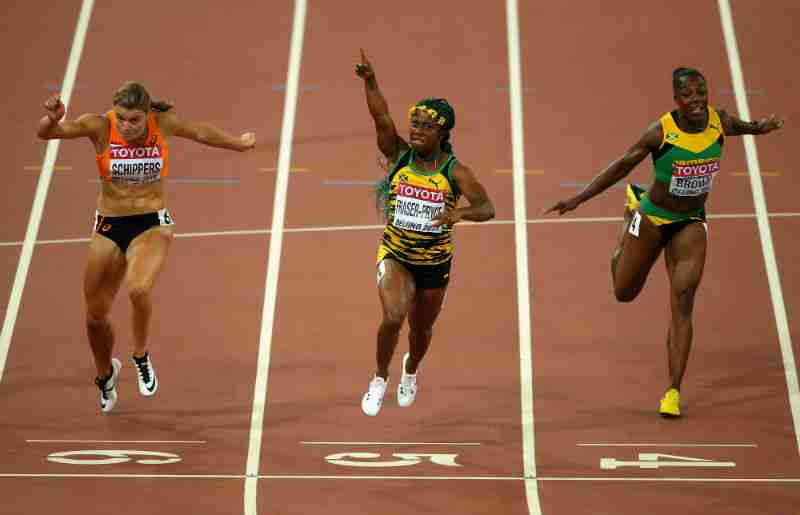 RIO DE JANEIRO, BRAZIL – The battle for the women's sprint titles at Rio 2016 should be very interesting, with Shelly-Ann Fraser-Pryce and Veronica Campbell-Brown chasing history.
Americans Allyson Felix, Tori Bowie and English Gardner, Jamaicans Fraser-Pryce, the veteran Campbell-Brown and Elaine Thompson, in addition to the Netherlands' Dafne Schippers and Shaunae Miller of the Bahamas, will projectedly provide the bulk of the hunting for the gold medals across the 100m, 200m and 400m.
Women's 100m Preview
Fraser-Pryce goes in search of an historic third successive Olympic Games 100m title, but will unquestionably have her hands full in Rio this month.
The Jamaican usually starts major championships at the top of the bookies list, but her inconsistent form this season due to injuries, have many wondering if the two-time defending champion will even see the podium.
A toe injury disrupted her preparations this campaign, while her inability to hold off her competitors over the last 30m would have boosted her rivals' confidence heading into the event.
World-leader Thompson, the training partner of Fraser-Pryce and winner at the Jamaica championships last month with a blistering 10.70 seconds, is also coming off a hamstring injury, but her coach Stephen Francis stated that she will be ready.
English Gardner, Tianna Bartoletta and Tori Bowie were also impressive at the U.S. Trials – dipping under 10.80 seconds for the top three spots and they will be looking to push the USA back to the top of women's sprinting.
European champion Schippers, who clocked a seasonal best of 10.83 already this year, is another strong gold medal contender, and if the Dutchwoman gets her starts right, everyone else could end up racing for the minor places.
The leading contenders on the watch list are the Ivorians Murielle Ahoure, who ran a personal best of 10.78 this season and Marie-Josée Ta Lou, who is also in good championships sub-11 seconds form.
Michelle-Lee Ahye of Trinidad and Tobago, Blessing Okagbare of Nigeria, Jamaica's newly found Christania Williams, Carina Horn of South Africa and Great Britain's Desiree Henry are some of the other competitors expected to be mixing it up with the favourites.
Women's 200m Preview
Since blasting to a stunning 21.63 to win the world title last summer at Beijing 2015, Schippers has been the front runner for the women's 200m crown in Rio.
The world-leader at 21.93secs is one of only two women under 22-seconds this season and she will be tough to beat.
One of Schippers' main title opposition will be world silver medallist Thompson, who has a season's best of 22.16.
Base on her 100m performance this year and comfort at which she accomplished her 10.70 PB in Kingston, there is no question that the Jamaican will go way under 22-seconds at the Olympics.
Meanwhile, U.S. Trials champion Bowie ran 21.99 to beat both Schippers and Thompson at the Pre-Classic in May, and she too must be considered in the gold medal discussions.
Heading the list of other possible medal contenders is the 2004 and 2008 Olympic champion Veronica Campbell-Brown of Jamaica, who would create history if she manages to secure a third Olympic 200m title.
Recently-crowned European champion Dina Asher-Smith of Great Britain, USA's Deajah Stevens and Jenna Prandini, Jamaica's Simone Facey, Ahye, Ahoure and Okagbare, are all likely to be in the mix as well.
Women's 400m Preview
The Allyson Felix v Shaunae Miller round two battle in the women's 400m is expected to have everyone on the edge of their seats on Day 4 of the Games on Aug. 15.
Felix got the better of Miller in a classic battle at the Beijing 2015 world championships, and the American champion, who battled through numerous difficulties this season, will be hoping to get the better of her opponents again in the one-lap event.
Both sprinters have shown this season that they have the strength to hold their own down the stretch when everyone else is tiring, but it is Miller, who seems to have the edge in the speed department.
Felix, the Olympic 200m champion from London 2012, will not be defending her crown in that event after finishing fourth at the U.S. Trials.
The 30-year-old blamed her lack of speed for her inability to keep up with the other sprinters in the field, which could also play a big factor in the 400m when she eventually takes on Miller, who is one of the top half-lap runners in 2016.
Other athletes in contention for medals are USA's Phyllis Francis, Jamaicans Stephenie-Ann McPherson, Christine Day and Shericka Jackson, Floria Guei of France, Italy's Libania Grenot and 2008 Olympic champion from Beijing, Christine Ohuruogu of Great Britain.