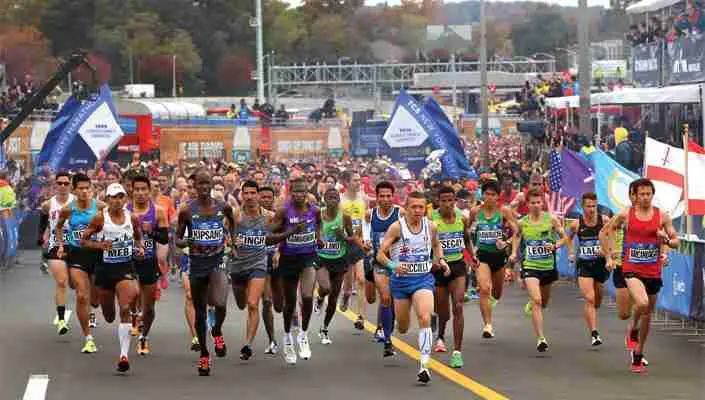 The 2016 TCS New York City Marathon broadcast is produced in partnership with IMG Productions. All times listed are Eastern (ET).
In the New York tri-state area: Watch the broadcast live on WABC-TV, Channel 7 from 9:00 a.m. to 2:00 p.m. Pre-race features from Fort Wadsworth begin at 7:00 a.m. Live streaming will be available on ABC7NY.com and via the ABC app from 7:00 a.m. to 2:00 p.m.
Across the United States: Watch live coverage from 9:00 a.m. to 12:30 p.m. on ESPN2 and via WatchESPN on computers, tablets, smartphones, Amazon Fire TV and Fire TV Stick, Apple TV, Chromecast, Roku, Xbox 360, and Xbox One for those who have video subscriptions from affiliated providers. Pre-race and continuing coverage will also be carried live nationally on ESPN's live multi-screen sports network ESPN3 (accessible on WatchESPN platforms) from 7:00 to 9:00 a.m. And don't miss the national highlight show on your local ABC affiliates from 4:00 to 6:00 p.m. ET (check local listings for other time zones).
Around the world: International viewers can watch the broadcast live from 7:00 a.m. to 2:00 p.m. via a variety of global broadcast partners. International viewers should check local listings. View a list of international broadcasters.
Meanwhile, in the action on the road, reigning champions Stanley Biwott and Mary Keitany are both confident about their chances of defending their respective TCS New York City Marathon titles.
Keitany and Biwott are hoping to become the first men and women to retain their titles at the New York City Marathon for the first time since 1995 when German Silva and Tegla Loroupe successfully accomplished the feat.
"Last year it was my first race win in the big ones [Marathon Majors]. It has taken me to another level," Biwott said at his press conference. "Since I won in New York last year I have improved so much."
On the women's side, Keitany will start as a strong contender to win a third straight crown, something that hasn't been achieved since Grete Waitz won it five time in the 1980s, according to the IAAF.
"I've been training well. I'm ready to come to New York and defend my title," she said.