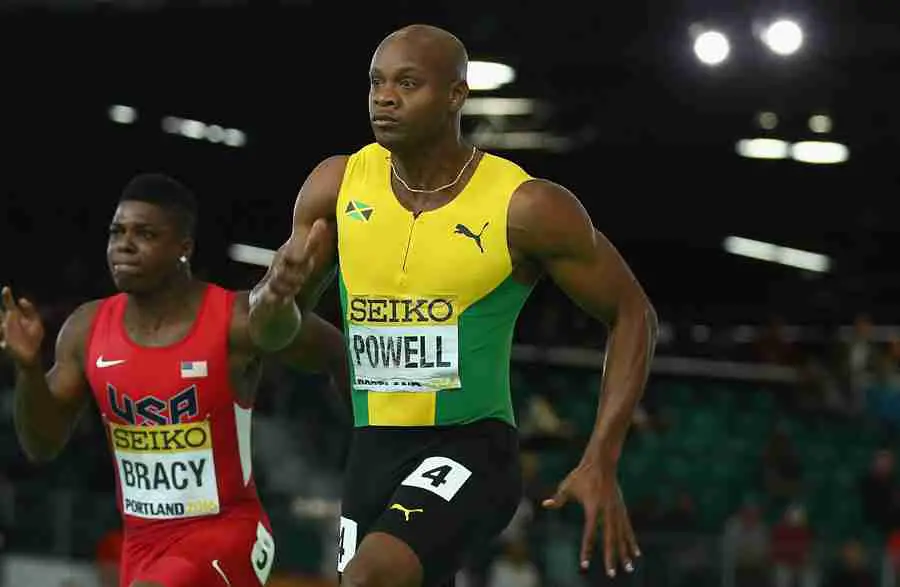 Melbourne, Australia – Former 100m world record holder Asafa Powell of Jamaica will join Usain Bolt in the Bolt All-Stars for Nitro Athletics in Melbourne next February.
Powell, who owns a personal best of 9.72 seconds for the 100m, has won two Olympic gold medals and two world titles – all in the 4x100m – with Bolt and was invited for the series by his fellow countryman who is the team captain.
Fellow Olympic gold medallist Michael Frater, a key member of the Jamaican teams that set back-to-back 4x100m world records at the 2008 and 2012 Olympic Games, as well as 2008 Games hurdles champion Dawn Harper-Nelson of USA are also among the first group of athletes confirmed to join Usain Bolt in the Bolt All-Stars for Nitro Athletics.
Joining them as well in Melbourne next year are Trinidad and Tobago's 2008 double Olympic silver medallist Richard Thompson, American sprinter Jenna Prandini and USA hurdler Ryan Wilson.
The track series will see Australia face the Bolt All-Stars, China, England, Japan and New Zealand in a new look athletics format in Melbourne on 4, 9 and 11 February 2017.
Powell, who won gold over the 100m at the 2006 Commonwealth Games, has raced several times before in Australia, but the 34-year-old is looking forward to being a part in something new.
"I've been in this sport for a long time now and in reality, our sport hasn't changed in presentation for a century," said Asafa Powell, who has a record 97 legal sub-10 seconds performances in his career.
"Finally, people that organise events are starting to realise that we need to change with the times.
"Some meets have made significant changes, but the Nitro series is really pushing the envelope to a whole new level. I'm excited to be a part of it."
American Harper-Nelson, who won the women's 100m hurdles at the 2008 Beijing Olympic Games, will be making her Australian debut and the spirited hurdler is also embracing the Nitro Athletics idea.
"One thing I truly like about the Nitro concept is that the athletes will have more interactions with the fans," Harper-Nelson said.
I love competing but getting to talk with the fans and seeing their appreciation of your talent and hard work has a special place with me.
"Nitro can help shine a bigger light on track and field's personalities. Competing there and having the opportunity to do relays and have less pressure will help a lot of athletes relax and open up to the fans.
"Showing more of their personalities and have the fans appreciate that side as well.
"I think Usain Bolt will be as he always is, energetic, but he wants to give the fans a good show.
"He has a good relationship with many of the other athletes so it'll be a friend leading the pack."
CONFIRMED TEAM USAIN BOLT ATHLETES
Asafa Powell
Age: 34 Country: Jamaica
Personal bests – 100m: 9.72s 200m: 19.90s 400m 45.94s 60m (i): 6.44sec
Before the great Usain Bolt there was Asafa Powell who is a former world record holder with a 100m personal best of 9.72sec. The Jamaican is a two-time world championships bronze medallist in the 100m and won gold at the 2006 Commonwealth Games in Melbourne. Powell has dipped under the 10-second barrier 98 times in his career, by far the most of any athlete in history.
Michael Frater
Age: 34 Country: Jamaica
Personal bests – 100m: 9.88sec 200m: 20.63s 60m (i): 6.62s
Teammate and fellow 100m specialist Michael Frater has a world championships silver medal in his locker from 2005 where he finished behind Justin Gatlin in Helsinki. He is a four-time gold medallist at global championships and boasts a 100m personal best of 9.88sec.
Dawn Harper-Nelson
Age: 32 Country: United States
Personal bests – 100m hurdles: 12.37sec 100m: 11.90s 60m (i): 7.98s
Harper-Nelson has been a top performer in arguably the most competitive event in track and field in recent years with Olympic gold and silver medals on her resume in the 100m hurdles. The American is also a world championship bronze medallist and has a personal best of 12.37sec which places her equal eleventh on the all-time list.
Richard Thompson
Age: 31 Country: Trinidad and Tobago
Personal bests – 100m: 9.82sec 200m: 20.18s 60m (i): 6.51s
Thompson has had a lot of relay success running for Trinidad and Tobago since winning a silver medal in the 2008 Beijing Olympic Games in the 100m behind Bolt's barnstorming world record run. He is a four-time medallist in the 4x100m relay at a major championship.
Jenna Prandini
Age: 24 Country: United States
Personal bests – 100m: 10.92sec 200m: 22.20s Long Jump: 6.80m 60m (i): 7.15s
The youngest of the group is promising American athlete Jenna Prandini who was the 2015 NCAA champion in the 100m running for Oregon. With exceptional personal bests across the board in the 100m (10.92sec), 200m (22.20sec) and long jump (6.80m) she is a perfect addition to the Nitro Athletics series with world-class ability in multiple events. Prandini finished fourth in her semi-final of the 200m at the Rio Olympics this year just behind Australia's Ella Nelson in a time of 22.55 seconds.
Ryan Wilson
Age: 35 Country: United States
Personal bests – 110m hurdles: 13.02sec 400m hurdles: 49.33s 60m (i): 7.75s
American Ryan Wilson won silver in the 110m hurdles at the 2013 world championships in Moscow after he was crowned the national champion in that same year. He is a former NCAA champion with a personal best of 13.02sec.