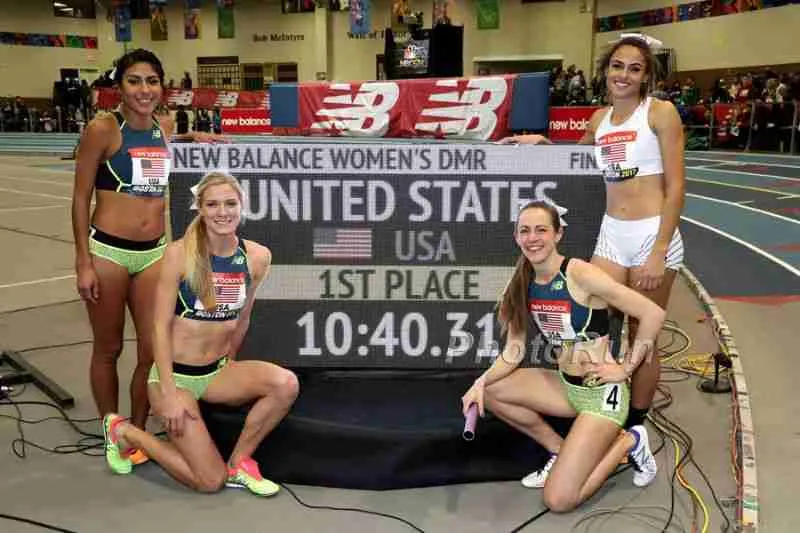 BOSTON — Complete results from the 2017 New Balance Indoor Grand Prix Boston MA, USA, on Saturday, January 28.
There were several highlights at the meet with an American selected team of Emma Coburn, Sydney McLaughlin, Brenda Martinez and Jenny Simpson clocked a time of 10:40.31 to set a new world-best, improving the old mark of 10:42.57, set in 2015 by another American team.
Among the other highlighted winners were Noah Lyles in the men's 300m, Matthew Centrowitz in the mile, Paul Chelimo in the 3000m, as well as Kenya's Hellen Obiri in the women's 3000m and Patrícia Mamona in the women's Triple Jump.
Men's Results
60:
1 Harry Aikines-Aryeetey GBR 6.66, 2 Xie Zhenye CHN 6.66, 3 Diondre Batson 6.71, 4 Gerald Phiri ZAM 6.72, 5) Steve Headley BAR 6.74, 6 Jeffrey Henderson 6.76, 7 Mookie Salaam 6.80, 8 Remontay McClain 6.82
300:
1 Noah Lyles 32.67, 2 Vernon Norwood 33.17, 3 Gil Roberts 33.70, 4 Calvin Smith 34.38
600:
1 Donavan Brazier 1:16.57, 2 Rennie Quow TTO 1:17.50, 3 Michael Stigler 1:18.38, 4 Christian Harrison 1:19.33,  Tyrone Ross DNF,  Duane Solomon DQ
Mile:
1 Matthew Centrowitz 3:55.78, 2 Vincent Kibet KEN 3:56.09, 3 Jake Wightman GBR 3:57.24, 4 Ben True 3:57.31, 5 David Torrence PER 3:57.63, 6 Cristian Soratos 3:57.65, 7 Guillaume Adam FRA 3:59.74, 8 Chad Noelle 4:00.47,  Christian Harrison DNF
3000:
1 Paul Chelimo 7:42.39, 2 Andrew Butchart GBR 7:42.97, 3 Hagos Gebrhiwet ETH 7:43.04, 4 Eric Jenkins 7:44.26, 5 Lawi Lalang KEN 7:45.81, 6) Dejen Gebremeskel ETH 7:46.06, 7 Garrett Heath 7:46.34, 8 Debeli Gezmu ETH 7:51.05, 9 Brian Shrader 7:54.05, 10 Rob Mullett GBR 7:54.48, 11 Kemoy Campbell JAM 8:07.03, 12 Clayton Murphy 8:16.70
High Jump:
1 Donald Thomas BAH 2.28, 2 Alex Austin 2.25, 2 Michael Mason CAN 2.25, 4 Jeron Robinson 2.10
Long Jump:
1 Fabrice Lapierre AUS 7.80, 2 Michel Tornéus SWE 7.80, 3 Damar Forbes JAM 7.68, 4 Benjamin Gföhler SUI 7.65, 5 Melvin Echard 7.59, 6 Kendall Spencer 7.42, 7 David Gibson 6.88
Women's Results
60:
1 English Gardner 7.17, 2 Dezerea Bryant 7.19, 3 Schillonie Calvert JAM 7.30, 4 Jeneba Tarmoh 7.36, 5) Jessica Young 7.38, 6 Candyce McGrone 7.38, 7 Octavious Freeman 7.50, 8 Kamaria Brown 7.56
300:
1 Courtney Okolo 36.87, 2 Jessica Beard 37.37, 3 Candace Hill 37.42, 4 Shalonda Solomon 37.85, 5 Autumne Franklin 39.26
800:
1 Charlene Lipsey 2:02.01, 2 Habitam Alemu ETH 2:02.38, 3 Lynsey Sharp GBR 2:02.88, 4 Sammy Watson 2:03.94, 5 Maryna Arzamasova BLR 2:04.85, 6 Olicia Williams 2:04.90, 7 Yuliya Stepanova RUS 2:05.14,  Marisa Turner DNF
3000:
1 Hellen Obiri KEN 8:39.08, 2 Sifan Hassan NED 8:40.99, 3 Shannon Rowbury 8:41.94, 4 Nicole Sifuentes CAN 8:53.55, 5 Dominique Scott RSA 8:54.06 NR, 6 Stephanie Garcia 8:55.78, 7 Katie Hewison GBR 9:00.81, 8 Leah O'Connor 9:06.61, 9 Shannon Osika 9:07.23, 10 Paige Kouba 9:57.50,  Lauren Wallace DNF
DMR:
1 United States 10:40.31, 2 New Balance Europe 10:49.39, 3 New Balance Boston 10:55.93, 4 Central Park TC 11:12.77
Triple Jump:
1 Patrícia Mamona POR 14.01, 2 Nadia Eke GHA 13.46, 3 Erika Kinsey SWE 12.99, 4 Tanasia Lea 11.78
Pole Vault:
1 Ekateríni Stefanídi GRE 4.63, 2 Alysha Newman CAN 4.53, 3 Mary Saxer 4.28, 4 Kelsie Ahbe CAN 4.13, 5 Katie Jones 4.13, 6 Erica Ellis 3.68, 7 Jenn Suhr NH