Some people are just born winners who dominate their sports. Bill Belichick and Tom Brady have won five Super Bowls, Michael Phelps has won the most Olympic medals ever, and Serena Williams has won the most tennis majors ever.
Usain Bolt Clearly Belongs In The Same Conversation
While he may have lost a relay gold thanks to his teammate, Bolt is still the first sprinter to ever win three consecutive golds in the 100 meter sprint, as well as the first to do so in the 200 meter.
With those accomplishments, he's clearly the most dominant sprinter ever, and there's a good reason for it. Bolt is taller that most sprinters, allowing him to take fewer strides in a race.
---
This hasn't been an issue before because most taller athletes don't stride as quickly as other sprinters, but Bolt actually strides faster thanks to his unique running technique.
Bolt essentially falls forward, allowing gravity to assist him in maintaining his momentum, creating a smoother, more fluid run.
The Question Then Becomes, Is Bolt The Most Dominant Athlete Ever?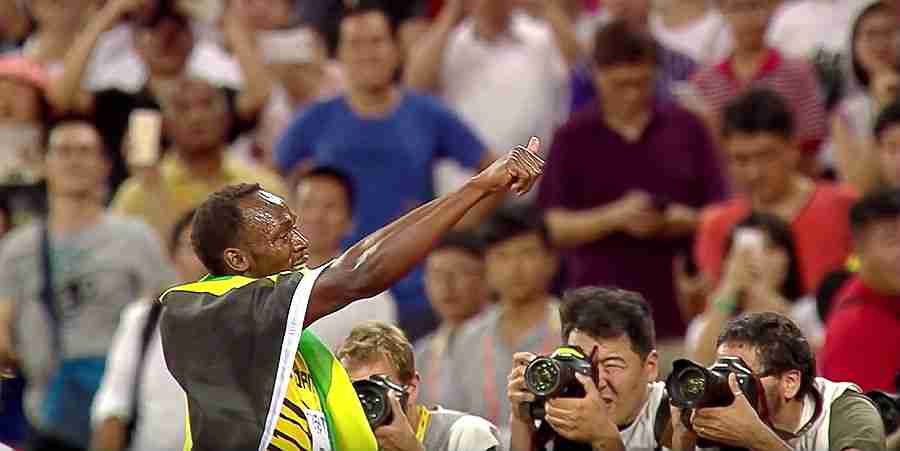 ---
Obviously it's impossible to compare Bolt with a team sport champion like Tom Brady, who usually has an amazing supporting cast around him thanks to Bill Belichick's scouting brilliance and the culture he has created. However, there's a few athletes like those listed earlier who challenge Bolt for the dominance title.
Within the same sport, many fans would think of Carl Lewis, who also won nine Olympic gold medals with an additional silver in a variety of events between the 1984 and 1996, most notably the 100m dash and in the long jump.
Lewis actually holds the indoor long jump record to this day, and is the only long jumper to ever successfully defend an Olympic gold medal.
Watch About Tennis Great Serena Williams
Tennis also provides a number of athletes to compete for the crown. Serena Williams recently passed Steffi Graf for most Grand Slams ever, winning her 20th at the 2017 U.S. Open. She did so despite regularly facing her sister Venus, who holds seven Grand Slam wins, early in their careers.
The men's record holder is Roger Federer, who dominated men's tennis for nearly a decade while winning 18 titles, including a run from Wimbledon in 2005 to the Australian Open in 2010 where he won or was the runner up in 18 of the 19 Grand Slams held.
However, the clear alternative for most dominant athlete is Bolt contemporary Michael Phelps. Phelps holds most title records in his sport, including 23 gold and 28 total Olympic medals, both records for any sport.
He dominated in races from a young age, and continued to do so even longer than Bolt, all while facing tougher competition year in and year out. If any athlete can take the title of most dominant from Bolt, it's Phelps
These names may all seem too recent for some people's' tastes. There's no Mark Spitz, no Jesse Owens, and no athletes from a time before Carl Lewis, but it's easy to explain: there's more competition now than there ever was.
What Bolt, Phelps, and the others listed here did was more impressive simply because they faced more opposition. Becoming a professional athlete is now more common than ever, and that only adds to the wow factor of the dominance these two now-retired Olympians displayed.
And there's no telling when we'll see athletes this dominant again.