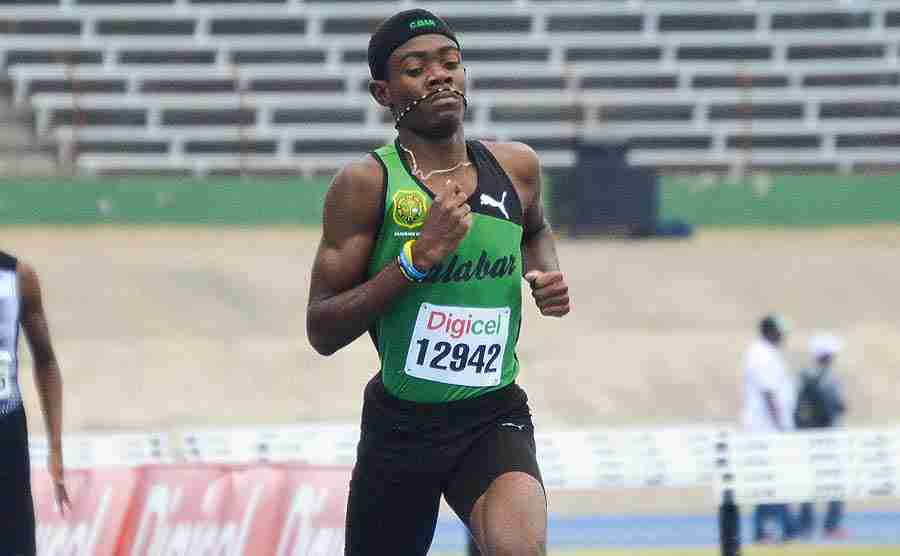 KINGSTON, Jamaica — Boys and Girls Champs 2017 will close out at the National Stadium in Kingston, with the Day 5 action on Saturday and the race for the respective team titles are set to be very tight.
Kingston College (KC) lead the boys' team title race after four days — closing out Friday night's competition on 139 points after 18 events scored.
This total is seven points ahead of defending champions Calabar, who are on 132 points.
Jamaica College (98 points), St Jago (69 points) and St Elizabeth Technical (40 points) round out the Top 5 for the boys heading into Saturday's final day.
Meanwhile, defending champions Edwin Allen, who have won three successive titles, head things up on the girls' side and are on 130 points after 20 finals.
They are 20 points in front of former champions Holmwood Technical, who are on 110 points, while and St Jago closed Day 4 on 104 points in third place.
Hydel (89 points) and Excelsior (65 points) completed the Top 5 going into Champs 2017 fifth and final day.
Live video streaming (paid) will be at 1spotmedia.com, with Live results also available.
Competition at the National Stadium in Kingston, begins on Saturday at 1:00 pm local time (2:00 pm EST) with the 400m, 800m, 200m and 4x100m title races for all classes among the events expected to draw most of the attention.
BOYS AND GIRLS CHAMPS 2017
SATURDAY, DAY 5 SCHEDULE
1:00 LONG JUMP HEP. OPEN GIRLS EV.# 5
1:30 JAVELIN OPEN BOYS FINAL
2:05 HIGH JUMP CLASS 2 GIRLS FINAL
2:15 400 METRES CLASS 3 GIRLS FINAL
2:20 400 METRES CLASS 3 BOYS FINAL
2:25 400 METRES CLASS 2 GIRLS FINAL
2:30 400 METRES CLASS 2 BOYS FINAL
2:35 400 METRES CLASS 1 GIRLS FINAL
2:40 400 METRES CLASS 1 BOYS FINAL
2:45 LONG JUMP CLASS 3 GIRLS FINAL
2:48 MEDAL PRESENTATION
400 metres girls –classes 3&2 –boys 4,3&2
3:00 SHOT PUT THROW CLASS 1 GIRLS FINAL
3:05 70 metres HURDLES CLASS 4 GIRLS FINAL
3:10 80 metres HURDLES CLASS 3 GIRLS FINAL
3:15 MEDAL PRESENTATION
400 metres class 1 girls & boys –javelin boys
3:25 100 metres HURDLES CLASS 2 GIRLS FINAL
3:35 100 metres HURDLES CLASS 1 GIRLS FINAL
3;40 100 metres HURDLES CLASS 3 BOYS FINAL
3:43 HIGH JUMP CLASS 2 BOYS FINAL
3:45 DISCUS THROW CLASS 2 BOYS FINAL
3:50 MEDAL PRESENTATION
High jump class 2 girls – 70 metres hurdle class 4 girls
80 metres hurdles class 3 girls –100 metres hurdles class 2 girls
4:00 110 metres HURDLES CLASS 2 BOYS FINAL
4:10 110 metres HURDLES CLASS 1 BOYS FINAL
4:15 MEDAL PRESENTATION
100 metres hurdles class1 girls and class 3 boys
4:20 800 METRES CLASS 3 GIRLS FINAL
4:25 800 METRES CLASS 3 BOYS FINAL
4:30 800 METRES CLASS 2 GIRLS FINAL
4:35 800 METRES CLASS 2 BOYS FINAL
4:40 800 METRES CLASS 1 GIRLS FINAL
4:45 800 METRES CLASS 1 BOYS FINAL
4:50 SHOT PUT THROW CLASS 1 BOYS FINAL
4:53 LONG JUMP CLASS 1 GIRLS FINAL
4:50 MEDAL PRESENTATION
110 metres hurdles classes 1&2 boys
800 metres classes 3 &2 boys and girls
5:10 200 METRES CLASS 4 GIRLS FINAL
5:15 200 METRES CLASS 3 GIRLS FINAL
5:20 200 METRES CLASS 3 BOYS FINAL
5:25 200 METRES CLASS 2 GIRLS FINAL
5:30 200 METRES CLASS 2 BOYS FINAL
5:33 HIGH JUMP CLASS 1 BOYS FINAL
5:35 200 METRES CLASS 1 GIRLS FINAL
5:40 200 METRES CLASS 1 BOYS FINAL
5:45 JAVELIN HEP. OPEN GIRLS EV.# 6
5:50 MEDAL PRESENTATION
High jump class 2 boys –long jump class 3 girls
Discus class 2 boys—800 metres class 1 boys & girls
200 metres classes 4,3 &2 boys & girls
6:00 1600 metres MEDLEY RELAY OPEN GIRLS FINAL
6:10 1600 metres MEDLEY RELAY OPEN BOYS FINAL
6:15 3000 METRES OPEN GIRLS FINAL
6:25 TRIPLE JUMP CLASS 2 BOYS FINAL
6:30 MEDAL PRESENTATION
6:45 8 X 50 metres RELAY PRINCIPALS
7:00 4 X 100 metres RELAY CLASS 1 GIRLS FINAL
7:05 4 X 100 metres RELAY CLASS 1 BOYS FINAL
7:10 4 X 100 metres RELAY CLASS 2 GIRLS FINAL
7:15 4 X 100 metres RELAY CLASS 2 BOYS FINAL
7:20 4 X 100 metres RELAY CLASS 3 GIRLS FINAL
7:25 4 X 100 metres RELAY CLASS 3 BOYS FINAL
7:30 4 X 100 metres RELAY CLASS 4 GIRLS FINAL
7:40 800 METRES HEP. OPEN GIRLS EV.# 7
7:45 MEDAL PRESENTATION
200 metres class 1 boys & girls –medley relay boys & girls
3000 metres girls – 4×100 relay classes 1&2 boys & girls
8:00 5000 METRES OPEN BOYS FINAL
8:25 MEDAL PRESENTATION
High jump class 1 boys —long jump class 1 girls
4×100 relays classes 3 & girls
heptathlon open girls
8:40 4 X 400 metres RELAY OPEN GIRLS FINAL
8:50 4 X 400 metres RELAY OPEN BOYS FINAL
9:00 CLOSING CEREMONY