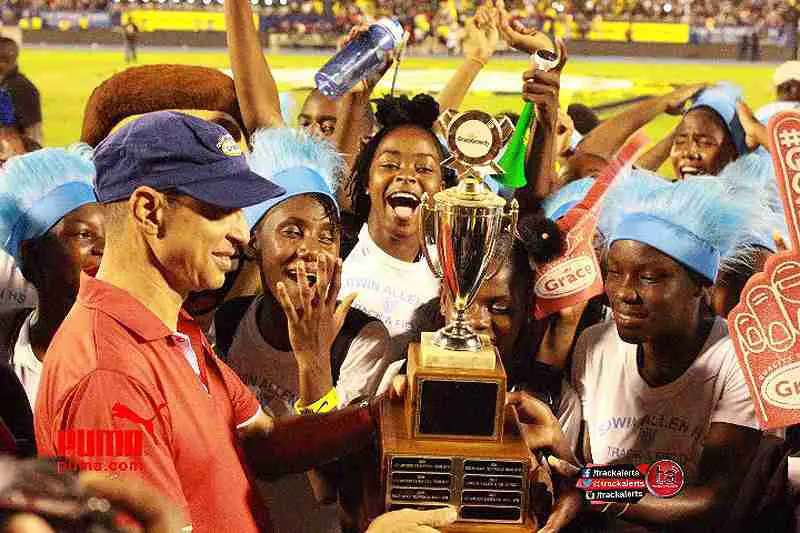 KINGSTON, Jamaica — The following is the final points standings and full team ranking for the girls at the conclusion of the Jamaica High School Boys' and Girls' Champs 2017.
The five-day event ended on Saturday night inside the National Stadium in Kingston, and it was an easy victory for defending champions Edwin Allen, who secured their fourth successful girls crown and fifth overall.
Edwin Allen, who paced themselves through the opening three days of action, picked things up in the fourth and fifth days to successfully defended their Girls Champs team title with 316.5 points.
The champs from Frankfield, Clarendon finished 60.5 points clear of their closest rivals, which was not too surprising, given the early predictions and expectations.
Meanwhile, finishing second was Hydel with 256 points, with St Jago taking third with 246pts, fourth going to Holmwood at 243 and Vere Technical rounded out the Top 5 with 125.5.
A total 31 schools scored at least one point on the girls' side at Champs 2017, with the likes of Mavis Bank High and Spot Valley High among the scorers.
Below is full ranking
Girls Champs 2017 Team Standings
1. Edwin Allen – 316.5
2. Hydel – 256
3. St Jago – 246
4. Holmwood – 243
5. Vere Technical – 125.5
6. Excelsior – 113
7. Wolmer's High School for Girls – 54
8. Immaculate Conception High – 40
9. Rusea's High – 35
9. Manchester High – 35
11. St Catherine High – 32
11. Petersfield High – 32
13. Spalding High – 31
14. Mount Alveria High – 29
15. St Elizabeth Technical High – 28
16. St Andrew High for Girls' – 22
17. Camperdown High – 21
18. Covenant of Mercy Alpha – 17
18. The Queens School – 17
18. Bellefield High – 17
21. Herbert Morrison Technical – 15
22. Buff Bay High – 9
23. Mavis Bank High – 8
24. Albert Town High – 6
24. Campion College – 6
26. Green Island High – 5
27. St Mary High – 3
27. Manning School – 3
27. Dinthill Technical – 3
27. Lacovia High – 1
31. Spot Valley High – 1