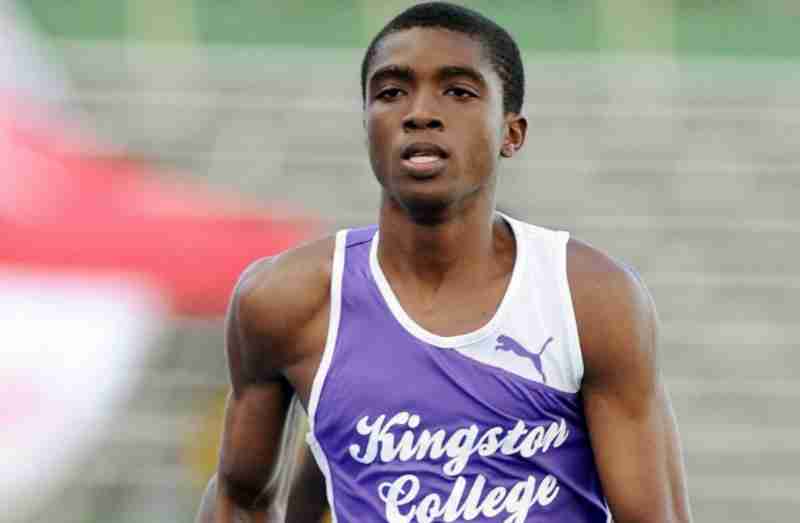 KINGSTON, Jamaica — Sprint star Jhevaughn Matherson, who unfortunately saw his participation at Boys' and Girls' Champs 2017 coming to a premature end because of an injury, says he should be good to go in a "week-and-a-half to two weeks."
Matherson, the pre-Champs favourite to win both the Class One boys' 100m and 200m titles for Kingston College (KC), picked up a hamstring injury running the semifinals of the 100m on Friday, which subsequently ruled him out of the rest of the Championships.
The 18-year-old fell to the track grabbing his right hamstring after winning his semifinal of the 100m in 10.72 seconds in a negative 4.2-m/s wind reading.
He came out for the final, but picked-started, and then jogged home for two points in the 200m on Saturday.
At first, it seems as though Matherson could be on the sidelines for a while, but the Kingston College lead-man eased those fears by claiming he expects to be back for the 2017 Carifta Games in Curacao, later this month.
"It was deemed by the doctors as nothing, just a little twitch," The Jamaica Obsever quoted Matherson as telling journalists after the 200m final at the National Stadium on Saturday evening.
"The microfibres are not where they are supposed to be, but I should be good in approximately a week-and-a-half to two weeks, so hopefully I will be firing again (for the Carifta Games).
"I am weighing the options [about competing next year]. but if anyone knows me they know that I love my school very much, so I will give it some thought," he added.