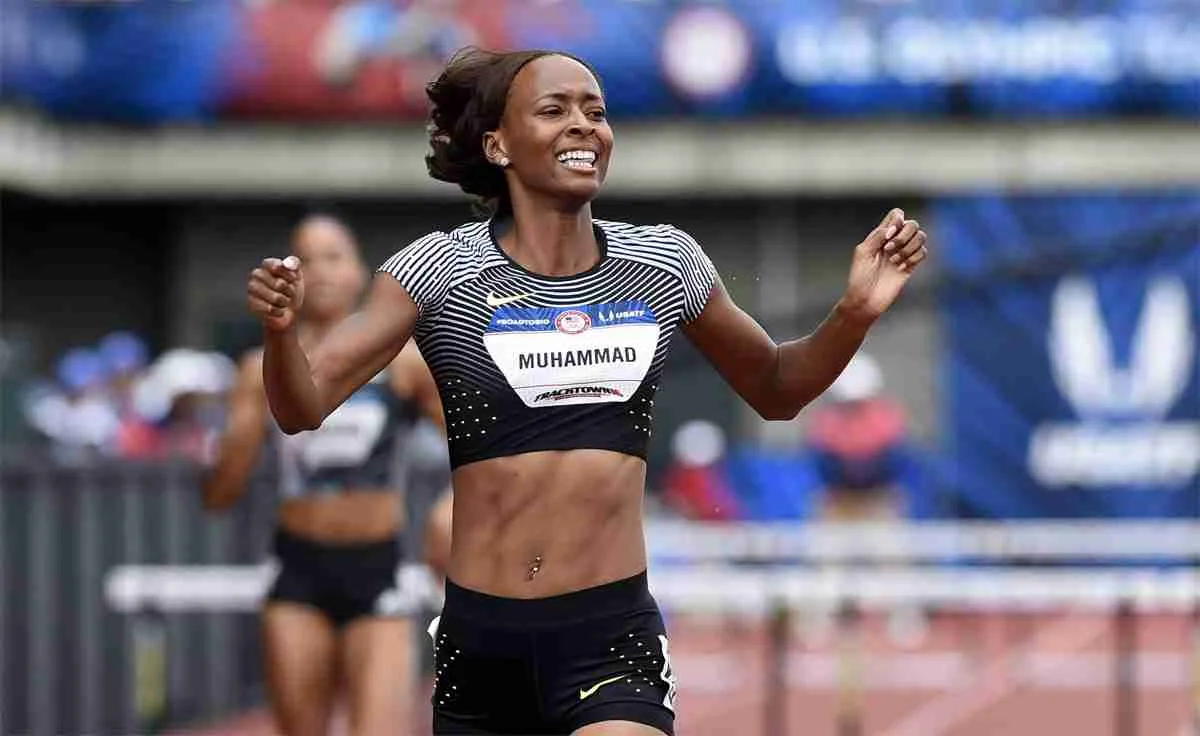 NEW YORK — The Armory has several new events during the 2017 fall season at The Armory. Here is one of them.
Dalilah Muhammad, the 2016 Olympic Gold Medalist in the 400m Hurdles, will join the staff for inaugural Armory Indoor Track & Field Camp to take place Saturday, November 18 at The Armory in Washington Heights.
The camp is for high school aged athletes in grades 9-12 (minimum age of 14). They can register by clicking here: Armory Indoor Camp. The camp will be on the famed Armory Track where student-athletes will benefit from interaction with track & field's premier instructors.
This is the first track & field camp of its kind in the Northeast – that includes other gold medalists, Olympians, NCAA champions and All-Americans and some of the country's top track & field coaches.
Muhammad is a graduate of Benjamin N. Cardozo High School in Queens, NY and is a NYC native. She was the 2008 New York State and Nike Outdoor National Champion in the 400m Hurdles while at Benjamin Cardozo. Dalilah then went on to the University of Southern California where she was a four-time NCAA All-American.
Dalilah is a two-time USATF Champion in the 400m Hurdles and was the 2016 Olympic Gold Medalist in Rio de Janeiro. She became the 2nd fastest American ever in 2017 during the USATF National Championships, running 52.64 seconds.
To area high school track & field student-athletes this will be a once in a lifetime opportunity to learn and train with an Olympic gold medalist.
Coaches on the Inaugural Armory Indoor Track & Field Camp:
· Lauren Biscardi – High Jump: High school & college coach from Long Island, NY
· Dominic Zanot – Long Jump/Triple Jump: Head track & field coach at Harrison High School, NY
· Dwight Phillips – Long Jump/Triple Jump: 2004 Olympic Gold Medalist in the Long Jump; Professional Coach in Atlanta, GA
· Andy Capellan – Hurdles: Head track & field coach at New Rochelle High School, NY
· Dwayne Evans – Hurdles: High school coach from New York, NY
· Tim St. Lawrence – Pole Vault: Professional pole vault coach in Hudson Valley, NY
· Stephanie Duffy – Pole Vault: High school & professional pole vault coach from Warwick, NY
· Lisa Morgan – Sprints: Head track & field coach at Bloomfield College, NJ
· Jason Bean – Sprints: Professional sprint coach from Bradenton, FL
· Joice Maduaka – Sprints: 2x Olympian representing the UK; Professional sprint coach from Bradenton, FL
· Bart Sessa – Distance: Professional coach from Long Island, NY
· Maria Michta-Coffey – Racewalk: 2x Olympian; holds 7 American Records; Professional athlete for Oiselle & NYAC; Track & Field coach from Long Island, NY
· Jon Kalnas – Throws: Professional coach from Neptune, NJ
Professional Athletes:
· Priscilla Frederick – High Jump: 2016 Rio Olympian; 2x All-American at St John's University; From Winslow, NJ
· Amina Smith – High Jump: 4th at 2016 US Olympic Trials; All-American at University of Maryland; From Lusby, MD
· Dalilah Muhammad – Hurdles: 2016 Olympic Gold Medalist in the 400mH; Professional athlete for Nike
· Odrine Belot – Long Jump/Triple Jump: All-American in Triple Jump at UCONN; Professional athlete for Garden State Track Club
· Robin Reynolds – Long Jump/Triple Jump: 2x NCAA Champion, 16x All-American at Florida; Professional athlete from Miami, FL
· Najee Glass – Sprints: NCAA Champion, 16x All-American at Florida; 7th at 2016 Olympic Trials; Professional athlete from Woodbridge, NJ
· Kyle Merber – Distance: 2016 Olympic Trials Finalist; American Collegiate Record Holder in 1500m; Professional athlete for Hoka One One NY/NJ Track Club; From Long Island, NY
· Kenyetta Iyevbele – Distance: 2016 Olympic Trials Qualifier; NCAA All-American at North Carolina State; Professional athlete for Hoka One One NY/NJ Track Club; From Charlotte, NC
Cost of the camp:
· Late Registration (Nov 5 – Nov 17): $200
· Day of Registration (7:00 – 8:00am Nov 18): $225