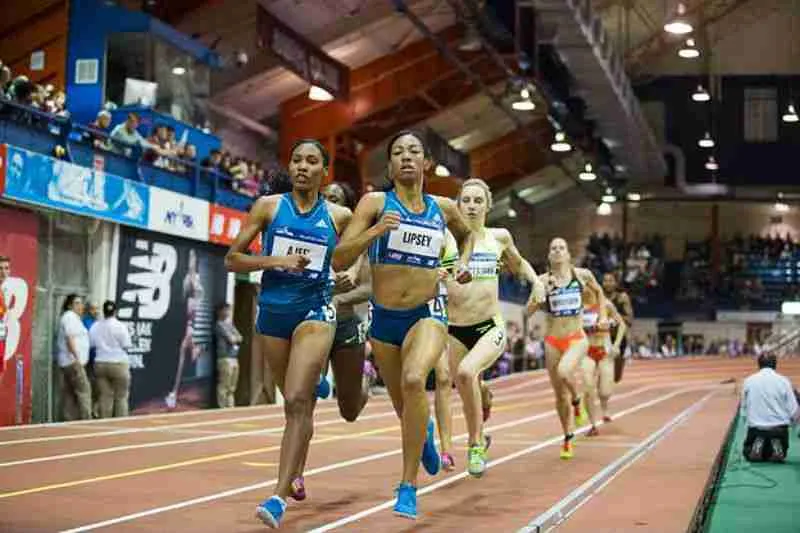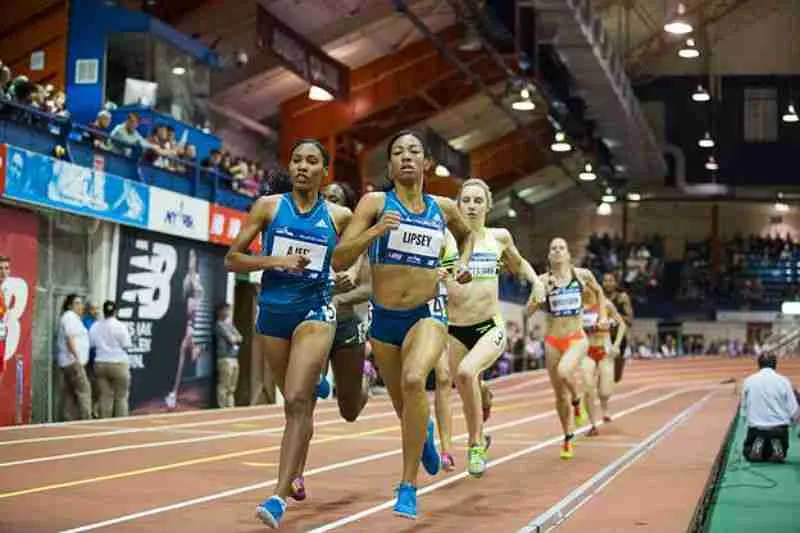 NEW YORK – United States Quartet Eying World Record Chase in NYRR Millrose Games' Jack & Lewis Rudin Women's 4×800 Relay.
The Jack and Lewis Rudin Women's 4×800 Relay is expected to be one of the 111th NYRR Millrose Games' signature events when the world's greatest track & field stars take centerstage on February 3 at The Armory New Balance Track & Field Center in Washington Heights.
It's anticipated a United States team will have a legitimate shot to surpass the world indoor record of 8:06.24 set in 2011 by Russia during the Russian Indoor Championships in Moscow.
The talented USA quartet of Ajee' Wilson, Charlene Lipsey, Raevyn Rogers and Chrishuna Williams, two of whom raced in the World Championships final in London last August, headline the 800-meter event.
"Never has the United States been so rich in its 800-meter depth of talent,'' said NYRR Millrose Games Meet Director Ray Flynn. "This will be one of the great races of this 111th NYRR Millrose Games."
Derek Thompson will coach this super USA 4×800 women's squad.
Wilson became the first U.S. woman to run under 1.56 seconds for 800m, setting the American record in Monaco. Lipsey last year finished runner-up to Wilson in the USATF Outdoor Women's 800 championship.
"It would be great to challenge the world record now that women's 800m running is so strong in the United States," Wilson added.
During the US Outdoor Track Championships in Sacramanto, both Wilson and Lipsey, who are training partners, finished first and second, respectively. Wilson won with a time 1:57.78 just edging Lipsey's 1:58.01 time. Rogers and Williams finished 4th and 5th in that same race.
Rogers is beginning her professional career following success at the University of Oregon where she won both the NCAA 2017 indoor and outdoor championship in the 800 and set a collegiate record in the 800 with a 1.59.10.
A multiple All-American at the University of Arkansas and member of NCAA champion distance medley relay team, Williams qualified for the 2016 Rio Olympics in the 800.
Expected to give Team USA a run for its money will be a very formidable Team Jamaica squad of Simoya Campbell; Kimarra McDonald, Natoya Goule and Fellan Ferguson as well as a strong New York/International All-Star team led by Lynsey Sharp from Scotland, Kendra Chambers, Ce'Aira Brown and Cecilia Barowski. Rounding out the 4×800 field will be top collegiate representatives from the University of Columbia, Iona College and University of Pennsylvania.
Both Goule and Campbell represented Jamaica in the 2016 Rio Olympics. Sharp is a two-time Olympian and turned in a personal best in the 800m of 1:57.69 during the finals of the 2016 Rio Olympics.
The New York/International All-Star Team is coached by the legendary Frank Gagliano.
The event will be the second to last event of the day, followed by the NYRR Men's Wanamaker Mile.
The Rudin Family is synonymous with supporting the sport of running and New York City.
"The Rudin Family is honored to continue our support of the New York Road Runners Millrose Games and this year's Jack and Lewis Rudin Women's 4×800 Relay" said Eric and Bill Rudin.  "Our fathers, Jack and Lewis, always wanted to bring the best to New York and we're thrilled to see these world class athletes compete in our hometown.  There's no better place for history to be made than New York City."
Added Armory Foundation Co-President Rita Finkel: "The Armory is deeply appreciative of the continuing generosity of the Rudin Family to the NYRR Millrose Games. It is so exciting to have the next generation of one of New York City's First Families of Running supporting the Jack and Lewis Rudin Women's 4X 800 Relay, a race that promises to deliver as the women chase a world record."
Media requesting credentials to cover should click on to the 2018 NYRR Millrose Games Media Request Form and fill out. Deadline to sign up for NYRR Millrose Games is noon on Sunday, January 28th.
Go to NYRRMillroseGames.org to learn more about the NYRR Millrose Games and to purchase tickets to the Saturday, February 3, 2018 meet.
Follow The Armory on Facebook, Twitter and Instagram at @armorynyc, or go to ArmoryTrack.com or Armory.NYC.