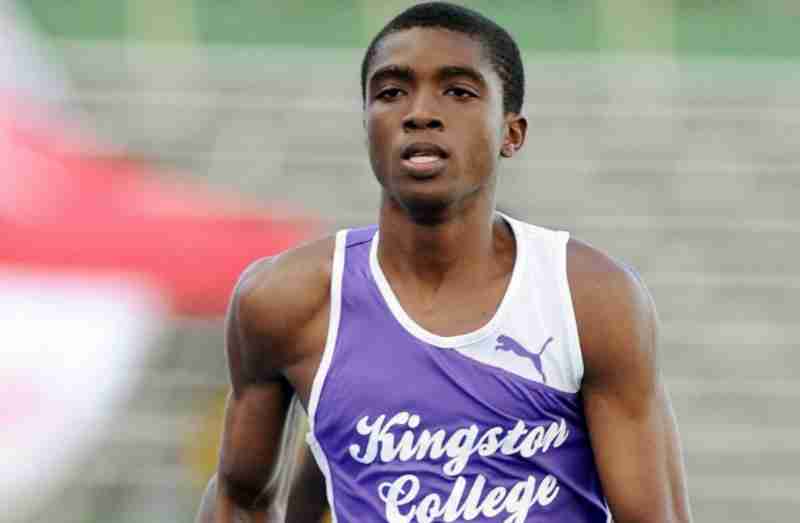 KINGSTON, Jamaica — Day 3 complete schedule and live streaming and radio commentary information for Champs 2018, the Jamaica high school boys' and girls' championships at the National Stadium in Kingston, on Thursday, March 22.
Live streaming coverage of the action will be available on 1spotmedia.com via a paid subscription, while HITZ 92FM will provide live audio commentary online. Follow Live Results Here: LIVE RESULTS
Day 3 schedule will begin at 8:15 am local time (9:15 am ET) with the fifth event of the Decathlon Open for Boys, the 110m hurdles, while the action from the field events will open up at 8:30 am with qualifying rounds in the class 4 girls high jump, class 2 girls discus throw and the class 1 girls long jump.
The first track event on Day 3 will be the 400m hurdles heats before heating up with the faster stuff, the heats of the 100m for all classes.
Eight finals are set for Thursday at Champs 2018, including the class 3 girls high jump final at 10:50 am, during the morning session.
Other finals slated for today are the Discus Throw for class 1 boys, Long Jump for class 4 girls, class 3 boys' High Jump final, as well as the Long Jump final for class 2 girls and both the open races of the 2000m Steeplechase.
Other notable events on the third day are the semi-finals of the 800m and 200m, as well as the heats of the 4x400m relays and the conclusion of the Decathlon Open.
CHAMPS 2018 DAY 3 SCHEDULE
MORNING SESSION
8:15 am 110 metres HURDLES DEC. OPEN BOYS EV.# 6
8:30 HIGH JUMP CLASS 4 GIRLS PRELIMS
8:30 DISCUS THROW CLASS 2 GIRLS PRELIMS
8:30 LONG JUMP CLASS 1 GIRLS PRELIMS
8:40 SHOT PUT CLASS 2 BOYS PRELIMS
8:50 400 metres Hurdles OPEN GIRLS PRELIMS
9:10 400 metres Hurdles CLASS 2 BOYS PRELIMS
9:30 400 metres Hurdles CLASS 1 BOYS PRELIMS
10:00 DISCUS THROW DEC OPEN BOYS EV# 7
10:00 100 METRES CLASS 4 GIRLS PRELIMS
10:35 100 METRES CLASS 3 GIRLS PRELIMS
10:50 LONG JUMP CLASS 3 BOYS PRELIMS
10:50 HIGH JUMP CLASS 3 GIRLS FINAL
11:10 100 METRES CLASS 2 GIRLS PRELIMS
11:40 100 METRES CLASS 1 GIRLS PRELIMS
12:00 pm JAVELIN THROW OPEN GIRLS PRELIMS
AFTERNOON SESSION
2:00 pm MEDAL PRESENTATION
Long Jump classes 1&2 boys, shot put class 2 girls
High Jump Class 3 girls, discus throw class 1 girls
2:00 TRIPLE JUMP CLASS I BOYS PRELIMS
2:05 HIGH JUMP CLASS 2 BOYS PRELIMS
2:10 POLE VAULT DEC OPEN BOYS EV.# 8
2:15 100 METRES CLASS 3 BOYS PRELIMS
2:45 100 METRES CLASS 2 BOYS PRELIMS
3:15 DISCUS THROW CLASS 1 BOYS FINAL
3:25 L0NG JUMP CLASS 4 GIRLS FINAL
3:15 100 METRES CLASS 1 BOYS PRELIMS
3:45 800 METRES CLASS 3 GIRLS SEMI-FINAL
3:55 800 METRES CLASS 3 BOYS SEMI-FINAL
4:20 800 METRES CLASS 2 GIRLS SEMI-FINAL
4:30 800 METRES CLASS 2 BOYS SEMI-FINAL
4:45 800 METRES CLASS 1 GIRLS SEMI-FINAL
4:55 800 METRES CLASS 1 BOYS SEMI-FINAL
5:00 SHOT PUT THROW CLASS 2 BOYS FINAL
5:10 HIGH JUMP CLASS 3 BOYS FINAL
5:15 1600 metres MEDLEY RELAY OPEN GIRLS PRELIMS
5:45 1600 metres MEDLEY RELAY OPEN BOYS PRELIMS
5:50 LONG JUMP CLASS 2 GIRLS FINAL
5:55 JAVELIN THROW DEC OPEN BOYS EV#. 9
6:00 MEDAL PRESENTATION
Long Jump Class 4 Girls
6:25 200 METRES CLASS 4 GIRLS SEMI-FINAL
6:35 200 METRES CLASS 3 GIRLS SEMEI-FINAL
6:45 200 METRES CLASS 3 BOYS SEMI-FINAL
6:55 200 METRES CLASS 2 GIRLS SEMI-FINAL
7:05 MEDAL CEREMONY
Shot Put Class 2 Boys
High Jump Class 3 Boys, Discus Class 1 Boys
7:20 200 METRES CLASS 2 BOYS SEMI-FINAL
7:35 200 METRES CLASS 1 GIRLS SEMI-FINAL
7:50 200 METRES CLASS 1 BOYS SEMI-FINAL
8:10 4 X 400 metres RELAY OPEN GIRLS PRELIMS
8:35 4 X 400 metres RELAY OPEN BOYS PRELIMS
8:55 1500 METRES DEC OPEN BOYS EV.# 10
9:10 MEDAL CEREMONY
Long Jump Class 2 Girls
9:20 2000m STEEPLE CHASE OPEN GIRLS FINAL
9:35 2000m STEEPLE CHASE OPEN BOYS FINAL