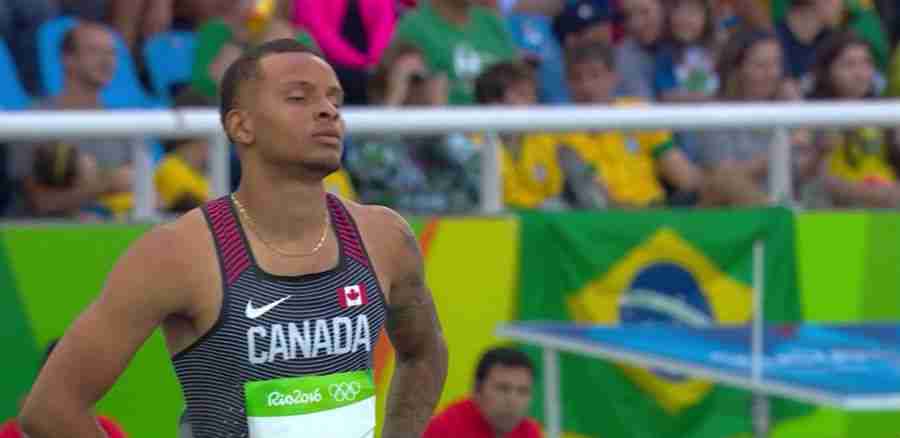 OTTAWA – Andre De Grasse has decided to cut his season short for a second successive term after struggling to recover from a hamstring injury.
The Canadian triple Olympic medallist was forced to end his 2018 campaign after he re-aggravated a hamstring injury running the 200m at the National Championships over the weekend.
De Grasse Frustrated With Hamstring Injury Setback
"This past Saturday while running the 200m semifinal at the Canadian Athletics Championships, Andre caught a cramp in his hamstring preventing him from finishing the race," De Grasse manager Paul Doyle said in a statement.
"Sunday, MRI scans revealed a minor grade 1 strain in the Biceps Femoris. A minor injury, but enough to end what has been a rather tumultuous year for De Grasse."
De Grasse, who was unable to take part in last summer's IAAF World Championships due to a hamstring injury as well, had to push back the start of this season because of a different hamstring problem.
The 23-year-old will now focus on healing for next season and use the time to spend with the daughter.
He and his American girlfriend, Nia Ali, a two-time World Indoor 60m hurdles champion and Olympic silver medalist, became the parents of a daughter Yuri on in late June.
"I will heal quickly from this injury," De Grasse said in the statement.
"I will go be with my daughter and focus on being a dad for the next few weeks as I heal, and I will plan to come back stronger than ever."
He added: "2018 will always be the year I look back at fondly as the year my daughter came into the world."
De Grasse ended his season with a 10.15 seconds season's best for the 100m and 20.46 for the 200m.
He holds lifetime bests of 9.91 seconds in the 100 and 19.80 in the 200.