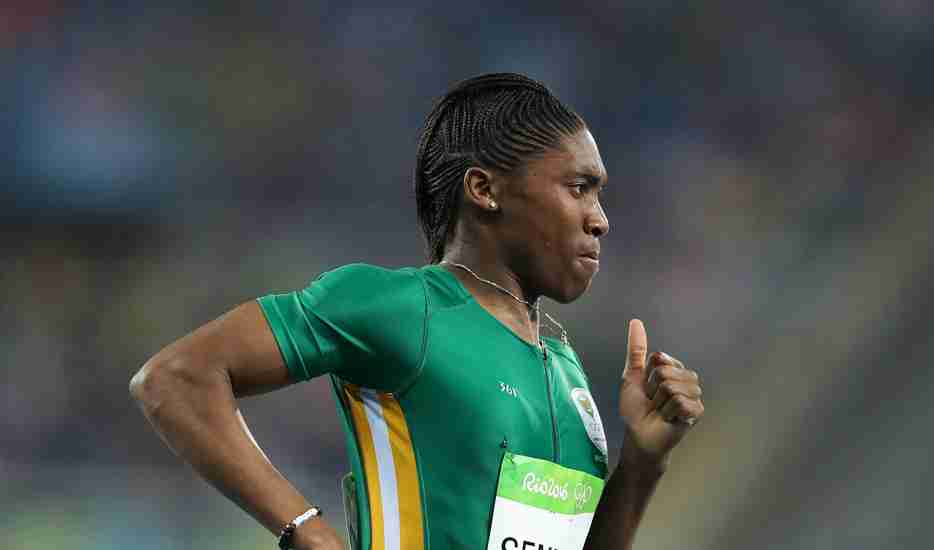 PARIS — The are the complete results from the 2018 IAAF Diamond League meeting, which took place in Paris on Saturday (30).
The meeting witnessed some thrilling performances right across the schedule, but none more standout than Abderrahman Samba of Qatar who become only the second man to dip under-47 seconds in the 400m hurdles, after winning that event in a blistering 46.98 second.
South Africa's Caster Semenya dominated the women's 800m by recording her fastest ever time at 1:54.25 and moved to fourth on the all-time world list.
Olympic Games 2016 silver medallist Francine Niyonsaba of Burundi, was second in an impressive season's best of 1:55.86, while Ajee Wilson of the United States took third in 1:57.11.
Twenty-year-old Salwa Eid Naser (BRN) blasted to 49.55 seconds to win the women's 400m.
Elsewhere, American Ronnie Baker matched countryman's Noah Lyles' 9.88 seconds world-leading time to win the men's 100m, while Sam Kendricks of the USA ups the world-lead to 5.96m in the men's pole vault.
Paris IAAF Diamond League – Meeting de Paris
Paris (Stade Charléty) – June 30
Men's results
100 Metres – Men – Wind: +0.8 m/s
1 Baker , Ronnie USA 9.88 8
2 Vicaut , Jimmy FRA 9.91 7
3 Su , Bingtian CHN 9.91 6
4 Simbine , Akani RSA 9.94 5
5 Blake , Yohan JAM 10.03 4
6 Rodgers , Michael USA 10.10 3
7 Cissé , Arthur CIV 10.15 2
8 Demps , Jeffery USA 10.23 1
100 Metres – Men – Wind: +1.2 m/s
1 Mohammed , Abdullah Abkar KSA 10.03
2 Taftian , Hassan IRI 10.03
3 Bruintjies , Henricho RSA 10.15
4 Fall , Mouhamadou FRA 10.17
5 Martina , Churandy NED 10.20
6 Roto , Thando RSA 10.23
7 Camilo de Oliveira , Paulo André BRA 10.30
8 Lemaitre , Christophe FRA 10.97
200 Metres – Men – Wind: -0.6 m/s
1 Norman , Michael USA 19.84
2 Benjamin , Rai ANT 19.99
3 Quiñónez , Alex ECU 20.08
4 Adams , Luxolo RSA 20.21
5 Hortelano , Bruno ESP 20.30
6 Martina , Churandy NED 20.68
Lemaitre , Christophe FRA
Edward , Alonso PAN DQ
800 Metres – Men –
1 Rotich , Ferguson Cheruiyot KEN 1:43.73
2 Kitilit , Jonathan KEN 1:43.83
3 Ordóñez , Saúl ESP 1:44.36
4 Harris , Isaiah USA 1:44.42
5 Kipketer , Alfred KEN 1:44.62
6 Deng , Joseph AUS 1:44.67
7 Bosse , Pierre-Ambroise FRA 1:45.19
8 Sowinski , Erik USA 1:45.34
9 do Rosário André , Thiago BRA 1:45.59
10 Bol , Peter AUS 1:45.82
11 Reuther , Marc GER 1:46.06
Kivuva , Jackson Mumbwa KEN DNF
1500 Metres – Men –
1 Cheruiyot , Timothy KEN 3:29.71 8
2 Souleiman , Ayanleh DJI 3:31.77 7
3 Simotwo , Charles Cheboi KEN 3:32.61 6
4 Wote , Aman ETH 3:32.81 5
5 Holuša , Jakub CZE 3:32.85 4
6 Ingebrigtsen , Filip NOR 3:32.87 3
7 Birgen , Bethwell KEN 3:34.27 2
8 Mikhou , Sadik BRN 3:34.55 1
9 Debjani , Ismael BEL 3:35.71
10 Willis , Nicholas NZL 3:36.26
11 Tolosa , Taresa ETH 3:36.81
12 Denissel , Simon FRA 3:36.88
13 Mischler , Baptiste FRA 3:37.17
14 Saddedine , Alexandre FRA 3:37.36
15 Dahmani , Samir FRA 3:39.05
16 Tison , Quentin FRA 3:40.31
Akbache , Mounir FRA DNF
Kibet , Vincent KEN DNF
110 Metres Hurdles – Men Heats
Heat 1 – Wind: +0.7 m/s
1 Shubenkov , Sergey ANA 13.05
2 Parchment , Hansle JAM 13.26
3 Manga , Aurel FRA 13.31
4 Eaton , Jarret USA 13.33
5 Allen , Devon USA 13.34
6 Harris , Aleec USA 13.42
7 Trajkovic , Milan CYP 13.56
110 Metres Hurdles – Men Heat 2 – Wind: -0.3 m/s
1 Ortega , Orlando ESP 13.19
2 Levy , Ronald JAM 13.25
3 Alkana , Antonio RSA 13.31
4 Martinot-Lagarde , Pascal FRA 13.42
5 Merritt , Aries USA 13.51
6 Xie , Wenjun CHN 13.53
7 Payen , Ludovic FRA 13.63
Bascou , Dimitri FRA
110 Metres Hurdles – Men Final – Wind: +1.5 m/s
1 Levy , Ronald JAM 13.18 8
2 Parchment , Hansle JAM 13.22 7
3 Allen , Devon USA 13.23 6
4 Alkana , Antonio RSA 13.32 5
5 Eaton , Jarret USA 13.40 4
6 Ortega , Orlando ESP 13.44 3
7 Manga , Aurel FRA 13.48 2
Shubenkov , Sergey ANA DQ
400 Metres Hurdles – Men – 
1 Samba , Abderrahman QAT 46.98 8
2 McMaster , Kyron IVB 47.54 7
3 Warholm , Karsten NOR 48.06 6
4 Holmes , TJ USA 48.30 5
5 Clement , Kerron USA 48.83 4
6 Jackson , Bershawn USA 49.16 3
7 Coroller , Victor FRA 50.03 2
8 Santos , Juander DOM 50.71 1
Pole Vault – Men –
1 Kendricks , Sam USA 5.96 8
2 Duplantis , Armand SWE 5.90 7
3 Lavillenie , Renaud FRA 5.84 6
4 Lisek , Piotr POL 5.84 5
5 Barber , Shawnacy CAN 5.84 4
6 Marschall , Kurtis AUS 5.70 3
7 Wojciechowski , Pawel POL 5.70 2
8 Chapelle , Axel FRA 5.60 1
9 Yamamoto , Seito JPN 5.60
10 Filippídis , Konstadínos GRE 5.45
11 Braz , Thiago BRA 5.45
Holzdeppe , Raphael GER NM
Discus Throw – Men 
1 Dacres , Fedrick JAM 67.01 8
2 Harting , Christoph GER 64.80 7
3 Urbanek , Robert POL 64.68 6
4 Malachowski , Piotr POL 64.47 5
5 Weisshaidinger , Lukas AUT 64.44 4
6 Hadadi , Ehsan IRI 64.36 3
7 Milanov , Philip BEL 64.00 2
8 Jasinski , Daniel GER 62.40 1
9 Finley , Mason USA 61.91
10 Gudžius , Andrius LTU 61.31
11 Djouhan , Lolassonn FRA 60.88
12 Ståhl , Daniel SWE 60.46
Women's results
200 Metres – Women – Wind: +1.1 m/s
1 Jackson , Shericka JAM 22.05 8
2 Prandini , Jenna USA 22.30 7
3 Ta Lou , Marie-Josée CIV 22.50 6
4 Samuel , Jamile NED 22.63 5
5 Jefferson , Kyra USA 22.69 4
6 Duncan , Kimberlyn USA 22.95 3
7 Pinto , Tatjana GER 23.35 2
8 Ntiamoah , Brigitte FRA 23.48 1
400 Metres – Women 
1 Naser , Salwa Eid BRN 49.55 8
2 Beard , Jessica USA 50.39 7
3 Francis , Phyllis USA 50.50 6
4 Wimbley , Shakima USA 50.81 5
5 McPherson , Stephenie Ann JAM 50.85 4
6 Okolo , Courtney USA 51.15 3
7 Guei , Floria FRA 51.71 2
8 Le-Roy , Anastasia JAM 52.44 1
800 Metres – Women
1 Semenya , Caster RSA 1:54.25 8
2 Niyonsaba , Francine BDI 1:55.86 7
3 Wilson , Ajee USA 1:57.11 6
4 Alemu , Habitam ETH 1:57.17 5
5 Goule , Natoya JAM 1:57.69 4
6 Lipsey , Charlene USA 1:58.05 3
7 Tuei , Emily Cherotich KEN 1:58.99 2
8 Lamote , Renelle FRA 1:59.25 1
9 Sum , Eunice Jepkoech KEN 1:59.25
10 Hassan , Sifan NED 1:59.35
11 Saunders , Claudia USA 2:00.47
Wambui , Margaret Nyairera KEN DNF
3000 Metres Steeplechase – Women
1 Chepkoech , Beatrice KEN 8:59.36 8
2 Chespol , Celliphine Chepteek KEN 9:01.82 7
3 Kiyeng , Hyvin KEN 9:03.86 6
4 Jeruto , Norah KEN 9:04.17 5
5 Yavi , Winfred Mutile BRN 9:12.74 4
6 Chepngetich , Roseline KEN 9:17.08 3
7 Jepkemei , Daisy KEN 9:17.35 2
8 Praught , Aisha JAM 9:20.89 1
9 Grøvdal , Karoline Bjerkeli NOR 9:28.50
10 Schlumpf , Fabienne SUI 9:39.89
11 Burkard , Elena GER 9:40.18
12 Lalonde , Geneviève CAN 9:40.34
Gathoni , Ann KEN DNF
Tuigong , Caroline KEN DNF
High Jump – Women
1 Lasitskene , Mariya ANA 2.04 8
2 Thiam , Nafissatou BEL 1.97 7
3 Levchenko , Yuliya UKR 1.97 6
4 Demireva , Mirela BUL 1.94 5
5 Vallortigara , Elena ITA 1.94 4
6 Tabashnyk , Kateryna UKR 1.94 3
7 Jungfleisch , Marie-Laurence GER 1.94 2
8 Kinsey , Erika SWE 1.90 1
9 Spencer , Levern LCA 1.90
10 Orcel , Claire BEL 1.85
10 Trost , Alessia ITA 1.85
Triple Jump – Women –
1 Ibargüen , Caterine COL 14.83 8 +0.1
2 Williams , Kimberly JAM 14.56 7 +0.7
3 Franklin , Tori USA 14.49 6 +0.6
4 Gierisch , Kristin GER 14.42 5 +1.1
5 Ricketts , Shanieka JAM 14.38 4 +1.5
6 Peleteiro , Ana ESP 14.31 3 +0.6
7 Diallo , Rouguy FRA 14.27 2 +0.8
8 Rypakova , Olga KAZ 14.25 1 -0.4
9 Assani Issouf , Jeanine FRA 14.16 +1.9
10 Knyazyeva-Minenko , Hanna ISR 14.04 -0.2
11 Soares , Nubia BRA 13.94 +1.7
Discus Throw – Women
1 Perkovic , Sandra CRO 68.60 8
2 Pérez , Yaimé CUB 66.55 7
3 Caballero , Denia CUB 63.13 6
4 de Morais , Andressa BRA 62.93 5
5 Rüh , Anna GER 62.65 4
6 Vita , Claudine GER 62.31 3
7 Müller , Nadine GER 60.28 2
8 Ashley , Whitney USA 57.33 1