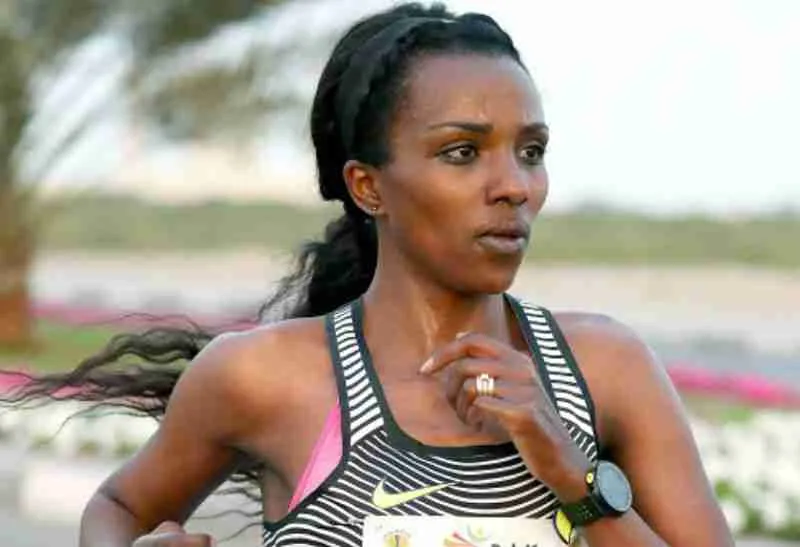 The elite women's field for the 45th edition of the BMW Berlin Marathon 2018 is the strongest for many years. At the top of the entries is one of the best female distance runners of all time, Tirunesh Dibaba from Ethiopia.
The 32-year-old has won three gold medals at consecutive Olympic Games (2008 and 2012) and five World Championships from 2003 to 2013. For good measure, Dibaba has also five World Cross Country titles to her credit.
Her personal best is 2:17:56, set in finishing second at the 2017 Virgin Money London Marathon which makes her the third fastest woman in the history of the marathon.
Dibaba is keen to beat this time in Berlin and, given ideal weather conditions, might even have a chance of attacking Paula Radcliffe's world record of 2:15:25, set by the Briton in 2003.
Alongside Tirunesh Dibaba on the start line will be three other women with best times under 2:20. The 35-year-old Gladys Cherono from Kenya has won Berlin twice before, in 2015 and 2017 and her best of 2:19:25 was achieved in the first of those victories.
The most experienced contender is the 38-year-old Edna Kiplagat. The Kenyan has the most successful record of any of her rivals in Berlin, having twice won the world title (2011 and 2013) and taken silver in 2017.
In addition she has won the 2010 TCS New York City Marathon, the Virgin Money London Marathon in 2014 and the 2017 Boston Marathon.
The scale of her achievements doesn't end there because Kiplagat also has numerous podium finishes in the Abbott World Marathon Majors series having finished runner-up in London on three occasions from 2011 to 2013, third in Tokyo in 2016 and second in Chicago the same year.
Yebrugal Melese (28) from Ethiopia is a very experienced runner. She has 14 marathons under her belt and, amongst others, won the Prague Marathon in 2015, and placed 2nd in Chicago (2017 and 2018) as well as in Paris (2014) and in Frankfurt (2017). She ran her personal best placing 3rd in Dubai in January 2018.
Aselefech Mergia should have good memories of Berlin since it was here that the 33-year-old Ethiopian won a bronze medal at the 2009 World Championships.
She also has an impressive record in the Dubai Marathon, achieving a hat-trick of wins in 2011, 2012 and 2015. Her personal best of 2:19:31 was set when winning the Dubai title in 2012.
Another Ethiopian to be taken into consideration is Ruti Aga who ran her best time of 2:20:41 in Berlin last year when she was second while Japan's Mizuki Matsuda won her debut marathon this year in Osaka with 2:22:44.
The BMW Berlin Marathon is part of the Abbott World Marathon Majors (AWMM), the group of six leading marathons in the world which was founded in 2006. They comprise races in Tokyo, London, Boston, Berlin, Chicago and New York.
By Organizers