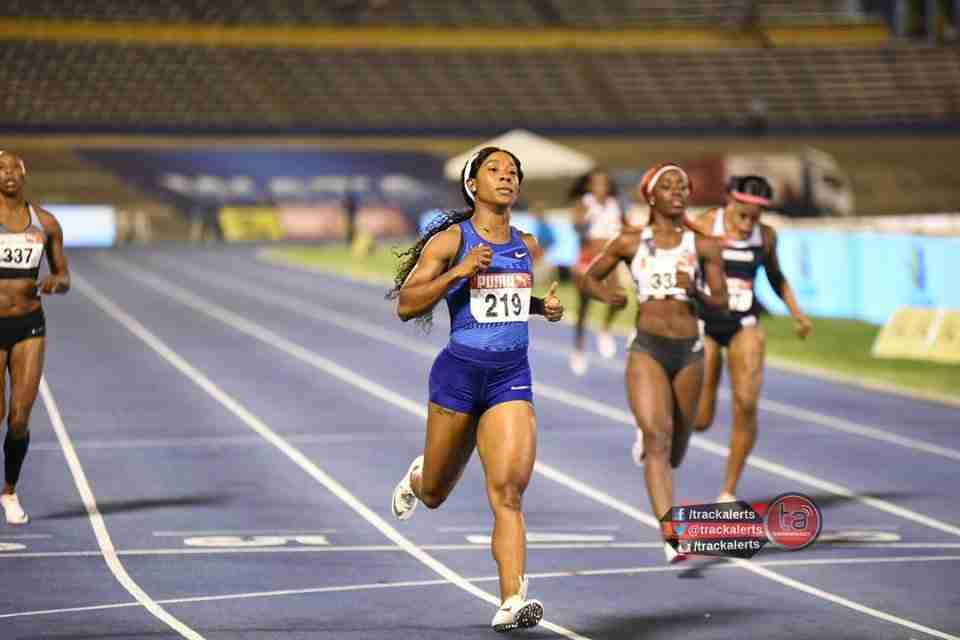 Stanford, California – Two-time Olympic champion Shelly-Ann Fraser-Pryce and American teen Sha'Carri Richardson lead a fast women's 100m field at the Prefontaine Classic.
The stellar field also includes some of the world's fastest women's sprinters, last year's No. 1 in the world as ranked by Track & Field News, as well as the reigning IAAF Diamond League winner. Lots of eyes will be on the young American who hasn't lost to anyone from the U.S. in almost two years.
Shelly-Ann Fraser-Pryce, 32, made Olympic history at Rio in 2016, earning a 100-meter bronze after two straight gold medals. She owns the most combined Olympic and World Championships women's 100-meter golds with five.
She took the 2017 season off with maternity leave and won her only Diamond League race last year in 10.98. She has run a time of 10.73, the joint fastest time of the season at the Jamaica Trials last week
Fraser-Pryce owns three of her four Diamond League titles in the 100 and has the most wind-legal sub-10.80 times this century with 12. She has four No. 1 world rankings by T&FN– the most this century and equal to Jamaican legend Merlene Ottey.
Sha'Carri Richardson, 19, scorched the NCAA Championships two weeks ago in 10.75 breaking the world U20 (Junior) record set 42 years earlier.
http://gty.im/1155120374
The Dallas native later declared her intent to turn professional, leaving LSU after becoming the first female freshman sprinter to win the national title after an undefeated season among collegians.
Richardson's 10.75 rates her tied for No. 9 all-time on the world list and No. 5 American, just ahead of legend Evelyn Ashford. Later that afternoon at the NCAA in Austin, Richardson clocked 22.17, breaking the ratified world U20 record set by Allyson Felix in 2004, when Richardson was just 4 years old.
A pair of sprinters from Cote d'Ivoire split last year's T&FN world No. 1 ranking and the Diamond League crown.
Marie-JoséeTa Lou, 30, won last year's Pre Classic 100 en route to a season rated best in the world by T&FN. Her 10.85 was a co-world leading fastest as she claimed the Doha Diamond League race, and this year she has the world's fastest 60 indoors at 7.02. Ta Lou swept silvers at the London Worlds in the 100 and 200, plus last year in England at the World Indoor 60.
http://gty.im/1148461251
Murielle  Ahouré, 31, claimed last year's Diamond League 100 crown – the first by an African man or woman in the short sprints. She owns the African record at 10.78 and has been world ranked by T&FN every year since 2012. Ahouré was runner-up the last two years at the Pre Classic and won last year's World Indoor 60 gold. She is a former NCAA indoor 60 champ while at Miami.
English Gardner, 27, has won two Pre Classic 100s, and her PR 10.74 to win the 2016 U.S. Olympic Trials is that meet's fastest besides Florence Griffith-Joyner in 1988 and makes her the fourth-fastest American ever. She has missed a good amount of the last two years but claimed the Millrose Games indoor 60 this year in a PR 7.10.
http://gty.im/544503758
Aleia Hobbs, 23, is the reigningU.S. champ and last year became the first NCAA/USA double winner in this event since Gardner in 2013. Hobbs is one of a record eight NCAA 100 champions to come from LSU, and she owns the only victory this year over Richardson. Hobbs – the world's top-ranked American by T&FN last year at No. 5 – has not lost a 100 to anyone from the U.S. in two years.
At 10.95, Mujinga Kambundji, 27, is Switzerland's only sprinter to break 11 seconds. She also owns her national record in the 60 (7.02) and was world-ranked in last year's top 10 by T&FNin both the 100 and 200, the first Swiss in either event.
Michelle-Lee Ahye, 27, won last year's Commonwealth Games 100 and has made every Olympic or Worlds final since 2014. Sheowns Trinidad's national records in the 100 (10.82), 200 (22.25) and 60 (7.09). She ran the backstretch leg on Trinidad's 4×100 bronze medal team at the World Championships.
(The 45thPre Classic, a member of the IAAF Diamond League of elite international  track & field meets, will be held June 30 at Stanford's Cobb Track & Angell Field)
Women's 100 Meters
Personal Best
Shelly-Ann Fraser-Pryce (Jamaica)
10.70
 
English Gardner (USA)
10.74
 
Sha'Carri Richardson
10.75
 
Murielle Ahouré (Cote d'Ivoire)
10.78
 
Michelle-Lee Ahye (Trinidad & Tobago)
10.82
 
Aleia Hobbs (USA)
10.85
 
Marie-Joseé Ta Lou (Cote d'Ivoire)
10.85
 
Mujinga Kambundji (Switzerland)
10.95
 
Fans can follow the event lineups as all announced fields are posted at PreClassic.com. The direct link to current start/entry lists is HERE and will include updates to all announced fields.