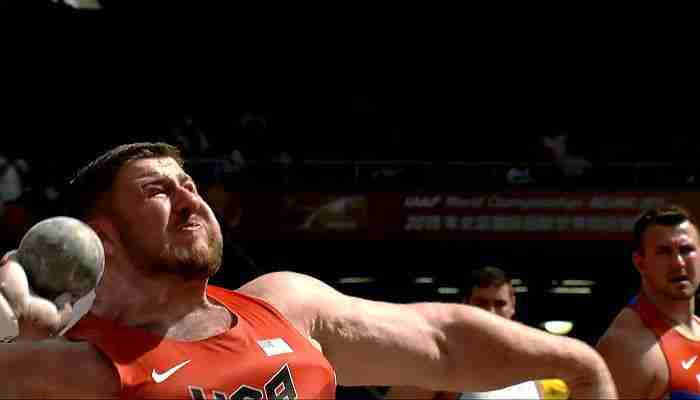 Eugene, Oregon – The strongest shot put field ever assembled on U.S. soil is the latest event confirmed for the 2020 Prefontaine Classic.
Meet organizers believe that this year's Pre Classic is shaping up to be its biggest ever as the event returns back to its home, a completely rebuilt Hayward Field.
The men's shot put brings back every medalist from the greatest-ever shot put competition – last fall's thrilling World Championships that saw three new members of the 75-foot club. That trio also owned every step of the podium at the Rio Olympics.
http://gty.im/1179222024
This year's lineup includes seven from last year's Pre Classic – an epic competition of its own with six 70-footers on U.S. soil for the first time. It also includes the only two putters to have beaten the "big three" at the same time.
Reigning Olympic gold medalist Ryan Crouser, 27, owns the two longest throws at Hayward Field, achieved in winning the 2017 and 2018 Pre Classics. Despite earning "only" silver at Doha with his best of 75-1¾ (22.90), he topped the Track & Field News world rankings in 2019 – his third No. 1 in the last four years.
He is this year's world leader after winning his first U.S. Indoor title last month at 74-1¾ (22.60) – the only mark farther indoors was set by Randy Barnes in 1989, three years before Crouser was born.
Crouser is from an Oregon family of throwers with numerous state prep titles, national high school records and collegiate championships (dad Mitch, uncles Dean and Brian, and cousins Sam and Haley). 
http://gty.im/1178823165
Ryan won World Youth (U18) shot gold in 2009, set two still-standing high school records in 2011 in the discus (237-6/72.40) and indoor shot (77-2¾/23.54), and won four NCAA titles for Texas (indoor and outdoor shot).
New Zealand's Tom Walsh, 28, was in great shape in his bid to defend his World Championships gold. In the first round at Doha, he exploded with a PR 75-1¾ (22.90) that made him the first 75-footer in more than 30 years. But the historic last round saw two more join the 75-foot club, relegating him to just bronze, the same medal he earned in Rio.
Walsh won his third Wanda Diamond League crown last year, giving him the most in this event. He was world ranked No. 1 by T&FN in 2018 and has been No. 2 three other times. This will be his seventh-straight Pre Classic.
Joe Kovacs, 30, had the effort of his life in the last round of the World Championships in Doha, moving from 4th to 1st with a massive personal record of 75-2 (22.91) as he earned his first gold since the 2015 Beijing Worlds.
The Penn State grad also has silver medals from the Rio Olympics and 2017 London Worlds. His victory over  Crouser and Walsh in Doha made him the first to beat both twice – the first time was in 2016 when he won his second-straight Pre Classic title.
Kovacs is now at No. 3 all-time on the world list behind a pair of marks set before he was born in 1989. His last U.S. title came at Hayward Field in 2015, the year he also won the Diamond League and was No. 1 in T&FN's world rankings. Like Walsh, this will be his seventh-straight Pre Classic; the two are 3-3 head-to-head in this meet.
http://gty.im/1179222244
Darlan Romani, who will turn 29 on April 9, has PRed in his two previous appearances at the Pre Classic, but last year's performance was eye-opening. The Brazilian dominated a power-packed field, PRing three times to ultimately join the 74-foot club at 74-2¼ (22.61). That victory was just the second time someone had beaten the Crouser-Walsh-Kovacs trio.
Romani was a figure in the dramatic Doha Worlds. He was in line for a silver medal until the last round knocked him down to bronze and finally 4th. He made his first venture into the elite level in 2018 with his first entry in T&FN's world rankings at No. 3. Prime among his efforts that year was a late-season win at the Continental Cup with a rare victory over both Walsh and Crouser. He repeated at No. 3 in the 2019 rankings.
American Darrell Hill, 26, is known for some dramatic putting of his own. He has made the tough U.S. team in each of the last four years, but he really caught notice when he made his first team. Hayward Field was the site of the U.S. Olympic Trials as Hill improved over 1½ feet with his first 70-foot effort to make the U.S. squad.
The Penn State grad has been a fixture in the world rankings ever since. Hill was No. 5 last year after a career-best No. 4 in 2018, but his best theatrics came in the last round of the 2017 Diamond League final when he cranked a nearly 2-foot improvement to move from 5th to 1st with his PR of 73-7½ (22.44), denying Crouser his first DL title. It was the first time anyone had beaten Crouser, Kovacs and Walsh in the same meet.
Poland's Michal Haratyk, who will turn 28 on April 10, set one of his national records at the Pre Classic in 2018 and last year also joined the 73-foot club with two meets at 73-2¾ (22.32). Haratyk won gold at the last year's European Indoor as well as the 2018 European Championships.
The youngest in the field from Poland is Konrad Bukowiecki, who will turn 23 on March 17. He is already a four-time T&FN world Top 10 ranker and will be in his fourth Pre Classic. He joined the 73-foot club last year with a late-season 73-0 (22.25). He owns a number of world age bests and won the 2014 World Junior (U20) title at Hayward Field when he was 16.
Payton Otterdahl, who will turn 24 on April 2, swept the NCAA Indoor shot and weight titles while competing for North Dakota State. The Minnesota native joined the 70-foot and 71-foot club last year. He first earned national notice in the discus, winning the Pan-American Junior (U20) gold in 2015.


Men's Shot Put
Personal Best
Joe Kovacs (USA)
75-2
(22.91)
Ryan Crouser (USA)
75-1¾
(22.90)
Tom Walsh (New Zealand)
75-1¾
(22.90)
Darlan Romani (Brazil)
74-2¼
(22.61)
Darrell Hill (USA)
73-7½
(22.44)
Michal Haratyk (Poland)
73-2¾
(22.32)
Konrad Bukowiecki (Poland)
73-0
(22.25)
Payton Otterdahl (USA)
71-6¾
(21.81)
Fans can follow the event lineups as all announced fields are posted at PreClassic.com. The direct link to current start/entry lists is HERE and will include updates to all announced fields.

Tickets for the 46th annual edition of the Prefontaine Classic, to be held June 6-7 at Hayward Field in Eugene, Ore., will be available at 9 a.m. Pacific Time on Friday, March 13 at www.goducks.com/tracktickets as well as from 1-800-WEBFOOT.