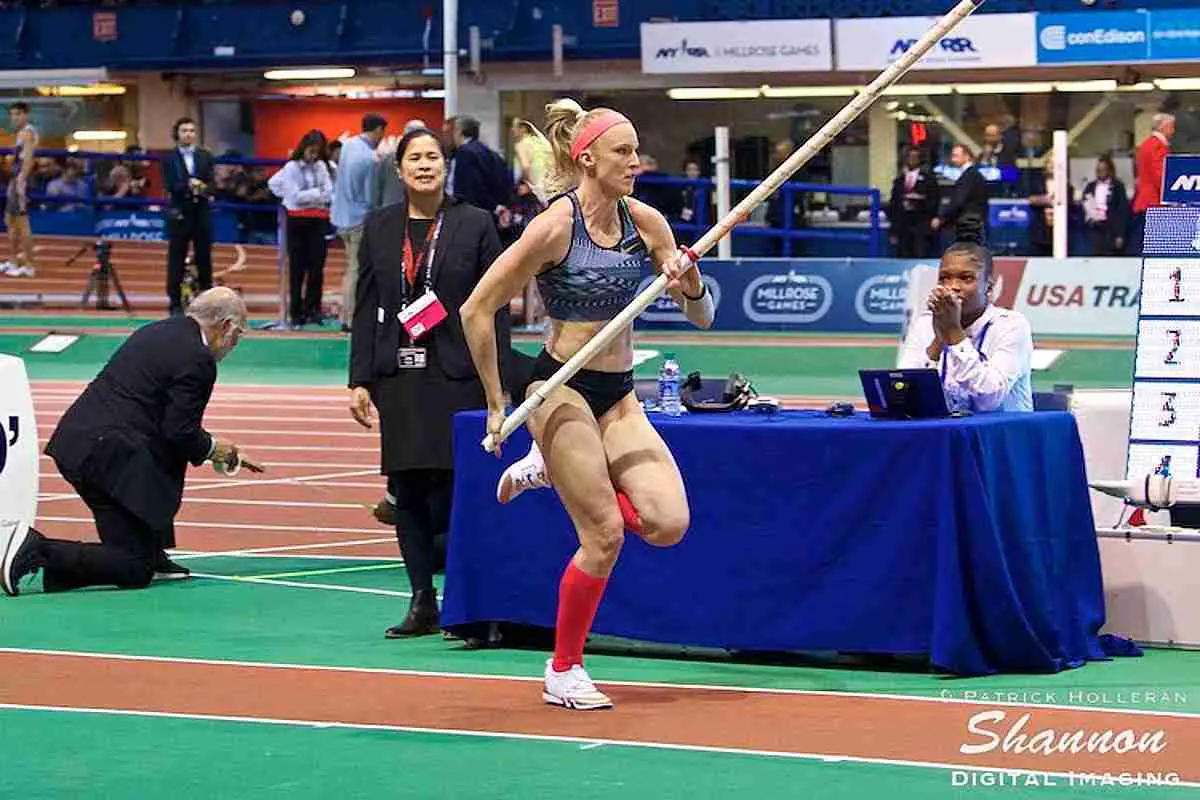 FAYETTEVILLE — The third edition of the American Track League had a little bit of something for everyone, including world-leading marks in the women's pole vault and men's long jump, along with a pending high school record in the men's mile.
New World Lead For Sandi Morris, Marquis Dendy
The biggest news came from third-placer Hobbs Kessler (Ann Arbor, Michigan), a Michigan high schooler who set a national prep record with his 3:57.66, taking down Drew Hunter's previous record of 3:57.81 from 2016. That time moved Kessler to second on the world U20 indoor all-time list for the mile. He had never previously officially broken 4:20 in an indoor mile.
 
2016 World Indoor champion and 2019 World Championships bronze medalist Vashti Cunningham (Las Vegas, Nevada) overcame some misses at earlier heights to clear 2.00m/6-6.75 on her second attempt, moving to =3rd on the all-time U.S. indoor list with the highest height by an American this year. Cunningham's training partner, Jelena Rowe (Chicago Heights, Illinois), also notched a personal best at 1.91m/6-3.25 in second.
 
Rhode Island high schooler Sophia Gorriaran (Providence, Rhode Island) gamely went to the lead in the women's 800m after the pacer dropped out at 400m, and she held onto the lead until the final 20m, where Britain's Adelle Tracey edged past her and won in 2:02.11. Gorriaran, 15, took over the No. 3 spot on the all-time high school indoor list and became the fastest-ever U18 athlete at the distance indoors with her 2:02.44 in second, while a fast-closing Nikki Hiltz (Aptos, California) took third in 2:02.51.
Prandini Impresses In 200m
Flying around the Fayetteville oval, Jenna Prandini (Clovis, California) sprinted to the U.S. lead in the women's 200m, clocking 22.55 to beat Quanera Hayes (Hope Mills, North Carolina), who lowered her personal best to 22.70 in second. Shawnti Jackson (Raleigh, North Carolina) also recorded a lifetime best, and her 23.23 equaled the fifth-fastest time in high school indoor history.
 
Running the second-fastest time in the world in 2021, 2018 World Indoor silver medalist Michael Cherry (Chesapeake, Virginia) was unchallenged in the men's 400m, rolling to a lifetime best 45.24 in the first section to win by a .84 margin over section two winner Deon Lendore. In the "B" section, Ashland's Trevor Bassitt (Bluffton, Ohio) shocked with a 45.27, an NCAA Division II all-time best and the No. 3 U.S. time of the year.
 
Best known as a 400m hurdler, with a 2015 World Championships silver to her credit, Shamier Little (Louisville, Kentucky) rocketed to the front right from the start and was never challenged in the first section of the women's 400m, winning in an indoor personal-best 51.33. Shakima Wimbley (Fort Lauderdale, Florida) captured the second section in 52.12.
Baker Beats Bromell Over 60m
Nigeria's Blessing Okagbare, an Olympic and World medalist in the long jump, was a half-step better than Jamaica's Christania Williams in the women's 60m, setting a lifetime best of 7.10 to win by .02. Teahna Daniels (Orlando, Florida) and Prandini turned in season bests in third and fourth, and Shawnti Jackson became the =5th-fastest high schooler ever with a 7.24 in seventh.

Ronnie Baker (Louisville, Kentucky), the third-fastest man ever over 60m and a bronze medalist at the 2018 World Indoor Championships, surged past world-leading Trayvon Bromell (St. Petersburg, Florida) midway through the dash and came away with a 6.53-6.58 win in his first final of 2021. 
 
Britain's Tiffany Porter was out best in the women's 60m hurdles final and outleaned Jamaica's Britany Anderson to win by .02 in 7.95, matching the time she ran in the prelims. 2020 Toyota USATF Indoor Championships gold medalist Gabbi Cunningham (Charlotte, North Carolina) was third in a 2021-best 8.08.
McLeod Opens With Victory
Reigning Olympic 110m hurdles champion Omar McLeod of Jamaica, who hadn't run an indoor hurdles race since 2018, was side-by-side with Michael Dickson (Beaufort, South Carolina) in the final of the men's 60m hurdles before inching ahead and winning in 7.53, with Dickson second in 7.58.
 
Former Alabama high jumper Shelby McEwen (Abbeville, Mississippi), who won the NCAA Indoor title in 2019, took top honors as he was the only man to clear 2.20m/7-2.5.
 
The final American Track League meet airs next Sunday, February 14, time TBD.  
 
Click here for full results.
—USATF Release