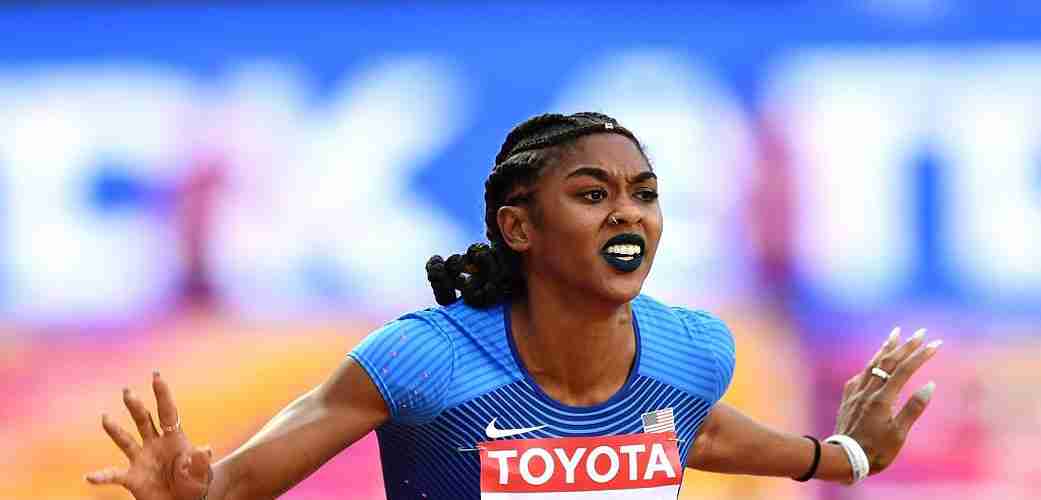 Malaika Mihambo and Christina Clemons both set world-leading marks at Friday's ISTAF Indoor Berlin meeting at the Mercedes-Benz Arena.
Mihambo Opened With Big Jump
Mihambo, the reigning World and European champion, stretched out to 6.77m to secure victory in the women's long jump.
In fact, the 27-year-old German registered her winning mark on her first attempt of the competition before jumping 6.62m and 6.61m in the next two rounds. She missed out on her final three attempts due to fouls.
The effort improved the previous world-leading mark of 6.75m by the USA's Monae' Nichols.
World championships silver medalist Maryna Bekh-Romanchuk from Ukraine grabbed second place with a leap of 6.64m in the third round, while third place went to American Taliyah Brooks, who did 6.49m.
Clemons Dominates The Field
Reigning World Indoor silver medallist Christina Clemons of the USA topped the women's 60m hurdles field with a time of 7.90 seconds. Earlier in the heats, the 30-year-old ran a world-leading time of 7.83 to improve on her own best mark for 2021.
Nooralotta Neziri of Finland was next in 8.05, while The Netherlands' European Indoor champion and world indoor bronze medalist Nadine Visser took third place in 8.10.
American Aaron Mallett and Olympic silver medalist Orlando Ortega of Spain were both credited with a time of 7.74 seconds in the men's 60m hurdles, but the former was given the nod.
Erik Balnuweit of Germany claimed third with 7.70 seconds.
Cisse And Mihalinec-Zidar Land 60m Titles
Arthur Cisse of the Ivory Coast steady improvement continued on Friday after he won the men's 60 after clocking 6.53 seconds to equal his personal best and national record.
The 24-year-old ran 6.56 in the semi-final heat to finish second to Italian long jump specialist Lamont Jacobs, before returning to take the final.
Jacobs, running his first competitive indoor 60m, came back to improved his best in the event to 6.55 in the final, Kevin Kranz of Germany took third place in 6.62, just ahead of American Elijah Hall, Kojo Musah of Denmark and Sri Lankan Yupun Abeykoon – who all ran 6.65.
In the women's 60m event, Slovenian 12-time national Maja Mihalinec-Zidar posted 7.23 seconds for the victory, holding off the German trio of Lisa Mayer (7.26), Rafalia Spanoudaki-Chatziriga (7.27) and Jennifer Montag (7.29).
Elsewhere, Asian Champion Ernest Obiena set a Philippine national record and lifetime best of 5.80m to secure the men's pole vault title, with Torben Blech of Germany also clearing the same height for second place.
Please Click Here For Complete Results