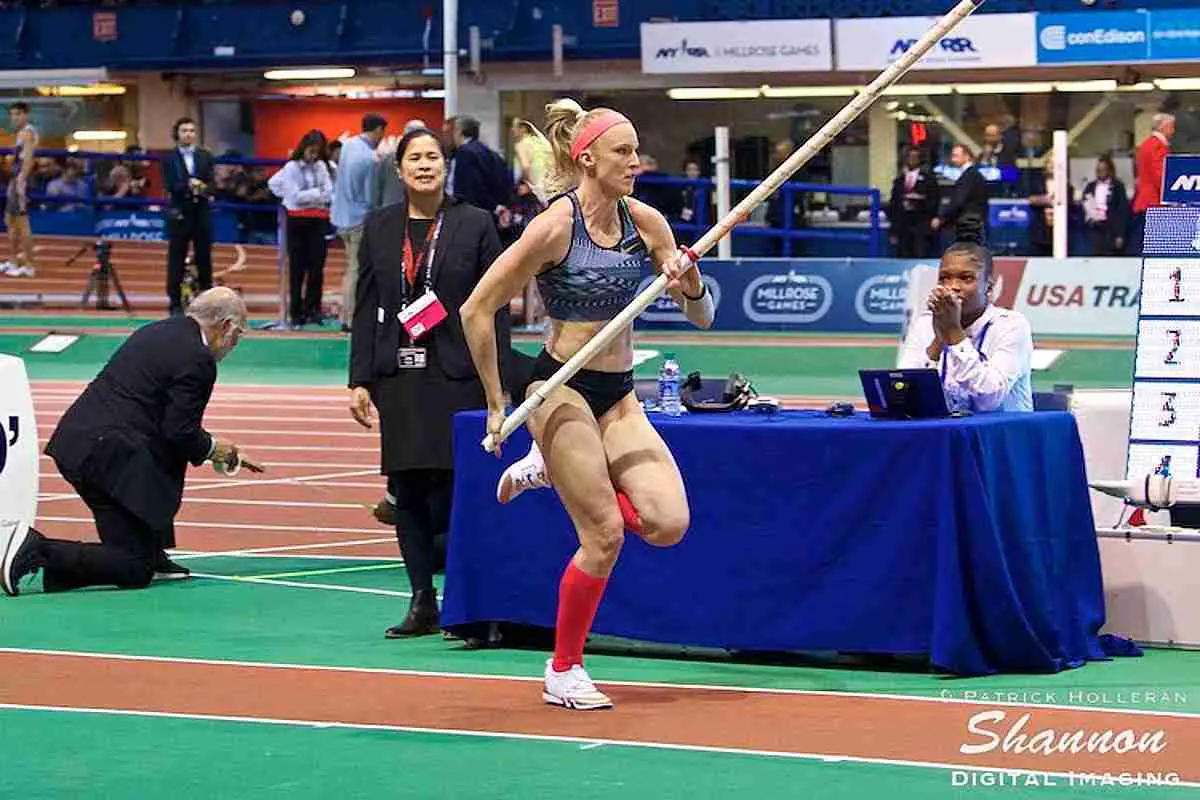 The following is the updated indoor world-leading men's and women's performance list, following some exciting competitions over the past weekend.
Among the top performers in the past week on the women's were Bahamian Shaunae Miller-Uibo, Dina Asher-Smith of Great Britain, USA's Sandi Morris, and the Arkansas 4×400 relay team.
Meanwhile, on the men's side, Italian high jumper Gianmarco Tamberi, pole vaulter Renaud Lavillenie of France and American middle distance rising star Bryce Hoppel were among the top performers last week.
Complete World-Leading 2021 List
Women World-Leading List
55 6.81 Autumn Wilson USA
60 7.08 Dina Asher-Smith GBR
200 22.40 Shaunae Miller-Uibo BAH
300 35.92 Gabby Thomas USA
400 50.96 Femke Bol NED
500 1:11.24 Gabby Scott PUR
600 1:25.80 Athing Mu USA
800 1:59.03 Keely Hodgkinson GBR
1000 2:37.35 Aleksandra Gulyayeva RUS
1500 4:11.92 Sara Kuivisto FIN
Mile 4:27.54 Heather MacLean USA
2000 5:43.32 Yelena Korobkina RUS
3000 8:41.98 Beatrice Chepkoech KEN
5000 15:36.22 Katie Izzo USA
55H 7.81 Eddiyah Frye USA
60H 7.86 Tonea Marshall USA
High Jump 2.02 Yaroslava Mahuchikh UKR
Pole Vault 4.81 Sandi Morris USA
Long Jump 6.75 Monae' Nichols USA
Triple Jump 14.54 Liadagmis Povea CUB
Shot Put 19.65 Auriol Dongmo POR
Weight Throw 23.50 Maddy Nilles USA
Pen 4665 Noor Vidts BEL
3000W 13:06.71 Pauline Stey FRA
5000W 20:59.1h Lyudmyla Olyanovska UKR
4×4 3:30.80 University of Arkansas
Men World-Leading List
55 6.25 Udodi Onwuzurike USA
60 6.48 Trayvon Bromell USA
200 20.45 Courtney Lindsey USA
300 32.61 Jacory Patterson USA
400 45.03 Fred Kerley USA
500 1:00.66 Alejandro Perlaza COL
600 1:16.16 Kameron Jones USA
800 1:44.37 Bryce Hoppel USA
1000 2:18.68 Neil Gourley GBR
1500 3:37.55 István Szögi HUN
Mile 3:54.54 Charles Hunter AUS
2000 5:07.04 Homiyu Tesfaye GER
3000 7:34.12 Bethwel Birgen KEN
5000 13:37.39 Christian Noble USA
55H 7.46 Andre Jones USA
60H 7.35 Grant Holloway USA
High Jump 2.32 Gianmarco Tamberi ITA
Pole Vault 6.02 Renaud Lavillenie FRA
Long Jump 8.18 Juan Miguel Echevarría CUB; 8.18 Isaac Grimes USA
Triple Jump 18.07 WR Fabrice Zango Hugues BUR
Shot Put 22.82 WR Ryan Crouser USA
Weight Throw 24.82 Hleb Dudarau BLR
Hep 6057 Maksim Andraloits BLR
3000W 12:29.66 Uladzislau Karneichuk BLR
5000W 19:07.5h Eduard Zabuzhenko UKR
4×4 3:04.62 N. Carolina A&T USA
Compiled by Tilastopaja