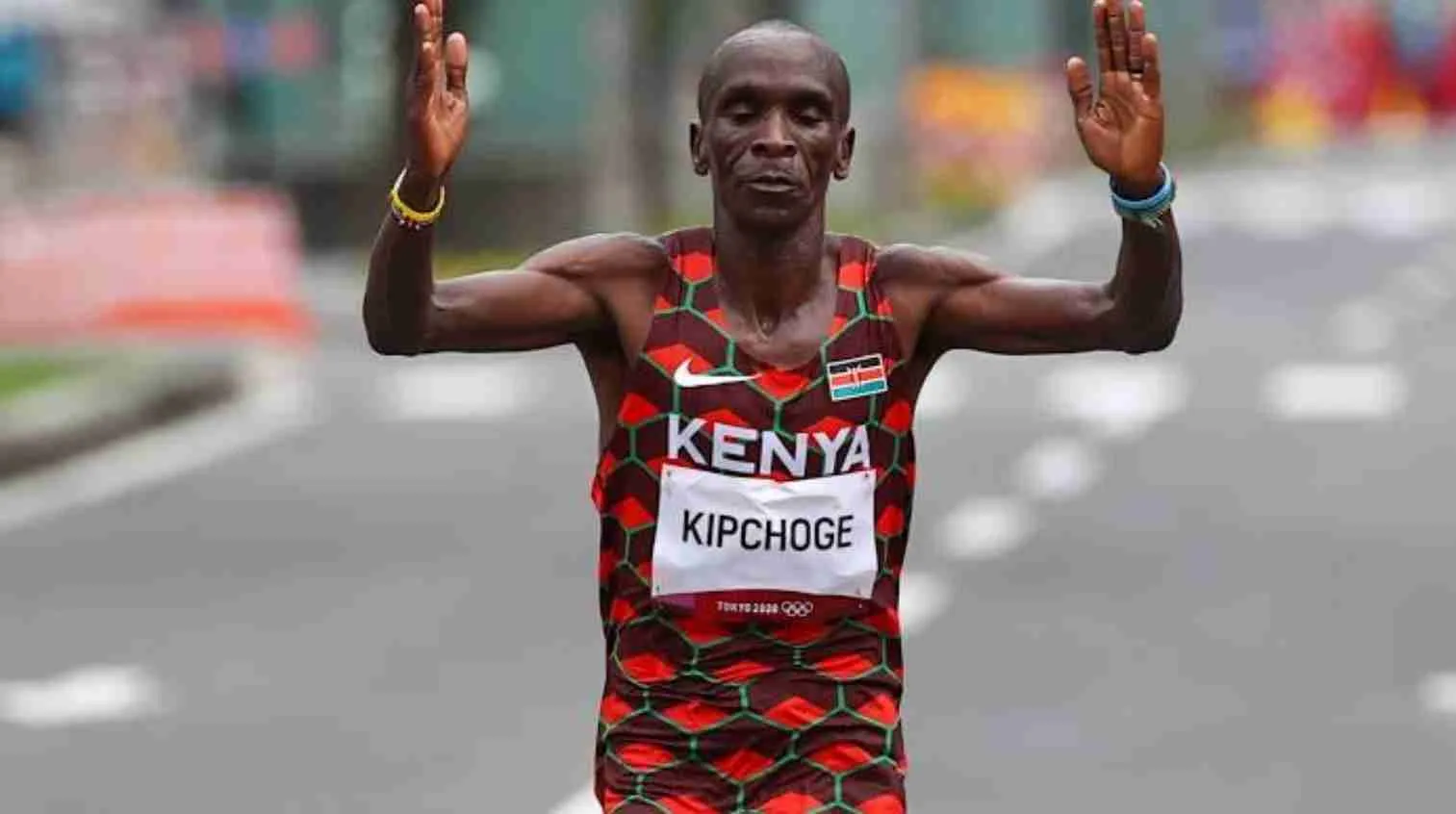 TOKYO — Eliud Kipchoge of Kenya retained his Olympic marathon title in extraordinary fashion on the final day of the athletics competition at the Tokyo Olympic Games on Sunday (8), crossing the finishing line at 2:08:38.
Kipchoge, the champion at the Rio 2016 Games, broke away from the pack after 30 kilometres and then build a sizable lead as the rest of the field just couldn't keep up with his increased pace.
The 36-year-old world record holder went on his way to becoming only the third man to retain an Olympic marathon title and confirmed his status as perhaps the greatest marathon runner of all time and one of the greatest Olympians.
READ MORE: Peres Jepchirchir of Kenya wins Tokyo Olympic marathon gold
"I wanted to create a space to show the world that this is a beautiful race," Kipchoge said after winning gold.
The Kenyan who entered the Olympic Games as the overwhelming favorite, won by 1:20, which is the largest victory margin in an Olympic marathon since Frank Shorter's win in 1972.
"I have fulfilled the legacy by winning the marathon for the second time, back-to-back. I hope now to help inspire the next generation," he added.
"Today I lived my Olympic dream. I always say that sport is like life, whereby you can win and lose. But today was a day where I won and get to say I successfully defended my Olympic title."
The other podium finishers were Abdi Nageeye from The Netherlands who collected the silver with 2:09:58, with the bronze medal going to Belgium's Bashir Abdi in 2:10:00.
U.S. Olympic Trials champion Galen Rupp, Rio 2016 Olympic bronze medalist, finished eighth in 2:11:41.
READ MORE: Tokyo Olympic men's 1500m results; Ingebrigtsen finally beats Cheruiyot
Japan's Suguru Osako finished in an impressive sixth at 2:10:41.
After his victory in Sapporo on Sunday, Kipchoge said he will now sit with his coach to start planning the rest of the way forward.
"The end of my career will come automatically that's for sure, that's in front of my mind, but for now I still want to compete more," the Kenyan 2003 world 5000m champion said. "I still want to go around the world and run, inspire people.
"I'm going back now, (will) talk with my coach, see what are the opportunities in the world. Now I want to enjoy winning here in Tokyo."
Marathon Medal Finishers
?Eliud Kipchoge (KEN) – 2:08:38
?Abdi Nageeye (NED) – 2:09:58
?Bashir Abdi (BEL) – 2:10:00