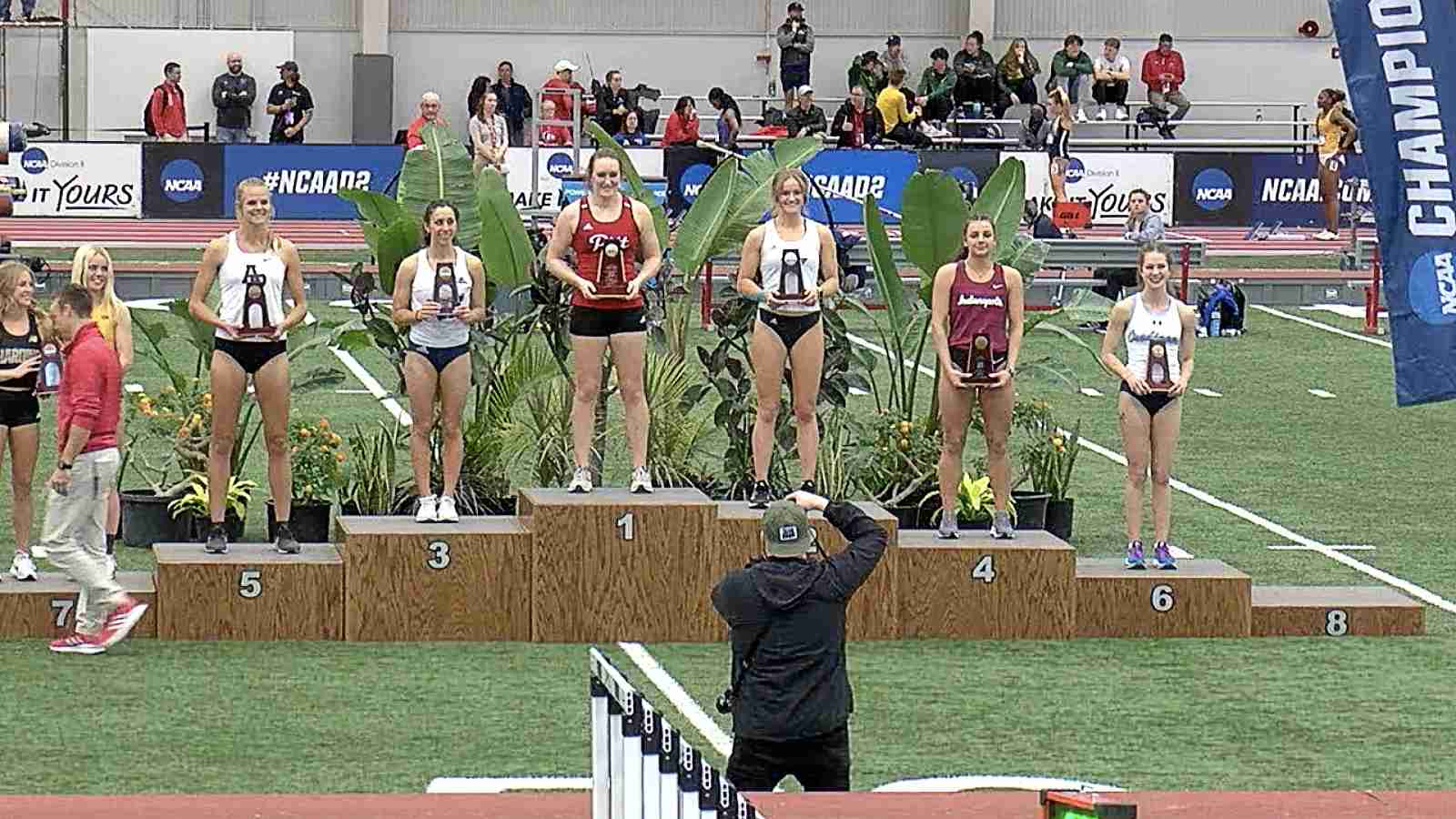 The following is the list of individual and relay team champions at the NCAA DII Indoor Track and Field Championships 2022. The meeting was hosted by Pittsburg State and took place at the Robert W. Plaster Center in Pittsburg, Kansas, on Friday (11) and Saturday (12). Read more: NCAA D3 Indoor Track and Field Championships 2022 final team scores
Grand Valley State and Minnesota State were crowned national champions at the end of the two-day championships. For the first time in program history, the Grand Valley State men won the NCAA DII indoor track and field championships after totaling 66 points to secure the title. Ashland with 49 points followed home second and host Pittsburg State took third with 47. West Texas A&M scored 40 points and Central Missouri ended with 29 points to complete the top five.
On the women's side, Minnesota State captured its first NCAA DII Indoor Track and Field Championships women's team title with 58 points. It was a close race, though, with Grand Valley State finishing second with 51 points, while Azusa Pacific and West Texas A&M were tied at third with 40 points. Adams State and Pittsburg State were tied for fifth with 31 points.
NCAA DII Indoor Track and Field Championships 2022 Individual and team champions
Women's pentathlon overall champion: Cheyenne Williamson, Saginaw Valley State
Men's heptathlon overall champion: Johnathan Harper, Texas A&M-Kingsville
Men's shot put champion: Isaiah Schafer, Davenport
Women's triple jump champion: D'Andra Morris, UMary
Men's high jump champion: Ushan Perera, Texas A&M-Commerce
Men's pole vault champion: Ryan Stanley, Fort Hays State
Women's shot put champion: Zada Swoopes, West Texas A&M
Men's triple jump champion: Henry Kiner, Pittsburg State
Men's 60m hurdles champion: Trevor Bassitt, Ashland
Women's 60m hurdles champion: Denisha Cartwright, Minnesota State
Men's 60m champion: Benjamin Azamati, West Texas A&M
Women's 60m champion: Makayla Jackson, Minnesota State
Men's mile champion: Callum Elson, American International
Women's mile champion: Berenice Cleyet-Merle, UIndy
Men's 400m champion: Trevor Bassitt, Ashland
Women's 400m champion: Shereen Vallabouy, Winona State
Men's 800m champion: Wes Ferguson, Nebraska-Kearney
Women's 800m champion: Alison Andrews-Paul, Simon Fraser
Men's 200m champion: Brandon Miller, Grand Valley State
Women's 200m champion: Leah Belfield, West Texas A&M
Men's 3000m champion: Titus Winders, Southern Indiana
Women's 3000m champion: Celine Ritter, Lee
Men's 4×400 champion: Ashland
Women's 4×400 champion: Lincoln (MO)