OREGON — Sydney McLaughlin smashed her own world record to win the 400m hurdles gold medal at the World Athletics Championships 2022 with a dominating run of 50.68 seconds on Day 8 here at Hayward Field on Friday (22). "It's unreal," the American said in her post-race interview at trackside.
"The time is absolutely amazing and the sport is getting faster and faster," said McLaughlin. "Just figuring out what barriers can be broken. I only get faster from here."
"Honestly, I just wanted to run and go for it," she added after the win. "That last 100 really hurt."
What was the world record for 400m hurdles?
The Olympic champion delivered the moment of the championship when breaking her previous world record of 51.41 seconds to finish miles ahead of Femke Bol of The Netherlands and the USA's Dalilah Muhammad.
Femke Bol was Wowed by Sydney McLaughlin's world record run!
Bol equaled her season-best with 52.27 secs for second for the silver with Muhammad ending third with 53.13 secs.
"She was so far in front at the end so I was always doubting if I really had a good race because it felt very good. And then I saw the sign and I was like: Wow," Bol said.
"This is just amazing and it means a lot that she also broke the 51s barrier."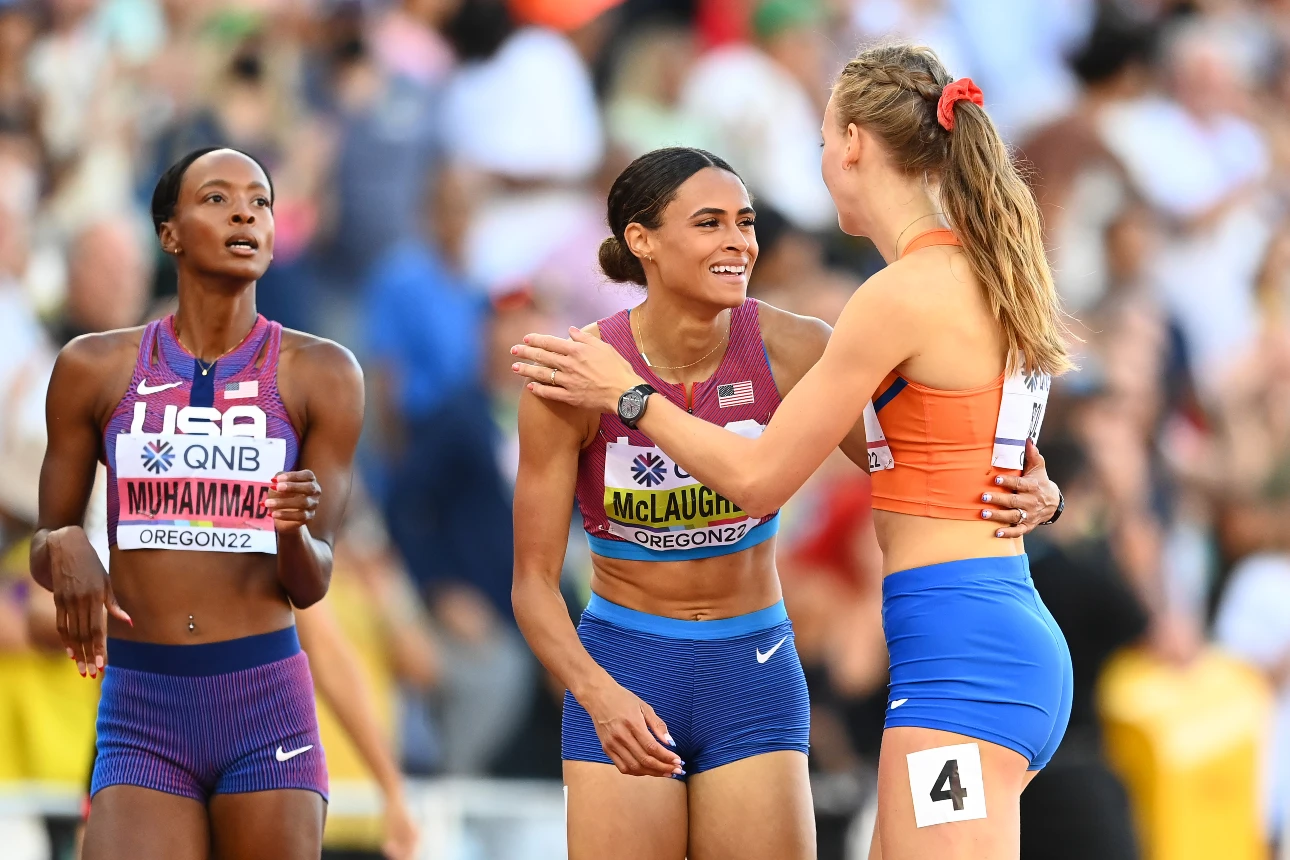 That 0.73 seconds improvement in the old world record of 51.41 to 50.68 is the biggest single margin in a women's 400m hurdles world record since 1977 when Tatyana Storozheva broke the first ever world record (56.51) with 55.74.
"We knew warming up that it was going to be one of those days," McLaughlin revealed. "I knew coming home that if I just kept my cadence and stayed on stride pattern, we could do it and it happened."
How many times has Sydney McLaughlin broken the world record?
It was the fourth time McLaughlin was breaking the women's 400m hurdles world record in a championships race after running 51.90 at the US Olympic Trials last year, then 51.46 at the Olympics in Tokyo, and 51.41 at the US Championships last month, followed by this.
"The level in the 400m hurdles is certainly improving," added McLaughlin. "We have a full group of girls that are willing to push our bodies to the next level and we are seeing times drop. It's really an exciting time to be in the event."
Meanwhile, American athletes finished in four of the top five places in the final with Shamier Little taking fourth in 53.76 and NCAA champion Britton Wilson running 54.02 for fifth.
Women's 400m hurdles results – World Athletics Championships 2022
| | | | |
| --- | --- | --- | --- |
| RESULT | | | |
| POS | COUNTRY | ATHLETE | MARK |
| 1 | USA | Sydney MCLAUGHLIN | 50.68 WR |
| 2 | NED | Femke BOL | 52.27 =SB |
| 3 | USA | Dalilah MUHAMMAD | 53.13 SB |
| 4 | USA | Shamier LITTLE | 53.76 |
| 5 | USA | Britton WILSON | 54.02 |
| 6 | JAM | Rushell CLAYTON | 54.36 |
| 7 | PAN | Gianna WOODRUFF | 54.75 |
| 8 | UKR | Anna RYZHYKOVA | 54.93 |
Photo by Hannah Peters/Getty Images for World Athletics