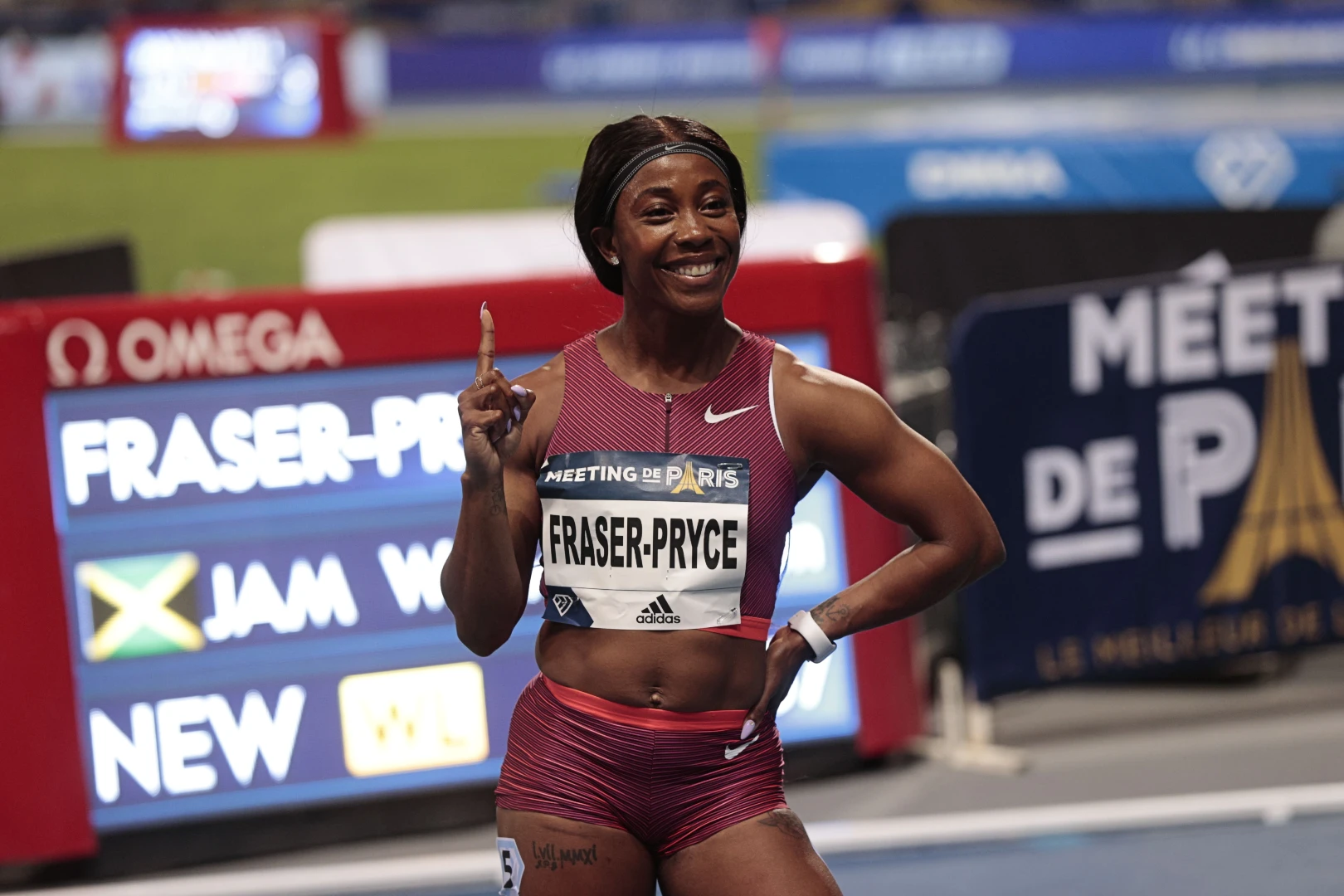 Olympic champions Elaine Thompson-Herah and Hansle Parchment, four-time reigning world champion Shelly-Ann Fraser-Pryce, and Shericka Jackson lead a strong Jamaican team for the 2022 World Athletics Championships, to be held at Hayward Field in Eugene, Oregon, from 15-24 July.
Fraser-Pryce heads into the championships as the defending 100m champion, having won the event at Doha 2019, while Thompson-Herah, who is hoping to win her first world title, is the Olympic Games sprint double champion.
Parchment, meanwhile, won the Olympic 110m hurdles meters at the Tokyo Games last summer and he will be hoping to add the world title to his name as well. Read more: Shericka Jackson runs 21.55 secs to win 200m at Jamaica Championships
Another strong gold medal contender named in the team is Olympic 100m bronze medalist Jackson, the fastest in the world in the 200m this season with the third-fastest time all-time in the event at 21.55 seconds, and done at the Jamaica National Championships last weekend.
Team also includes reigning world long jump champion Tajay Gayle, as well as silver medal winners from Doha, Shanieka Ricketts (triple jump) and Danniel Thomas-Dodd (shot put).
For more information please click here
| | | | | |
| --- | --- | --- | --- | --- |
| 100m | Shelly-Ann Fraser-Pryce | | | Yohan Blake |
| 100m | Shericka Jackson | | | Oblique Seville |
| 100m | Kemba Nelson | | | Ackeem Blake |
| 100m | Elaine Thompson-Herah | | Alt | Jelani Walker |
| 100m | Briana Williams | Alt | | |
| – | | | | |
| 200m | Shericka Jackson | | | Yohan Blake |
| 200m | Shelly-Ann Fraser-Pryce | | | Rasheed Dwyer |
| 200m | Elaine Thompson-Herah | | | Akeem Bloomfield |
| 200m | Natalliah Whyte | Alt | | |
| – | | | | |
| 400m | Candice McLeod | | | Jevaughn Powell |
| 400m | Stephenie-Ann McPherson | | | Christopher Taylor |
| 400m | Charokee Young | | | Nathon Allen |
| 400m | Stacey-Ann Williams | Alt | | |
| – | | | | |
| 800m | Natoya Goule | | | Navasky Anderson |
| 800m | Chrisann Gordon-Powell | | | |
| 800m | Adelle Tracey | | | |
| – | | | | |
| 1500m | Adelle Tracey | | | |
| – | | | | |
| 100m/110m Hurdles | Britany Anderson | | | Hansle Parchment |
| 100m/110m Hurdles | Megan Tapper | | | Rasheed Broadbell |
| 100m/110m Hurdles | Danielle Williams | | | Orlando Bennett |
| 100m/110m Hurdles | Demisha Roswell | Alt | Alt | Damion Thomas |
| – | | | | |
| 400m Hurdles | Shiann Salmon | | | Jaheel Hyde |
| 400m Hurdles | Janieve Russell | | | Kemar Mowatt |
| 400m Hurdles | Rushell Clayton | | | Shawn Rowe |
| 400m Hurdles | Andrenette Knight | Alt | | |
| – | | | | |
| High Jump | Lamara Distin | | | |
| High Jump | Kimberly Williamson | | | |
| – | | | | |
| Long Jump | Chanice Porter | | | Tajay Gayle |
| Long Jump | | | | Wayne Pinnock |
| – | | | | |
| Triple Jump | Shanieka Ricketts | | | Jordan Scott |
| Triple Jump | Kimberly Williams | | | |
| Triple Jump | Ackelia Smith | | | |
| – | | | | |
| Shot Put | Danniel Thomas-Dodd | | | |
| Shot Put | Lloydricia Cameron | | | |
| – | | | | |
| Discus | Samantha Hall | | | Treves Smikle |
| Discus | | | | Fedrick Dacres |
| Discus | | | | Chad Wright |
| – | | | | |
| 4x100m | Shelly-Ann Fraser-Pryce | | | Yohan Blake |
| 4x100m | Shericka Jackson | | | Oblique Seville |
| 4x100m | Kemba Nelson | | | Ackeem Blake |
| 4x100m | Elaine Thompson-Herah | | | Jelani Walker |
| 4x100m | Briana Williams | | | Kemar Bailey-Cole |
| 4x100m | Remona Burchell | | | Conroy Jones |
| – | | | | |
| 4x400m | Candice McLeod | | | Jevaughn Powell |
| 4x400m | Stephenie-Ann McPherson | | | Christopher Taylor |
| 4x400m | Charokee Young | | | Nathon Allen |
| 4x400m | Stacey-Ann Williams | | | Karayme Bartley |
| 4x400m | Roniesha McGregor | | | Javon Francis |
| 4x400m | Natalliah Whyte | | | Anthony Cox |
| – | | | | |
| 4x400m Mixed | Junelle Bromfield | | | Akeem Bloomfield |
| 4x400m Mixed | Tiffany James-Rose | | | Gregory Prince |
| – | | | | |
| Management | | | | |
| Manager | | | | Lincoln Eatmon |
| Assistant Manager | Marie Tavares | | | |
| Assistant Manager | | | | Michael Frater |
| – | | | | |
| Doctor | | | | Kevin Jones |
| Physiotherapist | | | | Noel Brown |
| Massage Therapist | | | | Jeffery King |
| Massage Therapist | | | | Jowayne Johnson |
| Massage Therapist | | | | Keneil Brown |
| Massage Therapist | | | | Troy Evans |
| Massage Therapist | Morine Dawson | | | |
| Massage Therapist | | | | Damion Rowe |
| – | | | | |
| Technical Director | | | | Maurice Wilson |
| – | | | | |
| Coach | | | | Paul Francis |
| Coach | | | | Bertland Cameron |
| Coach | | | | Lennox Graham |
| Coach | | | | Julian Robinson |
| Coach | | | | Marlon Gayle |
| Coach | | | | Reynaldo Walcott |
| Coach | | | | Lamar Richards |
| Coach | | | | Gregory Little |