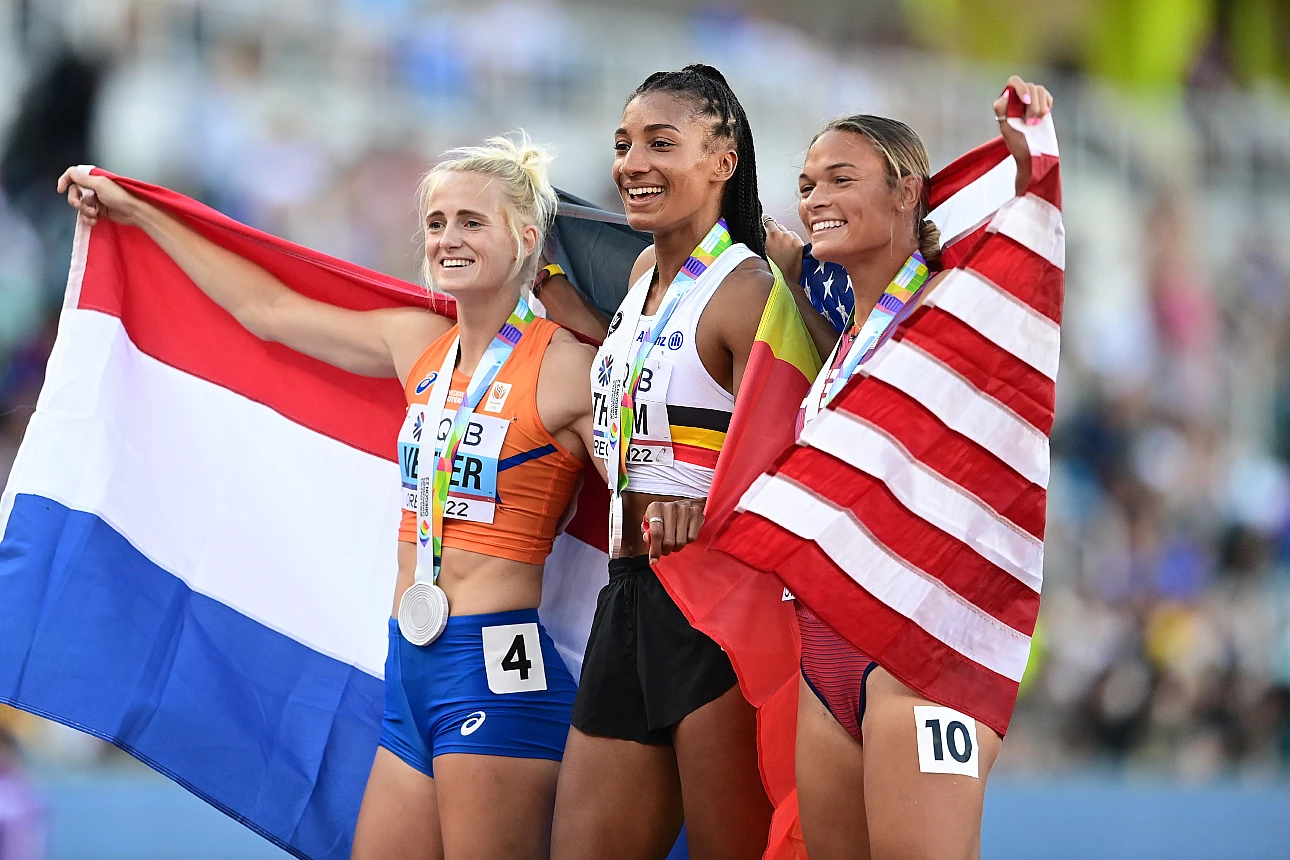 The following are the completed scores for the women's Heptathlon at the World Athletics Championships on Monday (18) with Belgium's double Olympic champion Nafissatou Thiam scoring 6947 points to reclaim her world title in emphatic style at Hayward Field.
Thiam entered the final event of the competition 19 points behind Anouk Vetter of The Netherlands, but the 27-year-old produced a personal best of 2:13.00 in the 800 meters to resist the challenge of her Dutch rival and improved on the silver medal she won in Doha in 2019. Thiam also won the world title in 2017.
"I worked really hard on the 800 so I knew I could do a good time but think I needed that extra push of someone behind me," Thiam told reporters.
Read more: DAY 5 – World Athletics Championships order of events schedule, start lists, how to watch
Vetter, who was also second to the Belgian at the Olympics in Tokyo last year, collected the silver with 6867pts.
American Anna Hall, the NCAA champion, who was cheered on by the home fans, brilliantly claimed the bronze medal with 6755pts after a fantastic time of 2:06.67 to win the 800m.
Great Britain's defending champion Katarina Johnson-Thompson was unable to keep up with the lead group throughout the competition and ended eighth with 6222 pts.
Women's Heptathlon Final Scores – World Championships 2022
POINTS
POS
ATHLETE
COUNTRY
POINTS
100H
HJ
SP
200
LJ
JT
800
1
Nafissatou THIAM
BEL
6947
Points
Mark
Overall
1093
13.21 (5)
1093
1171
1.95 (1)
2264
863
15.03 (1)
3127
944
24.39 (1)
4071
1036
6.59 (1)
5107
919
53.01 (2)
6026
921
2:13.00 (1)
6947
2
Anouk VETTER
NED
6867
Points
Mark
Overall
1080
13.30 (7)
1080
978
1.80 (7)
2058
945
16.25 (2)
3003
1007
23.73 (2)
4010
1014
6.52 (2)
5024
1021
58.29 (1)
6045
822
2:20.09 (2)
6867
3
Anna HALL
USA
6755
Points
Mark
Overall
1094
13.20 (3)
1094
1054
1.86 (3)
2148
772
13.67 (5)
2920
1071
23.08 (3)
3991
972
6.39 (4)
4963
778
45.75 (3)
5741
1014
2:06.67 (3)
6755
4
Adrianna SUŁEK
POL
6672
Points
Mark
Overall
1083
13.28 (6)
1083
1093
1.89 (2)
2176
803
14.13 (3)
2979
1003
23.77 (4)
3982
985
6.43 (3)
4967
699
41.63 (4)
5666
1006
2:07.18 (4)
6672
5
Noor VIDTS
BEL
6559
Points
Mark
Overall
1094
13.20 (3)
1094
1016
1.83 (4)
2110
823
14.43 (4)
2933
988
23.92 (5)
3921
953
6.33 (5)
4874
698
41.62 (6)
5572
987
2:08.50 (5)
6559
6
Annik KÄLIN
SUI
6464
Points
Mark
Overall
1099
13.17 (2)
1099
903
1.74 (8)
2002
775
13.71 (8)
2777
976
24.05 (8)
3753
1027
6.56 (6)
4780
826
48.25 (5)
5606
858
2:17.49 (6)
6464
7
Emma OOSTERWEGEL
NED
6440
Points
Mark
Overall
1059
13.44 (8)
1059
941
1.77 (9)
2000
821
14.40 (6)
2821
940
24.43 (7)
3761
834
5.95 (8)
4595
938
54.03 (7)
5533
907
2:13.97 (7)
6440
8
Katarina JOHNSON-THOMPSON
GBR
6222
Points
Mark
Overall
1043
13.55 (13)
1043
1016
1.83 (6)
2059
722
12.92 (7)
2781
1017
23.62 (6)
3798
937
6.28 (7)
4735
652
39.18 (8)
5387
835
2:19.16 (8)
6222
9
Claudia CONTE
ESP
6194
Points
Mark
Overall
1028
13.65 (14)
1028
1054
1.86 (5)
2082
692
12.46 (9)
2774
908
24.77 (10)
3682
850
6.00 (9)
4532
757
44.69 (9)
5289
905
2:14.14 (9)
6194
10
Paulina LIGARSKA
POL
6093
Points
Mark
Overall
952
14.19 (15)
952
941
1.77 (15)
1893
799
14.08 (13)
2692
919
24.65 (13)
3611
813
5.88 (11)
4424
781
45.89 (10)
5205
888
2:15.36 (10)
6093
11
Ashtin ZAMZOW-MAHLER
USA
5974
Points
Mark
Overall
1055
13.47 (10)
1055
941
1.77 (10)
1996
727
12.99 (11)
2723
873
25.15 (14)
3596
756
5.69 (12)
4352
829
48.41 (11)
5181
793
2:22.28 (11)
5974
12
Michelle ATHERLEY
USA
5959
Points
Mark
Overall
1106
13.12 (1)
1106
867
1.71 (11)
1973
698
12.56 (14)
2671
984
23.97 (12)
3655
850
6.00 (10)
4505
521
32.33 (12)
5026
933
2:12.16 (12)
5959
Kendell WILLIAMS
USA
DNF
Points
Mark
Overall
1044
13.54 (12)
1044
867
1.71 (14)
1911
708
12.71 (15)
2619
862
25.27 (15)
3481
726
5.59 (13)
4207
740
43.80 (13)
4947
0
DNS
DNF
Sophie WEISSENBERG
GER
DNF
Points
Mark
Overall
1049
13.51 (11)
1049
903
1.74 (13)
1952
765
13.57 (12)
2717
975
24.06 (9)
3692
0
NM
3692
0
DNS
DNF
Xénia KRIZSÁN
HUN
DNF
Points
Mark
Overall
1056
13.46 (9)
1056
903
1.74 (12)
1959
799
14.08 (10)
2758
903
24.82 (11)
3661
0
NM
3661
0
DNS
DNF
Odile AHOUANWANOU
BEN
DNS
Points
Mark
Overall
0
DNS
DNS
0
DNS
DNS
0
DNS
DNS
Photo by Hannah Peters/Getty Images for World Athletics