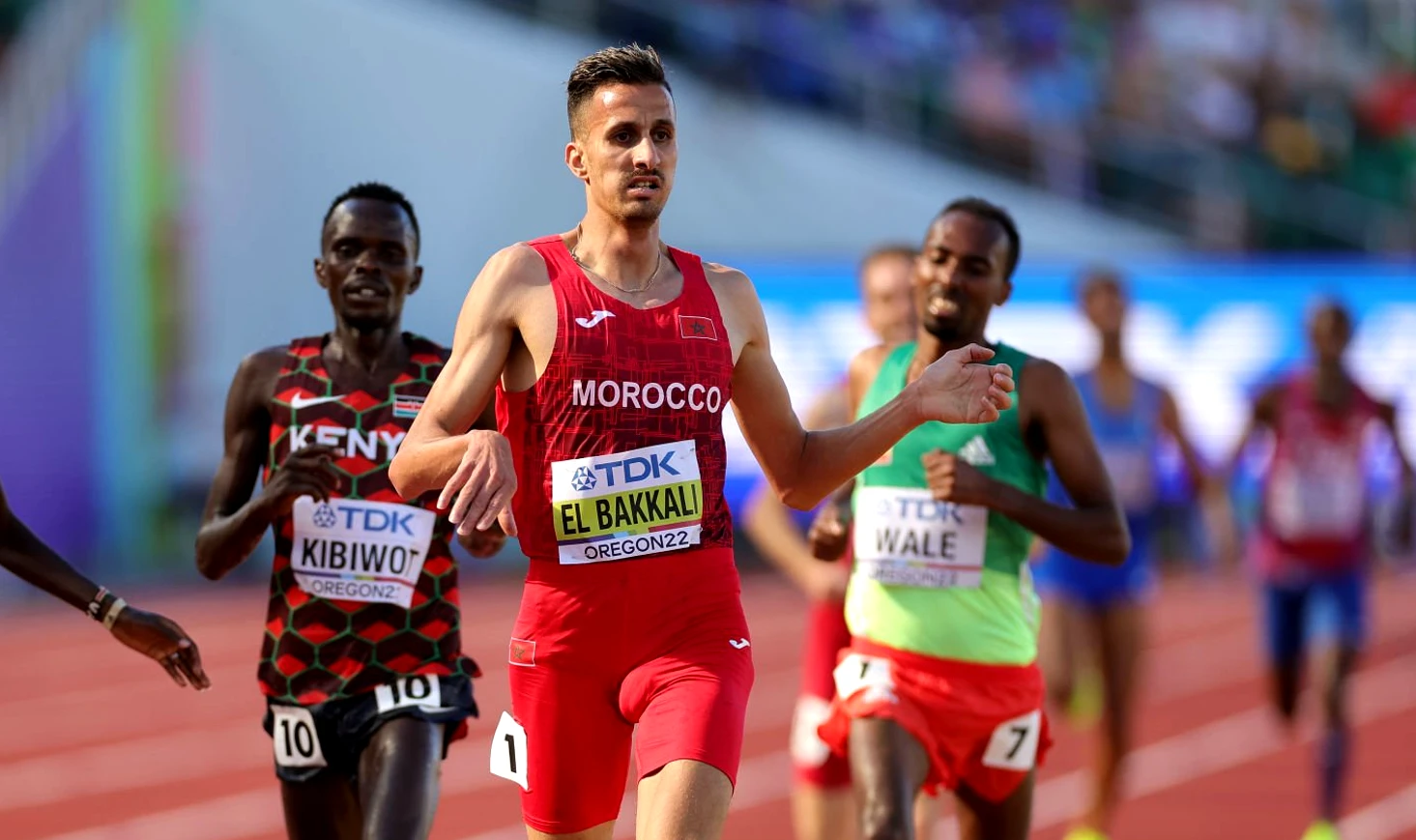 EUGENE, Ore. (July 18) – Soufiane El Bakkali kicked past Lamecha Girma of Ethiopia with less than 200m to go in the race on his way to winning the men's 3,000 meters steeplechase gold medal at the World Championships in 8:25.13 on Monday night (18).
The Moroccan Olympic champion ran close to the leaders for much of the race but stayed near the back of the pack before making the decisive move at the final water pit and then broke away to take the lead entering the home straight.
Girma closed the gap a bit as the runners approached the final barrier, but El Bakkali surged away again to put the win beyond reach. Read more: Gotytom Gebreslase wins nail-biter at World Championships 2022 women's marathon
"I am very happy to win my first world title after the Olympic gold," El Bakkali told reporters. "The race was very difficult; it was very tactical and slow. I positioned myself well on the last lap. I am very strong in the 400m and it worked out for me."
Girma, the silver medalist at the world championships in Doha in 2019 and again at the Olympics in Tokyo last summer, had to settle for the runner-up spot once again with 8:26.01.
"The pace was very slow today, my tactic did not work and that (cost) me the gold," Girma told reporters. "I was trying to change the tactic but the pace limited me very much. I will go for gold next year and my training is starting from now on."
The bronze medal here at Hayward Field on Day 4 went to Kenyan Conseslus Kipruto who crossed the line in 8:27.92.
Meanwhile, the athletes were, fortunately, able to escape a potential disaster on the opening lap after a camera operator, who was videoing the women's triple jump final in center field, stepped onto the track on the home straight with his back to the competitors. Thankfully, the runners saw him in time and were able to get around him without an incident happening.
Men's 3000m steeplechase full results – World Athletics Championships
RESULT FINAL
POS COUNTRY ATHLETE MARK
1 MAR Soufiane EL BAKKALI 8:25.13
2 ETH Lamecha GIRMA 8:26.01
3 KEN Conseslus KIPRUTO 8:27.92
4 ETH Getnet WALE 8:28.68
5 KEN Abraham KIBIWOT 8:28.95
6 USA Evan JAGER 8:29.08
7 ERI Yemane HAILESELASSIE 8:29.40
8 USA Hillary BOR 8:29.77
9 ESP Daniel ARCE 8:30.05
10 ETH Hailemariyam AMARE 8:31.54
11 IND Avinash Mukund SABLE 8:31.75
12 ITA Ahmed ABDELWAHED 8:33.43
13 FRA Mehdi BELHADJ 8:34.49
14 ESP Sebastián MARTOS 8:36.66
15 KEN Leonard Kipkemoi BETT 8:36.74
Photo by Carmen Mandato/Getty Images