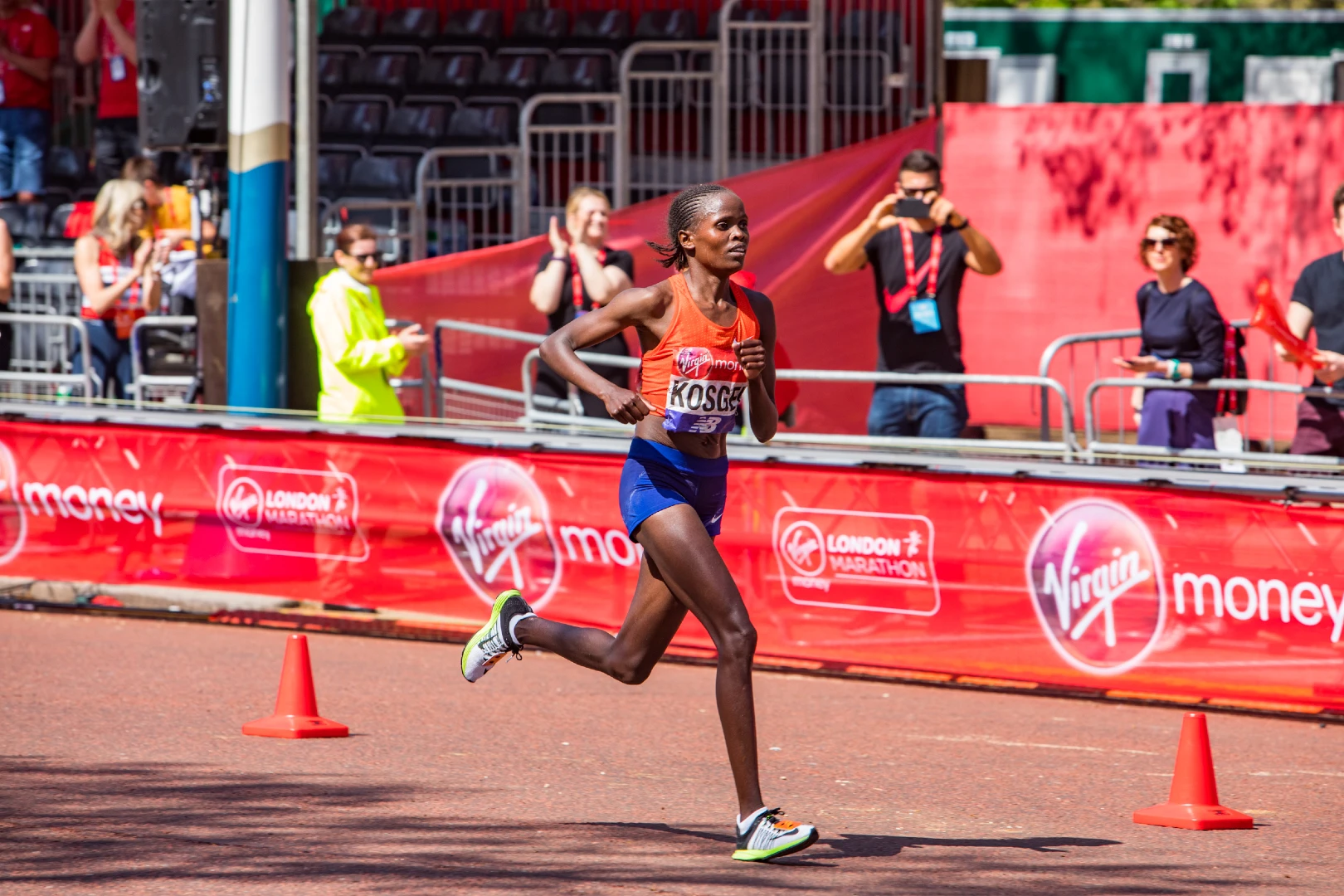 The following are the entry lists and how you can watch all the live streaming online coverage of the women's and men's races at the 2022 Atlanta Journal-Constitution Peachtree Road Race on Monday 4 July. Kenyan runners headline the top starters in the men's and women's races.
You can watch live streaming coverage of the Peachtree Road Race 2022 this Independence Day on 11Alive which will start with pre-race coverage at 5:30 a.m. on their YouTube channel, in the free 11Alive mobile app or on 11Alive's Roku and Amazon Fire TV apps. 
The race will feature two men, including Rhonex Kipruto, the 2019 Peachtree champion, who have personal bests under 27:00 minutes, based on the entry and the organizers are willing to pay for a course record. A sub-27:00 minute performance AJC Peachtree Road Race in Atlanta will earn the winner a special $50,000 bonus.
Olympic marathon silver medalist and world record holder in the same distance, Brigid Kosgei of Kenya, is among the top starters on the women's side. We could see something fast.
Also check: RRW: Can The 2022 Peachtree Men's Winner Go Sub-27:00?
2022 Atlanta Journal-Constitution Peachtree Road Race Start Lists
Elite Men's Race 
| | | | |
| --- | --- | --- | --- |
| First Name | Last Name | Road 10K Personal Best | Country/U.S. Residence |
| Rhonex | Kipruto | 26:24 | KEN |
| Kibiwott | Kandie | 26:50 | KEN |
| Geoffrey | Koech | 27:02 | KEN |
| Mathew | Kimeli | 27:07 | KEN |
| Bravin | Kipkogei Kiptoo | 27:12 | KEN |
| Tsegay | Kidanu | 27:14 | ETH |
| Leonard | Barsoton | 27:42 | KEN |
| Benard | Ngeno | 27:44 | KEN |
| Jemal | Yimer  | 27:54 | ETH |
| Hamid | Ben Daoud | 28:07 | ESP |
| David | Bett | 28:08 | KEN |
| Dominic | Korir | 28:08 | KEN |
| Sam | Chelanga | 28:11 | Colorado Springs, CO |
| Abdi | Abdirahman | 28:11 | Tucson, AZ |
| Biya | Simbassa | 28:39 | Flagstaff, AZ |
| Mark | Lomuket | 28:46 | KEN |
| Kirubel | Erassa | 28:54 | Colorado Springs, CO  |
| Shadrack | Kimining | 29:16 | KEN |
| Jason | Weitzel | 29:22 | Greenville, SC |
| Robert | Stone | 29:36 | Short Hills, NJ |
| Matt | McDonald | 29:38 | Boston, MA |
| Matt | Baxter | 30:22 | NZL |
| Ian | Butler | 30:33 | Lakewood, CO |
| Patrick | Tiernan | DEBUT | AUS |
| Fabiano | Sulle | DEBUT | TAN |
| Conner | Mantz | DEBUT | Provo, UT |
| Stanley | Kebenei | DEBUT | Colorado Springs, CO |
| Chris | May | DEBUT | Atlanta, GA |
| Robert | Desisto | DEBUT | Atlanta, GA |
Elite Women's Race 
| | | | |
| --- | --- | --- | --- |
| First Name | Last Name | Road 10K Personal Best | Country Represented/U.S. Residence |
| Rosemary | Wanjiru | 29:50 | KEN |
| Brigid | Kosgei | 29:54 | KEN |
| Fancy | Chemutai | 30:06 | KEN |
| Irene | Cheptai | 30:35 | KEN |
| Senbere | Teferi | 30:38 | ETH |
| Dorcas | Tuitoek | 30:44 | KEN |
| Viola | Cheptoo | 30:55 | KEN |
| Keira | D'Amato | 31:03 | Oakton, VA |
| Viola | Chepngeno | 31:19 | KEN |
| Mary | Munanu | 31:20 | KEN |
| Biruktayit | Eshetu | 31:24 | ETH |
| Emily | Durgin | 31:49 | Flagstaff, AZ |
| Annie | Frisbie | 31:55 | Minneapolis, MN |
| Hawi | Feysa | 32:18 | ETH |
| Maggie | Montoya | 33:19 | Boulder, CO |
| Edna | Kurgat | 33:41 | Colorado Springs, CO |
| Bridget | Lyons Belyeu | 34:16 | Newnan, GA |
| Natalia | Sulle | 34:19 | TAN |
| Joanna | Stephens | 34:34 | Atlanta, GA |
| Emma Grace | Hurley | DEBUT | Roswell, GA |
| Amber | Zimmerman | DEBUT | Philadelphia, PA |
Shepherd Center Wheelchair Division
| | | | |
| --- | --- | --- | --- |
| First Name | Last Name | Road 10K Personal Best | Country/U.S. Residence |
| Daniel | Romanchuk | 18:11 | Champaign, IL |
| Marcel | Hug | 18:32 | SUI |
| Josh | Cassidy | 18:53 | CAN |
| Aaron | Pike | 19:00 | Champaign, IL |
| Alexandre | Dupont | 20:04 | CAN |
| Raphael | Botello Jiminez | 20:10 | ESP |
| James | Senbeta | 21:01 | Chicago, IL |
| Alphonso | Zagarosa | 21:04 | MEX |
| Luis | Sanclemente | 21:10 | COL |
| Hermin | Garic | 21:39 | Utica, NY |
| Valera "Jacob" | Allen | 22:00 | Kingwood, TX |
| Colby | Higgins | 22:05 | Atlanta, GA |
| Chad | Johnson | 22:45 | Corydon, IN |
| Dustin | Stallberg | 22:49 | Tucson, AZ |
| Jason | Robinson | 23:08 | Rome, NY |
| Brian | Seimann | 23:00 | Savoy, IL |
| Peyton | Gunnarson | 23:45 | Tucson, AZ |
| Adam | Smeenk | 24:00 | CAN |
| Isiah | Christophe | 24:00 | CAN |
| Evan | Correll | 24:00 | Waukee, IA |
| Phillip | Croft | 24:00 | Champaign, IL |
| Jose | Pulido | 24:22 | Clarksville, GA |
| Matthew | Potterfield | 24:59 | Knoxville, TN |
| Wes | Bergin | 25:00 | Palm Harbor, FL |
| Juan | Pablo | 25:01 | MEX |
| Brad | Smith | 27:05 | Atlanta, GA |
| | | | |
| --- | --- | --- | --- |
| First Name | Last Name | Road 10K Personal Best | Country Represented/U.S. Residence |
| | | | |
| --- | --- | --- | --- |
| Susannah | Scaroni | 21:10 | Urbana, IL |
| Patricia | Eachus | 22:48 | SUI |
| Jenna | Fesemyer | 24:50 | Champaign, IL |
| Yen | Hoang | 24:53 | Champaign, IL |
| Hannah | Babalo | 25:07 | Newark, NJ |
| Chelsea | Stein | 27:15 | Tucson, AZ |
| Emelia | Perry | 33:51 | Philadelphia, PA |
| Ivonne | Reyes | 29:48 | MEX |