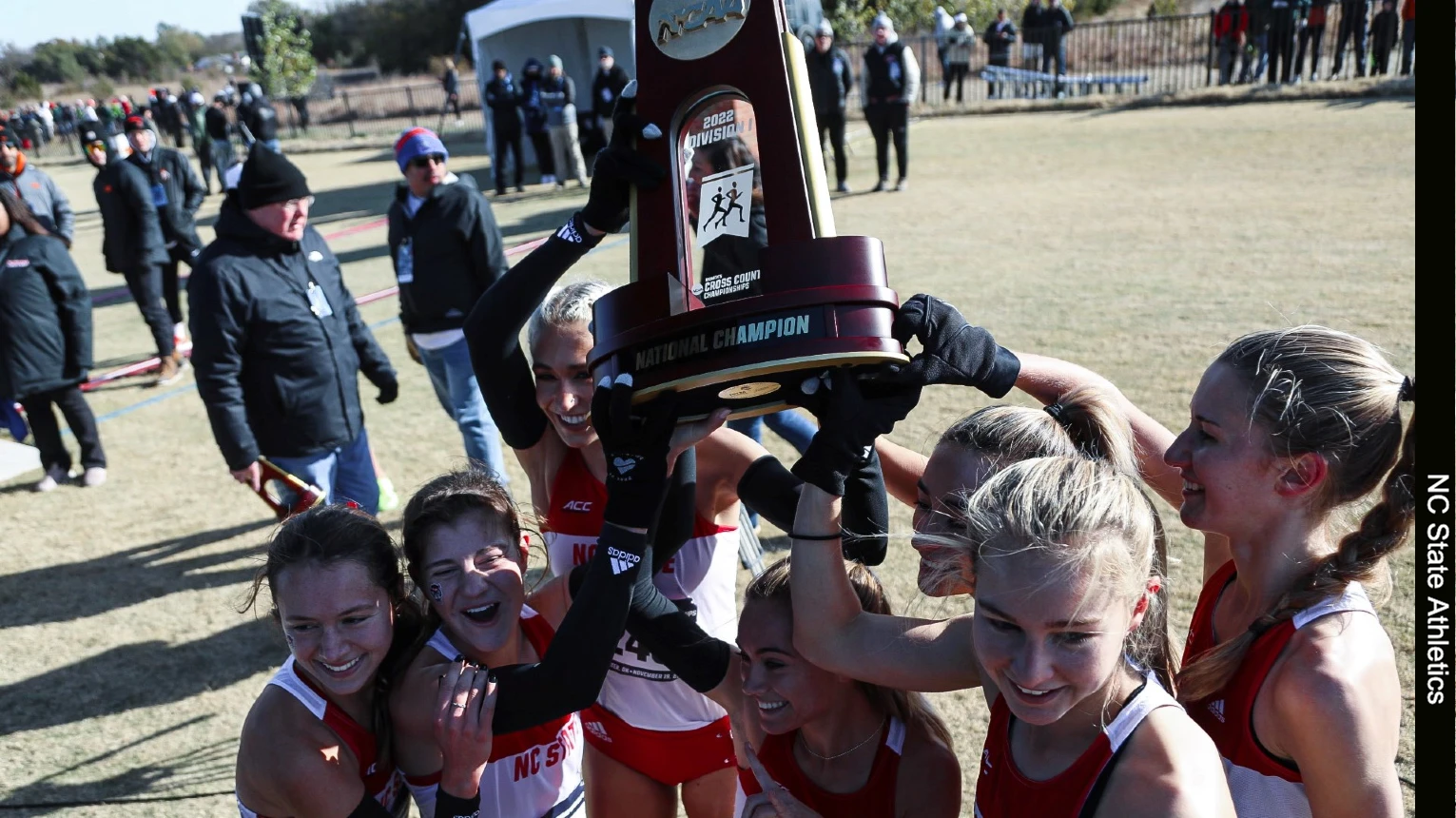 The women's results and team scores from the 2022 NCAA Division I Cross Country Championships at the Greiner Family OSU Cross Country Course in Stillwater, Oklahoma, on Saturday, November 19. NC State won the team title, while sophomore Katelyn Tuohy impressively took in the individual crown in very chilly conditions.
In the team battle, NC State successfully defended its team titles after scoring 114 points and placed three scorers inside the top 15 finishers on the day. The Wolfpack finished 26 points ahead of second place New Mexico which tallied 140pts, followed by Alabama in third with 166, Oklahoma State on 201 and North Carolina with 242pts –rounding out the top five teams. Read More: NC State and NAU win back-to-back NCAA Cross Country National Championships
"Obviously, when you walk away with the individual title and the team title that's a very good day," NC State head women's coach Laurie Henes said on the team's official website.
"Just like any season there's been some ups and downs, I didn't think we really nailed it team wise in any of the races. Even here (Stillwater), I think we were preaching that things don't have to be perfect to come away with the results you want."
Florida's Parker Valby broke from the pack early to build a sizable lead in her quest to win the individual 6k title. She knew Tuohy would be chasing hard in the latter part of the race and the NC State star did just after she also left the trailing pack to hunt down Valby, who was aiming to added the national title to her 2022 SEC and South Region crowns this season.
In the end, Tuohy blew past her rival and comfotably cross the finish line at 19:27.7, beating Valby in second place with 19:30.9, followed by Kelsey Chmiel of NC State with a time of 19:37.1. The top five was completed by Elise Stearns of Northern Arizona in 19:43.9 and Colorado's Bailey Hertenstein (19:45.1).
—Information from Race Results Weekly was used in this report
2022 NCAA DI Cross Country Championships Women's results and team scores
WOMEN – 
Teams: 
 1. NC State         114       1       2      13      24      74      80      98
 2. New Mexico       140      20      23      31      32      34      89     118
 3. Alabama          166       5       8      12      14     127     185     211
 4. Oklahoma State   201       6      11      47      62      75     123     183
 5. North Carolina   242      15      35      50      54      88     106     125
 6. Northern Arizona 257       3      40      55      78      81      87      91
 7. Notre Dame       261       7      45      56      69      84     104     170
 8. BYU              263      27      29      58      59      90     135     168
 9. Virginia         268      37      39      46      53      93     131     163
10. Georgetown       271      19      33      48      72      99     157     179
11. Colorado         286       4      25      66      86     105     191     197
12. Utah             307      10      38      68      83     108     147     169
13. Stanford         371      18      70      76      97     110     171     198
14. Oregon           390      30      60      73     107     120     143     199
15. Ohio State       467       9      49      63     150     196     200     213
16. Providence       468      42      57     112     128     129     160     195
17. Washington       470      51      61     109     119     130     141     145
18. Florida State    471      43      67      71     137     153     159     178
19. Wisconsin        494      77      79      85     121     132     142     180
20. Michigan State   497      28      94     101     136     138     146     166
21. Arkansas         507      41      52      92     148     174     189     202
22. Michigan         534      64      82     115     124     149     158     194
23. Syracuse         544      21     100     113     154     156     184     215
24. Oregon State     544      16      26     117     182     203     214     216
25. Colorado St.     548      36     111     116     134     151     192     210
26. Utah Valley      548      17     114     126     139     152     164     176
27. West Virginia    562      22      96     102     155     187     188     
28. Toledo           654      44     103     162     172     173     190     209
29. CBU              659      65     122     140     165     167     177     201
30. Northwestern     714      95     133     144     161     181     186     207
31. Texas            983     175     193     204     205     206     208     212
Individual Finishers – 6k Race
  1. Katelyn Tuohy, SO, NC State, 19:27.7
  2. Parker Valby, SO, Florida, 19:30.9
  3. Kelsey Chmiel, JR, NC State, 19:37.1
  4. Elise Stearns, SO, Northern Arizona, 19:43.9
  5. Bailey Hertenstein, JR, Colorado, 19:45.1
  6. Hilda Olemomoi (KEN), FR, Alabama, 19:45.6
  7. Natalie Cook, FR, Oklahoma State, 19:46.3
  8. Olivia Markezich, JR, Notre Dame, 19:46.4
  9. Amaris Tyynismaa, JR, Alabama, 19:48.2
 10. Addie Engel, SO, Ohio State, 19:50.4
 11. Maia Ramsden (NZL), SO, Harvard, 19:52.3
 12. Emily Venters, SR, Utah, 19:54.1
 13. Taylor Roe, JR, Oklahoma State, 19:56.4
 14. Flomena Asekol (KEN), JR, Alabama, 19:56.5
 15. Samantha Bush, JR, NC State, 19:57.6
 16. Mercy Chelangat (KEN), SR, Alabama, 19:58.4
 17. Kelsey Harrington, SO, North Carolina, 19:58.8
 18. Kaylee Mitchell, JR, Oregon State, 19:59.2
 19. Everlyn Kemboi (KEN), SR, Utah Valley, 19:59.7
 20. Zofia Dudek (POL), SO, Stanford, 20:01.8
 21. Maggie Donahue, JR, Georgetown, 20:02.5
 22. Amelia Mazza-Downie (AUS), SO, New Mexico, 20:02.8
 23. Savannah Roark, SO, Syracuse, 20:02.9
 24. Ceili McCabe (CAN), JR, West Virginia, 20:03.2
 25. Laura Pellicoro (ITA), SO, Portland, 20:03.2
 26. Gracelyn Larkin (CAN), JR, New Mexico, 20:03.8
 27. Bethany Graham, SO, Furman, 20:04.0
 28. Amina Maatoug (NED), SO, Duke, 20:04.6
 29. Nevada Mareno, SR, NC State, 20:07.5
 30. Ella Baran, JR, Colorado, 20:09.2
 31. Grace Fetherstonhaugh (CAN), JR, Oregon State, 20:09.8
 32. Aubrey Frentheway, SR, BYU, 20:09.9
 33. Katie Osika, JR, Michigan State, 20:11.0
 34. Lexy Halladay-Lowry, JR, BYU, 20:12.2
 35. Yasmin Marghini (GBR), SO, Boise State, 20:12.9
 36. Izzy Thornton-Bott (AUS), JR, Oregon, 20:13.3
 37. Samree Dishon, SO, New Mexico, 20:13.5
 38. Emma Heckel (GER), SO, New Mexico, 20:13.6
 39. Grace Jensen, SR, Georgetown, 20:13.7
 40. Elise Thorner (GBR), SO, New Mexico, 20:13.9
41. Victoria Patterson, SO, Columbia, 20:14.0
 42. Brynn Brown, SO, North Carolina, 20:14.8
 43. Sarah Carter, JR, Colorado St., 20:15.0
 44. Mia Barnett, SO, Virginia, 20:15.3
 45. Simone Plourde (CAN), SO, Utah, 20:15.7
 46. Sophie Atkinson, SO, Virginia, 20:15.9
 47. Annika Reiss, JR, Northern Arizona, 20:16.0
 48. Isabel Van Camp, JR, Arkansas, 20:16.1
 49. Jane Buckley (IRL), FR, Providence, 20:16.2
 50. Emmy van den Berg (NED), SO, Florida State, 20:16.6
 51. Brianna Weidler, SO, UC Davis, 20:17.2
 52. Joy Chirchir (KEN), SO, Toledo, 20:17.2
 53. Analee Weaver, SO, Utah State, 20:17.5
 54. Erin Strzelecki, SO, Notre Dame, 20:17.8
 55. Margot Appleton, SO, Virginia, 20:18.2
 56. Tori Herman, SO, Kentucky, 20:19.0
 57. Gabby Hentemann, JR, Oklahoma State, 20:19.3
 58. Ruby Smee (AUS), JR, San Francisco, 20:21.5
 59. Chloe Scrimgeour, SO, Georgetown, 20:21.6
 60. Maeve Stiles, FR, Penn, 20:22.1
61. Daniella Santos, SO, Ohio State, 20:22.4
 62. Sasha Neglia, SO, North Carolina, 20:22.5
 63. Anna Gibson, SR, Washington, 20:22.8
 64. Mia Cochran, FR, Arkansas, 20:23.8
 65. Anna Workman, SO, Virginia, 20:23.9
 66. Natalie Tyner, SO, North Carolina, 20:24.1
 67. Jesselyn Bries, JR, Northern Arizona, 20:24.1
 68. Katie Thronson, SR, Notre Dame, 20:24.3
 69. Shannon Flockhart (GBR), SO, Providence, 20:24.4
 70. McKenna Lee, SR, BYU, 20:24.8
 71. Sadie Sargent, JR, BYU, 20:25.1
 72. Maddy Elmore, SO, Oregon, 20:25.3
 73. Sophie O'Sullivan (IRL), SO, Washington, 20:26.4
 74. Gabija Galvydyte (LTU), SO, Oklahoma State, 20:27.1
 75. Andrea Kuhn, JR, Ohio State, 20:27.3
 76. Ericka VanderLende, SR, Michigan, 20:28.0
 77. Yasna Petrova (BUL), SO, CBU, 20:28.6
 78. Gabrielle Orie, SR, Colorado, 20:29.0
 79. Alyson Churchill, SO, Florida State, 20:29.7
 80. Keelah Barger, SR, Utah, 20:30.3
81. Siona Chisholm (CAN), SO, Notre Dame, 20:30.4
 82. Sarah Schmitt, JR, Indiana, 20:30.4
 83. Lucy Jenks, SO, Stanford, 20:30.5
 84. Agnes McTighe, SO, Florida State, 20:30.9
 85. Kenzie Doyle, JR, UMass Lowell, 20:31.0
 86. Sami Corman, SR, Georgetown, 20:31.5
 87. Elizabeth Mancini, SR, La Salle, 20:31.6
 88. Ryann Helmers, SR, Ole Miss, 20:31.8
 89. Harper McClain, SO, Oregon, 20:33.2
 90. Brooke Rauber, FR, NC State, 20:33.3
 91. Stephanie Moss, SO, Oklahoma State, 20:34.0
 92. Dana Feyen, JR, Iowa State, 20:34.5
 93. Audrey Dadamio, SO, Stanford, 20:34.8
 94. Shea Ruhly, JR, Wisconsin, 20:34.9
 95. Bryn Morley, SR, Northern Arizona, 20:36.6
 96. Lydia Miller, SO, Lipscomb, 20:36.8
 97. Samantha Stieve, JR, Wisconsin, 20:36.9
 98. Sydney Seymour, SR, NC State, 20:36.9
 99. Alexis Kebbe, SO, Northern Arizona, 20:37.2
100. Samantha Tran, JR, Michigan, 20:37.3
101. Mia Beckham, SR, Butler, 20:37.4
102. Ariel Keklak, SR, Utah, 20:37.8
103. Annasophia Keller, SR, Notre Dame, 20:38.0
104. Lucinda Crouch (AUS), SR, Wisconsin, 20:38.3
105. Emily Covert, SO, Colorado, 20:39.0
106. Taryn O'Neill (CAN), SR, Northern Arizona, 20:39.9
107. Halle Hamilton, SO, Air Force, 20:40.3
108. Eva Klingbeil, FR, North Carolina, 20:40.5
109. Abbe Goldstein, SR, New Mexico, 20:41.1
110. Irene Rono (KEN), JR, Abilene Christian, 20:41.9
111. Anastaysia Davis, SO, BYU, 20:42.5
112. Meagan Van Pelt, SR, Northern Arizona, 20:42.8
113. Sydney Thorvaldson, FR, Arkansas, 20:42.9
114. Esther Seeland, JR, Virginia, 20:43.1
115. Makenna Veen, SO, Michigan State, 20:43.2
116. Rachel McCardell, SR, Northwestern, 20:43.3
117. Charlotte Wood, JR, West Virginia, 20:43.8
118. Perri Bockrath, SR, Kentucky, 20:44.4
119. Olivia Borowiak, JR, DePaul, 20:44.6
120. Madelynn Hill, JR, Iowa State, 20:44.7
121. Riley Stewart, FR, Stanford, 20:45.1
122. Gionna Quarzo, SO, NC State, 20:45.7
123. Melissa Riggins, FR, Georgetown, 20:45.8
124. Abigail Spiers, SR, Syracuse, 20:46.1
125. Kaitlyn Hynes, SO, Michigan State, 20:46.4
126. Mikaela Lucki (CAN), SR, West Virginia, 20:46.9
127. Faith Linga (KEN), JR, Toledo, 20:47.2
128. Maddy Denner, JR, Notre Dame, 20:47.5
129. Kaitlyn Barthell, SR, Colorado, 20:47.6
130. Fatima Alanis (MEX), SO, North Carolina, 20:48.0
131. Mariah Wehrle, SO, Indiana, 20:48.3
132. Malia Pivec, SR, Oregon, 20:48.7
133. Erin Vringer, FR, Utah, 20:49.2
134. Andrea Markezich, JR, Washington, 20:49.4
135. Chloe Hershenow, JR, Tulsa, 20:49.6
136. Grace Connolly, SO, Stanford, 20:50.6
137. Lily Tomasula-Martin, SR, Colorado St., 20:51.2
138. Kimberley May, SO, Providence, 20:51.3
139. Sophia Jacobs-Townsley, JR, Syracuse, 20:51.4
140. Mazzie Melaney, SR, Utah Valley, 20:51.6
141. Samantha Saenz, SR, Michigan, 20:52.0
142. Gracie Morris, SO, TCU, 20:52.4
143. Katelyn Mitchem, SR, Wyoming, 20:52.5
144. Claudia Burgess, JR, Colorado St., 20:52.7
145. Christina Geisler, SR, Oregon State, 20:53.0
146. Aliandrea Upshaw, SO, New Mexico, 20:53.7
147. Madison Heisterman, SR, Washington, 20:53.8
148. Klaudia Kazimierska (POL), FR, Oregon, 20:54.0
149. Victoria Heiligenthal, JR, Wisconsin, 20:56.1
150. Maelle Porcher, FR, CBU, 20:56.3
151. Billah Jepkirui (KEN), FR, Oklahoma State, 20:56.4
152. Danielle Page, SR, Michigan, 20:56.6
153. Taryn Parks, SO, North Carolina, 20:56.9
154. Caila Odekirk, SO, Utah Valley, 20:57.3
155. Elka Machan, SO, Alabama, 20:57.7
156. Lily Tuck (CAN), JR, Providence, 20:57.8
157. Niamh O'Mahony (IRL), FR, Providence, 20:58.3
158. Naomi Smith, SO, Washington, 20:58.9
159. Camryn Menninger, SO, Virginia, 21:00.6
160. Vivian Hacker, JR, Wisconsin, 21:00.9
161. Ari Marks, JR, Northwestern, 21:01.4
162. Emily Chaston, SO, Colorado St., 21:01.5
163. Alissa Fielding, JR, BYU, 21:02.0
164. Katelyn Stewart-Barnett, FR, Michigan State, 21:02.3
165. Yasmine Abbes (NED), SO, Florida State, 21:03.1
166. Lauren Freeland, SO, Michigan State, 21:03.9
167. Hannah Branch, SR, Utah Valley, 21:04.1
168. Jaybe Shufelberger, JR, Arkansas State, 21:04.3
169. Maja Dzialoszewska (POL), SO, CBU, 21:04.5
170. Sophia Nordenholz, FR, Washington, 21:04.8
171. Alexa Westley, JR, Wisconsin, 21:05.0
172. Melissa Berry, JR, Oregon, 21:05.5
173. Katherine Hessler, SO, Northwestern, 21:05.9
174. Ella Borsheim, FR, Washington, 21:06.2
175. Grace Molloy, JR, Michigan State, 21:07.1
176. Morgan Jensen, SO, Utah, 21:07.8
177. Elia Ton-That, FR, Columbia, 21:08.9
178. Taylor Ewert, SO, Arkansas, 21:09.4
179. Samantha Hastie, FR, Michigan, 21:09.5
180. Akemi Von Scherr, SO, Ohio State, 21:10.2
181. Ashlyn Hillyard, JR, Colorado St., 21:11.0
182. Maggie Zwahlen, SR, Utah Valley, 21:11.9
183. Sophie Daigle, SR, Louisiana, 21:12.3
184. Caitlin Wilkey, SO, Florida State, 21:12.4
185. Eleanor Lawler, SR, Syracuse, 21:12.6
186. Eleanor Mancini, SR, La Salle, 21:12.7
187. Katherine Dowie, JR, West Virginia, 21:13.2
188. Carmen Riano (ESP), SO, Miami (Ohio), 21:13.5
189. Ivy Gonzales, JR, Syracuse, 21:14.5
190. Chloe Gonzalez, SO, Georgetown, 21:15.1
191. Phoebe Anderson, SO, Columbia, 21:16.6
192. Cassie Kearney, JR, Michigan, 21:17.0
193. Rebecca Clark Pottorff, JR, Florida State, 21:17.4
194. Orla O'Connor (IRL), SR, Providence, 21:18.1
195. Ava Earl, SO, Northwestern, 21:18.4
196. Emily Vining, JR, Toledo, 21:18.5
197. Linnaea Kavulich, JR, Virginia, 21:19.8
198. Ari Trimble, FR, Utah Valley, 21:20.0
199. Emilia Mikszuta (POL), SO, CBU, 21:20.6
200. Emily Bardwell, SO, Michigan State, 21:20.9
201. Micaela Rivera, SR, Utah State, 21:21.4
202. Anna Mate (HUN), SR, CBU, 21:21.6
203. Carmen Alder, SO, BYU, 21:22.0
204. Lauren Peterson, SO, Utah, 21:24.6
205. Katie Rose Blachowicz, SR, Notre Dame, 21:24.7
206. Abi Archer, SO, Stanford, 21:25.1
207. Liz Galarza, SR, Georgia Tech, 21:27.5
208. Olivia Howell, JR, Illinois, 21:27.9
209. Lou Trois (FRA), JR, Toledo, 21:28.1
210. Julia Dames, SO, Toledo, 21:28.8
211. Gracie Hyde, SR, Arkansas, 21:29.5
212. Beth Ramos, JR, Texas, 21:29.8
213. Madison Flippence, JR, Utah Valley, 21:30.6
214. Greta Karinauskaite (LTU), SO, CBU, 21:31.2
215. Rebecca Bergnes, SO, Florida State, 21:31.6
216. Katy-Ann McDonald, SR, Georgetown, 21:32.1
217. Emma Watcke, SO, Wisconsin, 21:32.7
218. Kalea Bartolotto, JR, Northwestern, 21:33.1
219. Emily Van Valkenburg, FR, Oregon State, 21:33.6
220. Sivan Auerbach (ISR), SO, Oklahoma State, 21:36.0
221. Shona McCulloch, SR, Syracuse, 21:38.9
222. Jami Reed, JR, Alabama, 21:40.7
223. Anna Hightower, SO, Northwestern, 21:42.3
224. Jeanne Reix Charat (FRA), JR, West Virginia, 21:42.7
225. Mikenna Vanderheyden (CAN), JR, West Virginia, 21:43.1
226. Adoette Vaughan, JR, Arkansas, 21:43.9
227. Madeline Vining, JR, Toledo, 21:44.1
228. Alisa Meraz-Fishbein, SO, Colorado, 21:44.8
229. Annabel Stafford, SO, Colorado St., 21:46.4
230. Valery Tobias, SR, Texas, 21:47.4
231. Kayla Windemuller, JR, Michigan, 21:48.8
232. Alex O'Neill, JR, Providence, 21:49.9
233. Audrey DeSantis, FR, Ohio State, 21:50.6
234. Whitney Valenti, FR, Colorado, 21:52.0
235. Audrey Suarez, SO, Stanford, 21:54.7
236. Nicole Louw, SO, Oregon, 21:54.9
237. Gia Napolean, SR, Ohio State, 21:56.1
238. Marina Trave (ESP), SO, CBU, 21:59.4
239. Mary Ellen Eudaly, FR, Arkansas, 22:03.9
240. Kate Laurent, FR, Oregon State, 22:04.2
241. Eva Jess, SO, Texas, 22:09.8
242. Kelsie Vicknair, SO, Texas, 22:13.1
243. Isabel Hebner, SR, Texas, 22:13.4
244. Olivia Verbeke, SR, Northwestern, 22:19.2
245. Alyssa Duhart, JR, Texas, 22:21.3
246. McKinley Fielding, FR, Toledo, 22:25.4
247. Quinn McConnell, SO, Colorado St., 22:30.0
248. Sam McDonnell, FR, Alabama, 22:37.2
249. Monica Hebner, SR, Texas, 22:41.5
250. Annie Allen, SO, Ohio State, 22:42.3
251. Teaghan Knox, FR, Oregon State, 22:46.1
252. Olivia Joly, SO, Syracuse, 22:46.8
253. Zoe Simmons, JR, Oregon State, 23:13.2