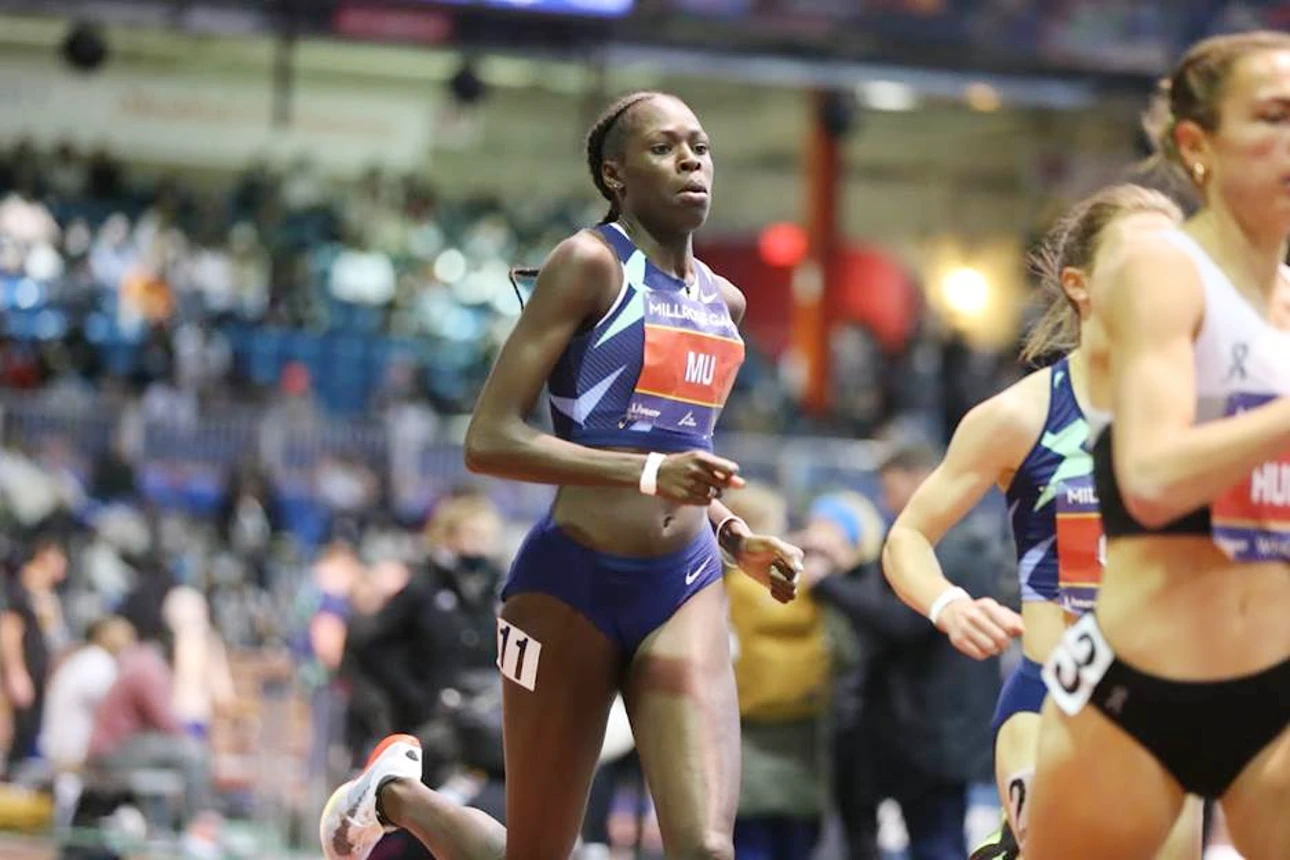 The 115th Millrose Games will take place in just three weeks, scheduled for Saturday, February 11th at the Nike Track & Field Center at The Armory. Dozens of Olympians and National Champions will be displaying their talents on the track and in the field, and perhaps no event will be more anticipated than the Women's 600m, starring Athing Mu, one of the true superstars in all of athletics.
Mu is the reigning World and Olympic Champion in the 800m, and she set the outdoor American record of 1:55.04. Just 20 years old, Mu is the youngest woman to ever hold both World and Olympic titles in any individual event. Read more: Briton Laura Muir headlines Millrose Games 2023 Wanamaker Mile
A phenomenally dominant and consistent athlete, Mu has won every single race that she has completed since March 2021. Mu has a second Olympic Gold Medal as part of the 4x400m relay, and she is a three-time National Champion and two-time NCAA champion in her one year at Texas A&M.
In 2019, Mu won her first national title in the 600m, running 1:23.57 as a high school junior. This mark remains the senior American Record, World Junior Record, and the second-fastest performance in indoor history. As she returns to the three-lap distance, the World Record of 1:23.44 held by Olga Kotlyarova looks to be in major jeopardy if Mu attacks the race from the gun.
"The women's 600m will be one of the highlights of this year's Millrose Games, and we are delighted to welcome Athing back to the track she grew up on," said Millrose Games Meet Director Ray Flynn.
However, this race will be no coronation, as Mu will have to contend with several of the other best middle distance runners in the world. Natoya Goule is a two-time Olympian in the 800m, and she holds the Jamaican Records indoors and outdoors. Goule is a Pan American Games Champion, Commonwealth Games Silver Medalist, and she won three NCAA titles at LSU and Clemson. Goule placed fifth in the final at the most recent World Championships.

Other athletes to watch for include:
Shamier Little, the 2015 World Silver Medalist in the 400m hurdles, and the fifth-fastest woman in the history of the event. Little will look to continue testing herself in a flat event over a slightly longer distance, after opening her season with a world-leading 600m time of 1:24.65 last weekend.
Olivia Baker, a World Indoor Championships qualifier in the 800m and an 11-time All-American at Stanford.
High school standout Sophia Gorriaran, an Olympic Trials qualifier in the 800m who holds the HS National Record in the outdoor 600m.