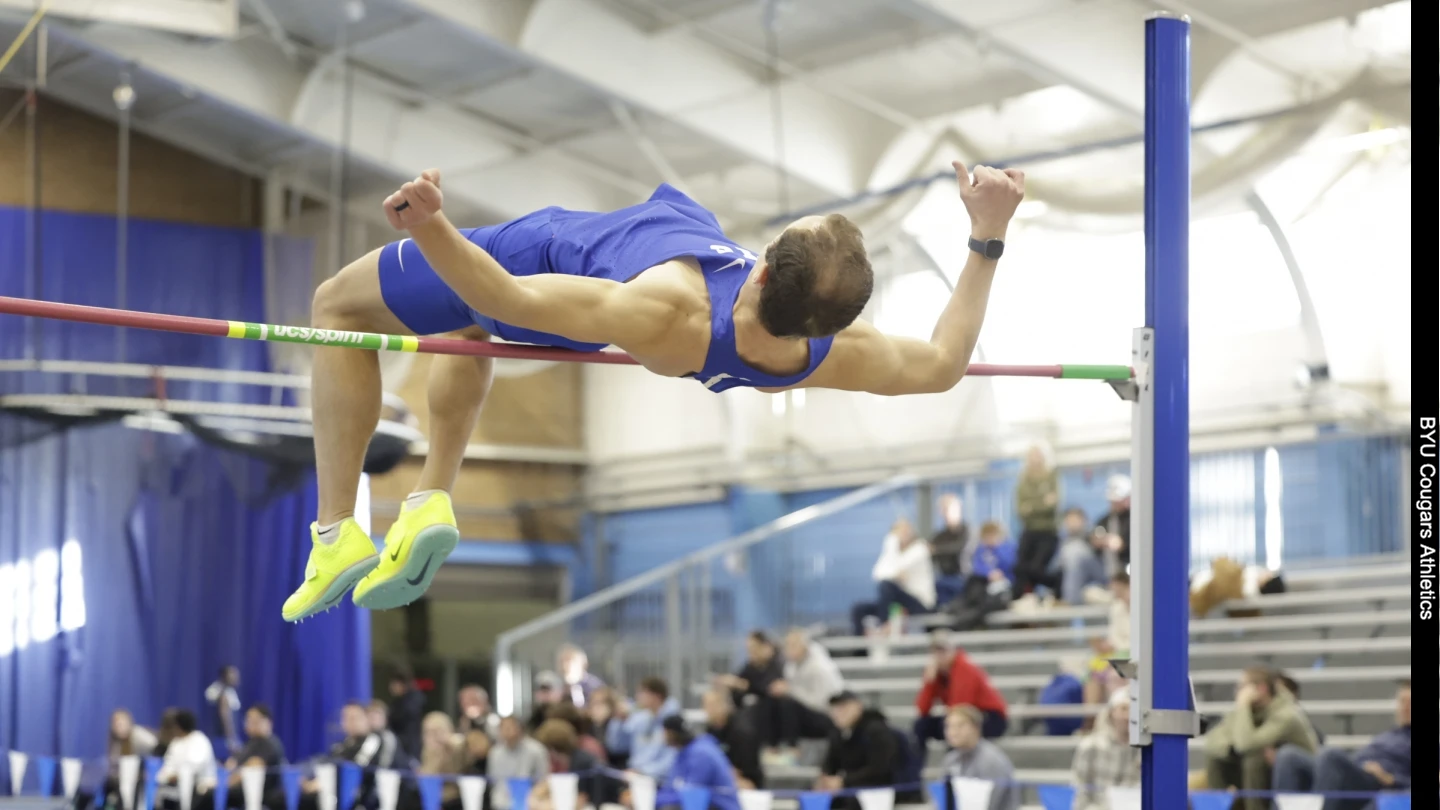 PROVO, Utah — BYU men's and women's track and field will return to action in its second home meet of the indoor season on Jan. 12-14 at the Smith Fieldhouse. Fans can follow all the live results and updates from the three-day meeting here: Live Results | All Overall Results | All Heat Results
Meet Information
*All times MST
Thursday, Jan. 12: events run from 11:45 a.m. to 8:30 p.m. beginning with pentathlon 60-meter hurdles.
Friday, Jan. 13: events run from 12:30 to 3:15 p.m. beginning with men's long jump.
Saturday, Jan. 14: events run from 10 a.m. to 2:45 p.m. beginning with men's 60m hurdle prelims. 
This is a non-ticketed event. Admission is free of charge with public seating available on the west side of the Smith Fieldhouse. 
Teams competing include:

BYU
College of Southern Idaho
Idaho State
Salt Lake Community College
Southern Utah
Utah State
Utah Tech
Utah Valley
Weber State
Westminster
Last time out
BYU saw four new top-10 performances at its last home meet on Dec. 8-9. Sprinter Adaobi Tabugbo rose to No. 3 all-time at BYU in the women's 60-meter dash with a time of 7.44. Emma Johnson debuted on the women's 60m top-10 board with a fourth-place time of 7.58. 
Women's pole vaulter Rebekah Ross registered the program's sixth-highest indoor clearance at 4.21m/13-9.75. 
Sebastian Fernandez won the men's 800-meter with a resounding 1:48.84 finish. Fernandez now ranks No. 5 all-time at BYU in the indoor 800. 
Nationally ranked Cougars
Even with only two meets under their belt, the Cougars boast several athletes ranked in the top-10 nationally for their respective indoor event. 
Alena Ellsworth leads all Division I women with an 800m time of 2:06.40 set at the Boston Season Opener on Dec. 3. Meghan Hunter, Heather Hanson, Jacey Farmer and Taylor Rohatinsky all ran 800m times under 2:14.00 at the meet and give the Cougars five runners in the top-15. 
Hanson, Rohatinsky and Farmer are also featured in the top-10 for the women's mile. 
Rebekah Ross's aforementioned clearance ranks her No. 4 nationally. Dallin Vorkink stands at third in the heptathlon with a score of 5,457 in his first competition of the season at BYU's December home meet. 
Casey Clinger (5000m) and Kenneth Rooks (3000m) are ranked No. 6 and No. 7 respectively for their performances in Boston on Dec. 3.