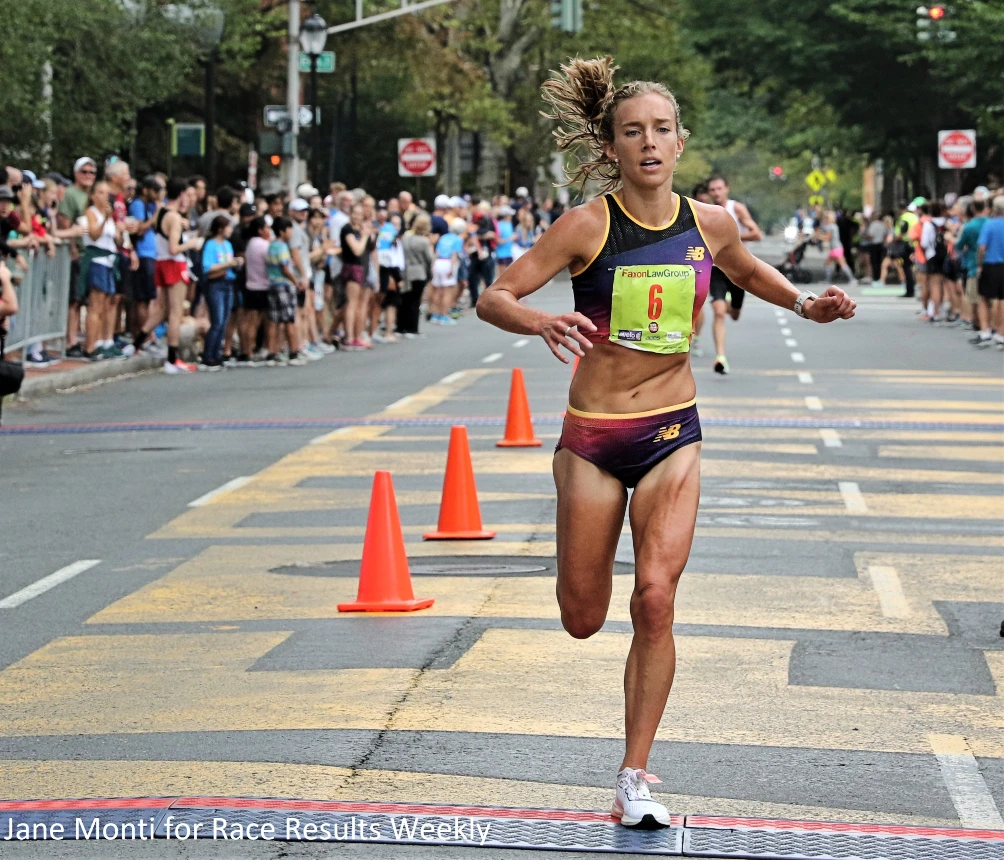 By David Monti, @d9monti
(c) 2023 Race Results Weekly, all rights reserved

HOUSTON (15-Jan) — Today's Chevron Houston Marathon and Aramco Houston Half-Marathon here this morning produced two exciting sprint finishes, a near record in the women's marathon, and an American record in the women's half-marathon.  It all happened in warmish conditions, some 25 degrees Fahrenheit warmer than last year, with a full field of 27,000 runners between both races.  
SISSON LOWERS USA HALF-MARATHON RECORD
Emily Sisson of Flagstaff, Ariz., said prior to the race that her goal here was to compete for the win, and she hoped a fast time would follow from that strategy.  Although she was never able to stay with Ethiopia's Hiwot Gebrekidan Gebremaryam –who leaped to the lead right from the gun and soloed to a 1:06:28 win– she did get the fast time she hoped for. 
Going out a little hot for the first 5 kilometers (15:31) she tempered her speed through 10 km (31:19) and got into a groove.  At that point she was on pace for a 1:06:04 finish, well under her USATF record of 1:07:11 set last May in Indianapolis.
But in the second half, she slowed as that early pace began to take its toll.
"I went out a little too fast the first 5-K or so, so the last few miles I was really feeling it," Sisson said in her post-race television interview.
Ahead of her Gebrekidan was also slowing, and by the time Sisson got into the final 800m she was within 30 seconds of her rival.  Having the race leader in sight helped her summon some extra energy to push, and she was able to sprint home in 1:06:52, 19 seconds under her record.
"I'm really excited about it," Sisson said, wrapped in an American flag.  "I really wanted to break 67 minutes, so I'm happy I did it."  She added: "It was such a great atmosphere out there today. I was hurting the last few miles but the crowd was great."
Jessica Warner-Judd of Great Britain finished third in a personal best 1:07:19, and back in ninth place 2011 world 1500m champion Jenny Simpson qualified for the 2024 USA Olympic Trials Marathon (sub-1:12:00) by running 1:10:35 in her half-marathon debut.
"Not quite setting the world on fire… yet," she joked in a text message to Race Results Weekly.  "Stronger than my racing in the fall, so that's good."
In the men's half-marathon, no records were set, but there was a wild finish.  Kenya's Wesley Kiptoo and Ethiopia's Leul Gebrselassie traded surges in the final stages of the race, setting them up for a two-up sprint in the final 400m.  Kiptoo had the edge most of the way, and tried to squeeze Gebrselassie towards the barriers to limit his chances of getting by. 
It looked like Kiptoo would get the win, but Gebrselassie made one final surge in the last 20 meters and slipped past the former All-American from Iowa State on his left just before the line.  Gebrselassie got the win in 1:00:34 to Kiptoo's 1:00:35.
"I am happy today for winner of Houston Half-Marathon," Gebrselassie said in English in his post-race broadcast interview.  "Very very happy."
Mohamed El Aaraby of Morocco got third in 1:00:58, and Alberto Gonzalez Mindez of Guatemala got fourth in a national record 1:01:03.  The top American was 2021 USA half-marathon champion Conner Mantz who finished sixth in 1:01:12 after leading for most of the first half of the race.
NIIYA NEARLY GETS JAPANESE MARATHON RECORD
Running in only her second marathon, Japan's Hitomi Niiya took a big swing today at Mizuki Noguchi's vaunted national record of 2:19:12 which also happens to be the Chevron Houston Marathon course record.  Running with one of her male training partners as a pacemaker, Ryotaro Nitta, she ignored the way-too-fast start by Ethiopia's Muliye Dekebo Haylemariyam, who blitzed through the first 5 km in 16:04, on pace for a 2:15:35 finish.  Niiya was back in 16:25 and sticking with her plan.
It would take until the halfway mark for Niiya and her pacer to catch up to Dekebo, and the three athletes ran together through 25 km (1:22:00).  It was then that Dekebo, hurt by the fast early pace, was forced to slow way down.  She would have to settle for second in a personal best 2:25:35.  
Niiya continued to forge ahead, but her pace was slipping.  From 25 to 30 km, she split 16:29, but over the next two 5-K segments she slipped to 16:45 and 16:42, respectively.  At the 40-K mark (2:11:56) her projected finish was 2:19:10, just two seconds under the record.
"This is a 'you versus you' moment," said 2018 Boston Marathon women's champion Des Linden on the race broadcast as she watched Niiya try to squeeze out every second in the last 800 meters.
Sadly, the record slipped away in the last two kilometers.  Niiya crossed the finish line in 2:19:24, still the fastest time ever by a Japanese woman not achieved at the BMW Berlin Marathon.  She was visibly upset at the finish line, but her mood picked up by the time she was presented with the winner's cowboy hat which brought a broad smile to her face.
"Overall a happy feeling," she said through a translator.  Harkening back to 2020 when she broke the Japanese half-marathon record here (1:06:38) she added: "It's great to be back.  Running in Houston this year, it felt more relaxed."
Rounding out the top-4 was Ethiopia's Sintayehu Lewetegn in third (2:26:33) and North Carolina's Tristin van Ord in fourth (2:27:07).  van Ord broke her previous personal best by more than two minutes, but fell 17 second short of a 2024 Olympic Games qualifier (2:26:50).
Like the men's half-marathon, the men's marathon also came down to a two-man sprint finish.  Dominic Ondoro of Kenya and Tsedat Ayana of Ethiopia had dropped newly-naturalized American Teshome Mekonen just past the 40 km mark and were sizing each other up for the final sprint.  Ondoro, a full foot taller than Ayana, had won here in Houston in 2017 and was familiar with the course's unique right hand turn just before the finish line which makes the final sprint hard to judge.
With 400 meters to go, Ayana got in front of Ondoro and started running full tilt.  Ondoro grimaced and it looked like he was going to have to let Ayana go, but instead stayed close and waited for the last 20 meters to try to surge past Ayana on the Ethiopian's left.  Ayana was so exhausted that he began to lose his balance, windmilling his arms so as not to fall forward.  He lost his momentum right before the tape, and Ondoro got past him to get his second win here by just one second.
"I was happy," said Ondoro, who didn't look all that tired.  He added: "I like Houston because the course is flat, flat and fast.  The weather was good (and) I'm feeling well."
Ondoro was clocked in 2:10:36 to Ayana's 2:10:37.  Mekonen got third in 2:11:05, and Colorado's Parker Stinson was fourth in 2:12:11.
Both marathon winners earned $30,000 in prize money, but did not win any time bonuses.  The half-marathon winners got $10,000 in prize money, but Sisson actually earned more: she received $5,000 in prize money for second place and $10,000 for a new American record.
This year's Chevron Houston Marathon was the 50th running of the race (the 21st for the half-marathon).  Both races were World Athletics Gold Label events, and organizers estimated that they would raise about $2 million for 63 local charities through their Run for a Reason program.  
"This money goes into this community year-round," said Houston Marathon Committee executive director Wade Morehead at Friday's press conference.  "It's an honor for the Houston Marathon to work with them."
ENDS