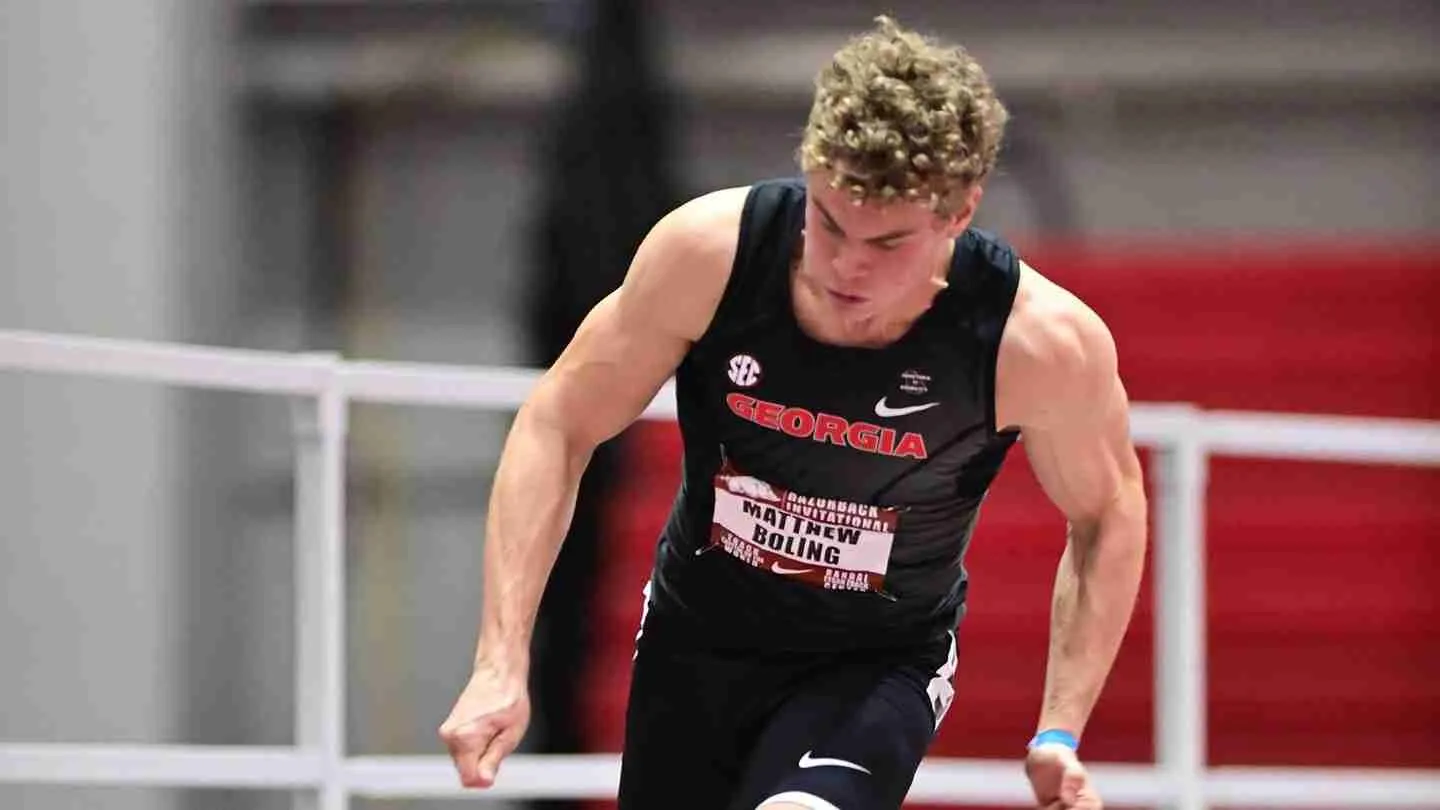 CLEMSON, S.C. — The Bulldogs' Matthew Boling ran one of the fastest 300-meter dash times in collegiate history to tally a win in the conclusion of the Clemson Invite on Saturday.
Boling, a native of Houston, Texas, ran the first 300m of his career and finished with the second-fastest time in Georgia history and the top time in the world this year with his clocking of 32.40 seconds. Read more: Matthew Boling runs 32.40secs, opens season with 300m win at Clemson Invite
Boling's finish makes him the No. 3 all-time collegiate finisher with the No. 4 all-time collegiate finish in the event.
Veteran Lady Bulldog triple jumper Titiana Marsh and transfer Mikeisha Welcome fought for second and third-place finishes, respectively, with the No. 2 and No. 3 jumps in the country this year.
Welcome rocketed to No. 3 on the school's all-time list with round-ending mark of 13.66 meters/44 feet, 9 ¾ inches while Marsh also saved her best effort (13.33m/43-8.75) on her sixth attempt.
Haley Tate, Kenondra Davis, Dominique Mustin and Zoe Pollock managed the country's fifth-best time in the 4x400m relay to take second. The quartet clocked a 3:36.25, which is fourth on Georgia's all-time top-10 list.
On the men's side, Caleb Cavanaugh, Elija Godwin, Will Sumner and Boling made their season debut in the 4x400m relay and recorded the third-fastest time in UGA history. The Bulldogs crossed the finish line in 3:06.11 and took control of the No. 4 spot on the current national list.
Missing her personal best by just .02 seconds, Davis earned runner-up honors in the 200m after completing her lap in 23.35, which ranks third nationally. Senior Brandee Presley bettered her No. 10 spot in the school record books with a 23.84 for fifth place.
Sophomore Elena Kulichenko posted a first-attempt clearance at 1.81m/5-11.25 to top her Florida counterpart for the high jump win.
The Bulldogs went 2-3 (top two collegiate finishes) in the men's pole vault thanks to the efforts of a sophomore and freshman. Second-year vaulter Nikolai van Huyssteen went over the bar at 5.05m/16-6.75 on his first try. One spot behind van Huyssteen was Alon Rogow, who finished with a mark of 4.95m/16-2.75 for second place.
Ana da Silva saved her best effort in the shot put for her final try with a mark of 16.69m/54-9.25 for second place. Teammate Mia Anderson finished fourth in the competition after her second attempt went 13.93m/458.50.
A day after breaking into the school's all-time top-10 list in the 1000m, junior KC Heron recorded top honors in the 800m with a 1:52.70. Transfer Zack Truitt finished two spots behind for third place in the event with a 1:53.51.
A runner-up finish came for the Bulldogs in the shot put as Gavin Beverage worked up to a sixth and final throw of 17.26m/56-7.50.
Redshirt sophomore Charlotte Augenstein registered a personal-best time of 2:12.49 in the 800m for third place while freshman Simone Rojas finished fifth (2:15.50).
Full Results: For results from the Clemson Invite, please visit: http://gado.gs/9×5
What's Next For The Bulldogs?: Members of Georgia's teams travel to Albuquerque, N.M., which is the site of this year's NCAA Indoor Championships, next weekend for the Dr. MLK Jr. Collegiate Invitational.