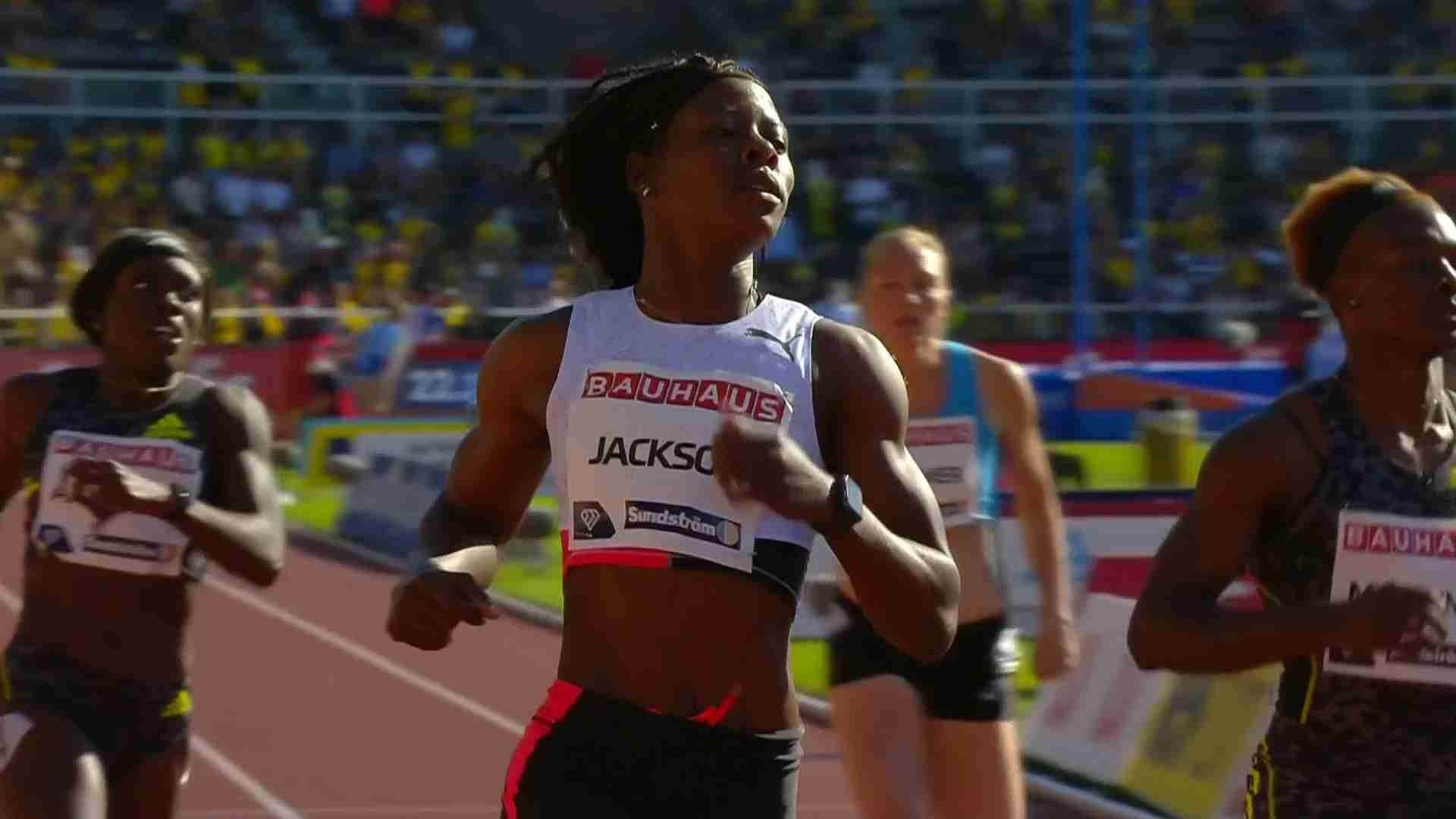 The 2023 Queen's/Grace Jackson Meet will take place this weekend, on Saturday (28). Several local stars, including World 200m champion Shericka Jackson, are slated to compete at the event inside the National Stadium in Kingston. Follow live results and start lists here
Jackson, who clocked the second-fastest time ever over 200m on her way to winning the goal medal at the World Athletics Championships in Eugene, Ore., last summer, will kick-start her 2023 season with a 400m race and will lineup against several local competitors.
Among the athletes set to race against Jackson in the one-lap event is fellow MVP teammate Krystal Sloley, who is set to start from lane one.
DATE: Saturday, January 28, 2023
TIME: 8:30 am – 7:30 pm
VENUE: The National Stadium, Independence Park, Kingston, Jamaica
CONTACT INFO: Email: tqgjm20@gmail.com Telephone: 876-584-3897 or 876-842-0711
ENTRY FEES: Team Entries: $18,000 per team; Individual Entries: $1,000 per athlete.
2023 Queen's/Grace Jackson Complete Event List
Track Events Schedule
Event Description
400m Class 3 Female
400m Class 2 Female
400m Class 1 Female
400m Class 3 Male
400m Class 2 Male
400m Class 1 Male
400m Senior Female
400m Senior Male
800m HS Open Female
800m HS Open Male
800m Senior Female
800m Senior Male
70m Hurdles Class 4 Female
80m Hurdles Class 3 Female
100m Hurdles Class 3 Male
100m Hurdles Class 2 Female
100m Hurdles Class 1 Female
110m Hurdles Class 2 Male
110m Hurdles Class 1 Male
200m Senior Female
200m Senior Male
200m Class 1 Female
200m Class 2 Female
200m Class 3 Female
200m Class 4 Female
200m Class 1 Male
200m Class 2 Male
200m Class 3 Male
60m Invitational Female
60m Invitational Male
4 x 400m Relay HS Open Female
4 x 400m Relay HS Open Male
Field Events Schedule
8:30am Discus Class 3 Female
8:30am Long Jump Class 4 Female
8:45am High Jump Class 3 Male
9:00am Shot Put Class 2 Female
Shot Put Class 2 Female
High Jump Class 2 Male
Discus Class 2 Male
Long Jump Class 3 Female
High Jump Class 1 Male
Shot Put Class 1 Female
Discus Class 1 Male
Long Jump Class 3 Male
High Jump Senior Male
Shot Put Senior Female
High Jump Class 4 Female
Discus Senior Male
High Jump Class 3 Female
Shot Put Class 2 Male
Discus Class 2 Female
Triple Jump Class 2 Male
High Jump Class 2 Female
Shot Put Class 1 Male
Discus Class 1 Female
Triple Jump HS Open & Senior Female
High Jump Class 1 Female
Shot Put Senior Male
Discus Senior Female
Triple Jump Class 1 & Senior Male
High Jump Senior Female
All track events are timed finals. Each competitor in a Long Jump, Triple Jump, Discus and Shot Put event will be allowed a maximum of 3 attempts ONLY. PLEASE NOTE: Open represents the collegiate and elite/club athletes only, NOT high school athletes.